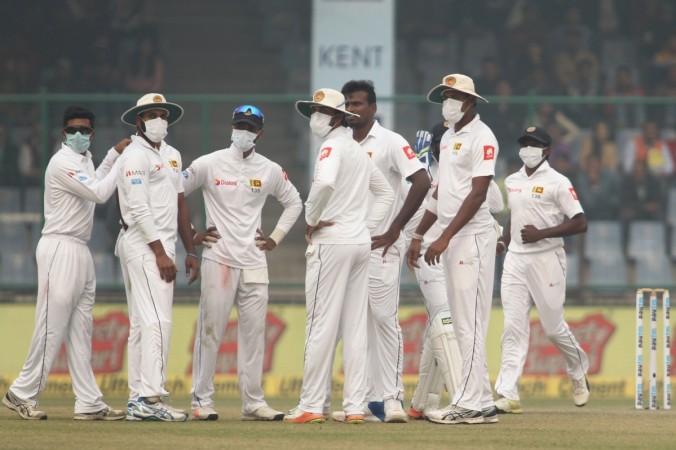 Sri Lankan cricketers wore masks again as the third Test against India continued at Delhi's Feroz Shah Kotla stadium today (December 5).
The pollution debate will not die down soon and now it is worth listening to Indian captain Virat Kohli's message of making a "massive difference" to improve air quality in Delhi.
On Sunday (December 3), the second day of the third Test saw unusual scenes as Sri Lankan players complained of poor air quality and wore masks.
Later the visiting team's coach Nic Pothas said some of the players were vomiting and struggled in Delhi smog. He also revealed that there were oxygen cylinders in the dressing room.
India's bowling coach Bharat Arun, however, did not agree with the Sri Lankas' tactics of holding up play due to poor air quality. He had said Kohli batted for two days without a mask.
On Tuesday, the fourth day of the Test, the tourists were back on field with masks again. India were batting in the second innings. Paceman Suranga Lakmal vomitted and had to leave the field. However, he was back later.
Now it is worth listening to what Kohli had said about Delhi's pollution, in a video message last month. It was retweeted more than 9,000 times and liked by over 57,000 users.
"Hi guys! We all know what the situation of pollution is like in Delhi, I wanted to bring your attention towards it because a lot of people are debating as to what's causing it. But what are we actually doing about it?," the Indian skipper asked in the 42-second video.
He continued, "Agar humein yeh match jeetna hain pollution ke against, hum sab ko saath mein mil ke khelna hoga. Kyunki hum sabki zimmedaari hain pollution ko kam karna. Specially jo log Delhi mein rehte hain, un sabki yeh responsibility hain. [If we have to win this match against pollution, all of us will have to play together. Because this is everyone's responsibility to reduce the pollution levels. Specially the people who live in Delhi, it is their responsibility].
"I would urge people to share their rides whenever they can. I would urge them to use a bus, use a Metro or use Ola share if you can. This action if you do it once a week it will make a massive difference."
While the Sri Lankan players might have been criticised by many, they have every right to complain. And no better person than Kohli to know about Delhi's pollution as he lives in the city.