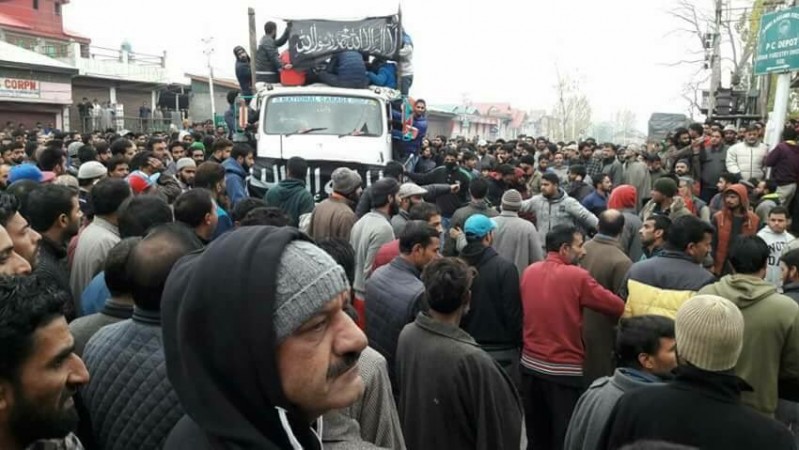 A group of masked men waved black ISIS flags on the pulpit of the historic Jamia Masjid mosque in downtown Srinagar, shortly after the Friday congregational prayers.
In a viral video, the men are seen waving ISIS flags inside the Jamia Mosque premises and raising pro-Islamic State slogans. This prompted the locals to gather around and ask the masked men to come down from the pulpit as climbing the same is seen as a huge disrespect to the sanctity of the mosque. But the youth continued to wave the flags.
Chairman of Hurriyat Conference, Mirwaiz Umar Farooq often delivers his Friday sermons from the same pulpit from where the flags were waived. The ISIS flags have made various appearances in the Kashmir valley during the congregational prayers, protests and funeral processions of militants.
Although the J&K police have stated that there is no structured ISIS wing operational in Kashmir, they have arrested several youths who were trying to establish a module inspired by ISIS ideology.
A joint operation of Delhi Police and J&K police led to arrest of several Kashmiri youth including a Jamia Millia Islamia student who, according to officials, was trying to snatch weapons from security personnel.
Union minister, Hansraj Gangaram Ahir had earlier said that after the killing of four ISIS militants in Kashmir in June 2018, no militant belonging to the extremist organisation is currently active in the valley. The minister also said that there were incidents of ISIS flags being waived at different parts in the valley and that appropriate action will be taken against those who do the same.
Ehtisham Bilal, an engineering student of Sharda University, Noida and a resident of downtown Srinagar was reportedly the fresh recruit of ISIS from the valley. However, Ehtisham, who had gone missing returned to his home after repeated pleas from his parents and was subsequently arrested by the J&K police.
Watch the video of youth waving flags inside Jamia Masjid, Srinagar here: