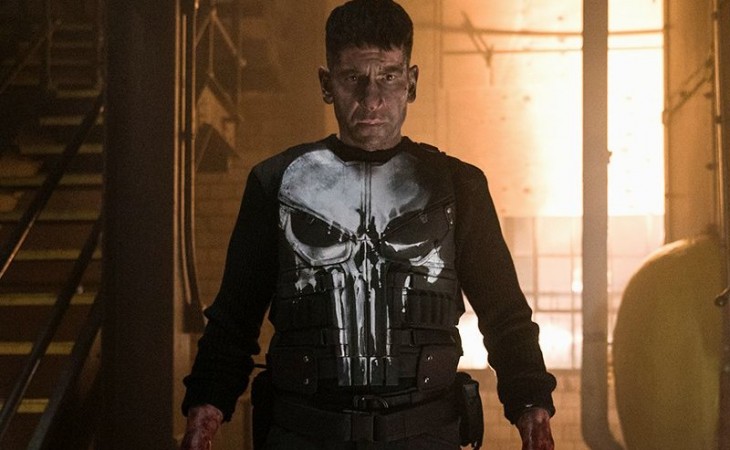 Releasing in November, the Marvel-Netflix series The Punisher revolves around a traumatised Frank Castle who is desperate to take revenge on the murderer of his family members.
Also read: Daredevil Season 3 air date, spoilers: The Netflix series goes on floors [PHOTO]
This is not his first television debut as he earlier appeared in the second season of another Netflix-Marvel series — Daredevil. Prior to that, The Punisher was first introduced in the Marvel comics' The Amazing Spider-Man in 1974.
The official synopsis of the series reads —
After exacting revenge on those responsible for the death of his wife and children, Frank Castle (Jon Bernthal) uncovers a conspiracy that runs far deeper than New York's criminal underworld. Now known throughout the city as The Punisher, he must discover the truth about injustices that affect more than his family alone.
The Netflix-Marvel series features Jon Bernthal, Deborah Ann Woll, Ebon Moss-Bachrach, Ben Barnes, Amber Rose Revah, Jaime Ray Newman, Jason R. Moore, Daniel Webber, Michael Nathanson and Paul Schulze.
Here's what the critics are saying about the TV series:
Variety
It's difficult to imagine better casting than Bernthal, who communicates so fluently with impassive silences, and is convincing both when he is being terribly violent and especially gentle. But it still takes the show a few minutes of throat-clearing to find its sweet spot.
Deadline
As mass shootings invade American life on a terrifyingly routine basis nowadays, the November 17 launch of Marvel's The Punisher brings a conflicted cacophony of gunfire and blood-dripping militarism and nihilism that makes Charles Bronson's Death Wish movies look like a philosophical pillow fight.
Watch the trailer here.
Forbes
The Punisher is the best Marvel series to date set within the fictional MCU. Why? Because it does its own thing... In addition to being the best, The Punisher is also the most violent, unhinged series ever produced by the house Feige (or in this case Jeph Loeb) built.
The Hollywood Reporter
The Punisher has moments of excitement, moments of bracing violence and a well-cast star at the center. It's also tedious for long stretches, and when it comes to plot details, astoundingly forgettable. The gun stuff is just an unpleasant capper.
The Washington Post
This version of "The Punisher" puts all previous attempts out of their misery. It's a definitive adaptation that doubles as Netflix's best Marvel show to date. Finally, the Punisher gets a little live-action justice.
TV Guide
"It fleshes out Frank Castle, highlighting his humanity instead of just his rage. As long as the second half of the season is able to balance Frank with the Punisher, there's little to be upset about."
The 13-episode-series will arrive on Netflix on Friday, November 17.