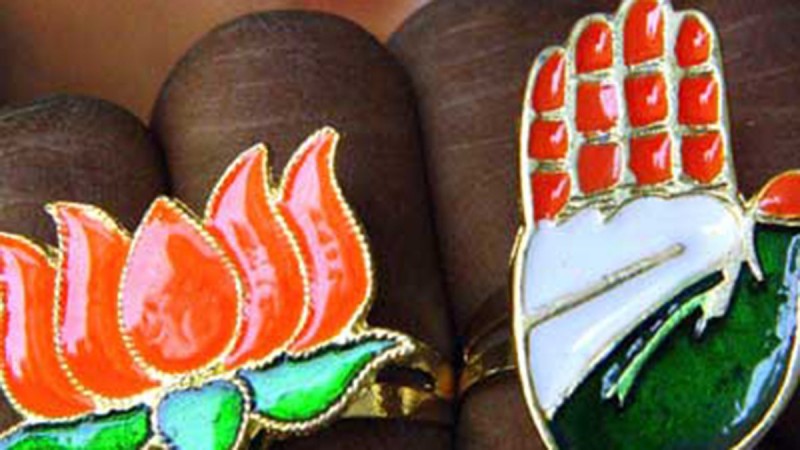 Ahead of the Gujarat assembly elections on December 9 and 14, a video has gone viral on the web which shows lady police officials dragging a woman out from Gujarat Chief Minister Vijay Rupani's election rally in Vadodara's Kevadia Colony, on Friday, December 1.
The woman has been identified as one 26-year-old Rupal Tadvi, who is the daughter of a Border Security Force (BSF) martyr, Ashok Tadvi. Rupal allegedly broke the security cordon and rushed towards the dais where Rupani was addressing the BJP rally in the poll-bound state.
Rupal is seen in the viral video repeatedly shouting out at Rupani, "I want to meet him. I want to meet him", as she claimed that the state BJP government has not given the piece of land to the martyr's family, as promised earlier when Rupal's father died in the line of duty.
Later, the BSF martyr's daughter was brutally stopped and dragged out of the event by the lady police constables as the Gujarat CM announced in the ongoing address that 'he will meet her after the address.'
Opposition's pawn or the truth of martyr's family
The viral video has become a new platform for the rival parties in Gujarat. While BJP has been victorious for over four terms now, the contesting Congress has joined hands with the agitating Patidar's under the leadership of Hardik Patel, who also faced several controversies over alleged sex tape and assaulting women, off late.
Congress vice-president Rahul Gandhi and Rupani expressed the BJP and Congress rivalry yet again as the duo took it to Twitter. Rahul Gandhi, who has been leading many rallies in the poll-bound state, posted the viral video of Rupal being dragged in the presence of Rupani and took a jibe at the BJP saying, "Rupaniji has shamed humanity today after a patriot martyr's daughter was thrown out from the rally."
भाजपा का घमंड अपने चरम पर है।

'परम देशभक्त' रुपाणीजी ने शहीद की बेटी को सभा से बाहर फिंकवा कर मानवता को शर्मसार किया।

15 साल से परिवार को मदद नहीं मिली, खोखले वादे और दुत्कार मिली। इंसाफ़ माँग रही इस बेटी को आज अपमान भी मिला।

शर्म कीजिए,न्याय दीजिए। pic.twitter.com/w8k7TYQrDt

— Office of RG (@OfficeOfRG) December 1, 2017
The Congress VP added, "Since 15 years the martyr's family couldn't get any help, now when they ask for it, they are ill-treated." Rahul Gandhi also taunted the BJP and stressed, "have shame and deliver justice."
सैनिकों के लिए 'वन रैंक, वन पेंशन' वर्षों तक लागू न करके कांग्रेस ने सैनिकों का जो अपमान किया है, क्या कांग्रेस उसका जवाब देगी ?

— Vijay Rupani (@vijayrupanibjp) December 1, 2017
Reacting to Gandhi's post on Twitter, Rupani too slammed the Congress over not providing the benefits of One Rank, One Pension (OROP) to the martyr's family during their government. Rupani was quoted by NDTV as saying, "Will the Congress answer for insulting soldiers by not implementing One Rank One Pension for years?" He added, "Only the BJP government has respected the soldiers who defend our borders."