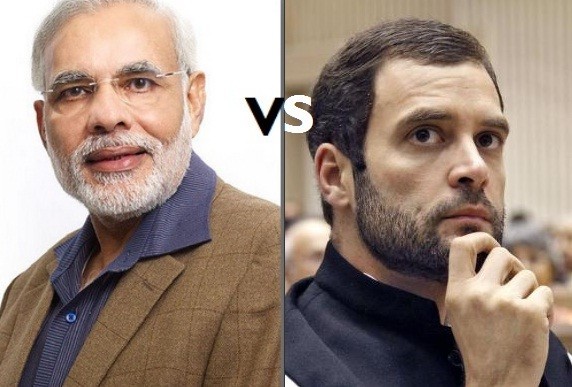 With both BJP and Congress engrossed in a tough fight in poll-bound Gujarat, the war of words between the leaders of both national parties are getting intense day by day.
While Prime Minister Narendra Modi flayed Congress for allegedly being anti-Gujarat by saying that Indira Gandhi had a 'hanky over her nose' when she visited Morbi, the Congress vice-president Rahul Gandhi hit back at Modi's emotional exhortations and even called him "a far better actor than Amitabh Bachchan".
Rahul pokes fun at Modi's emotional outreach
Rahul who visited Gir Somnath, Amreli and Bhavnagar districts to interact with people, took a dig at Modi's emotional tactics, refering to his recent speech wherein the Indian PM called Gujarat his "mother".
While addressing a rally in Savarkundla in Amreli district of Saurashtra, Rahul also referred to a speech that the Indian PM made after demonitisation.
"Modiji has tears in his eyes like he did some days after the demonetisation move, when he cried and announced on the television and media that if black money does not return before December 31 'you can hang Narendra Modi in public'," Rahul said.
He also said that superstar Modi is a better actor than Amitabh Bachchan as he doesn't any contact lens to stimulate fake tears.
"Narnedra Modi is a 'zabardast' (excellent) actor, even better than Amitabh Bachchan. Generally, an actor has to put contact lens when he has to weep...His eyes burns and tears roll down. But Narendra Modiji does not need any contact lens for tears to roll down his eyes," added Rahul.
The Congress vice president targeted Modi and said that the PM will definitely shed a few more fake tears before the elections and listed a number of his failures in his tenure.
"You will see how tears again flow from the eyes of this actor 2-3 days before the elections. He will talk about everything but will not utter a word regarding how much price farmers receive for their produce in Gujarat, loan waiver, or how to convert black money into white," Rahul claimed.
Apart from citing Modi's inability to address the grievances of farmers in Gujarat, Rahul also harped on Modi's "silence" in the Rafale deal.
Rahul is scheduled to visit various towns and villages in Amreli, Bhavnagar and Botad districts on Thursday and address a rally on the outskirts of Bhavnagar city in the evening.