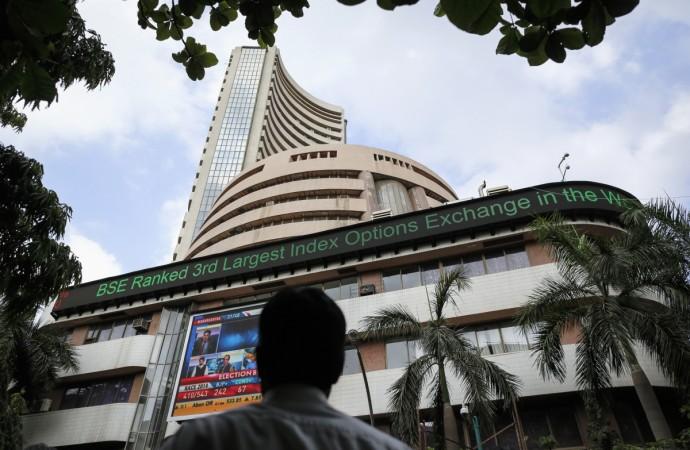 US President Donald Trump made good with his long-standing threat of imposing punitive tariffs on China, sending global markets into a tizzy on Friday. With China announcing retaliatory trade measures against the US, the fears of a trade war between the two largest economies of the world came true. Indian stock markets opened sharply lower on Friday, but the India impact was moderate compared with the losses in other Asian bourses.
The memorandum signed by Trump decrees imposing tariffs of up to $60 billion on imports from China. The measures, which are meant to punish China over its unfair trade practices and 'intellectual property theft', will have a 30-day consultation period. China urged the US to pull back from the brink to avert a full-blown trade war but announced retaliatory tariffs of up to $3 billion on US imports.
The counter measures announced by China include 15 percent tariffs on US steel pipes, fruit, wine and other products and a 25 percent tariff on pork and recycled aluminum.
Markets around the world sank as the 'trade war' fears became a reality. China's Shanghai Composite down around 3.3 percent while the Chinext index fell 4.4 percent. Australian equities lost 2.0 percent and Japan's Nikkei .N225 dropped 3.5 percent. IN Hong Kong, the Hang Seng index fell 3.0 percent and Taiwanese shares dropped 1.7 percent. In India BSE Sensex and Nifty both were down over 1 percent in early trade.
With Trump's anti-trade rhetoric translating into action more turmoil is expected in global financial markets. "So far for India the impact is relatively moderate & measured and we are not concerned about direct impact on India as of now," Shane Oliver of AMP Capital Investors told CNBC-TV18.
When Trump announced the intent to slap tariffs of 25 percent on steel and 10 percent on aluminium imported from China on March 1, the US markets had plunged over 5 percent. The impact had soon spread to Asian markets, causing a correction in Indian equities.
"China doesn't hope to be in a trade war, but is not afraid of engaging in one," the Chinese commerce ministry said after Trump announced the latest measures. "China is not afraid of and will not recoil from a trade war. China is confident and capable of facing any challenge. If a trade war were initiated by the US, China would fight to the end to defend its own legitimate interests with all necessary measures," it said.
China's alleged manipulation of the renminbi had always remained a cause of global trade crisis but Trump's ultra-protectionist trade policies made the showdown unavoidable.
Trump had vouched during his election campaign that the free-trade agreements would be scrapped and a 45 percent tariff on Chinese imports would be imposed. A US trade hit has always attracted a counter punch from China. When President Obama imposed 35 percent tariff on Chinese tires, China retaliated with steep penalties on US chicken legs. While the tire tariff saved the US about 1,000 jobs, the chicken parts ban caused a loss of $1 billion.
In recent weeks, the US had targeted other countries as well. on March 14, US Trade Representative (USTR) Robert Lighthizer said the US would take India to the WTO over export subsidies. He said India gives exemptions from certain duties, taxes, and fees, benefiting numerous Indian exporters, including producers of steel products, pharmaceuticals, chemicals, information technology products, textiles and apparel.