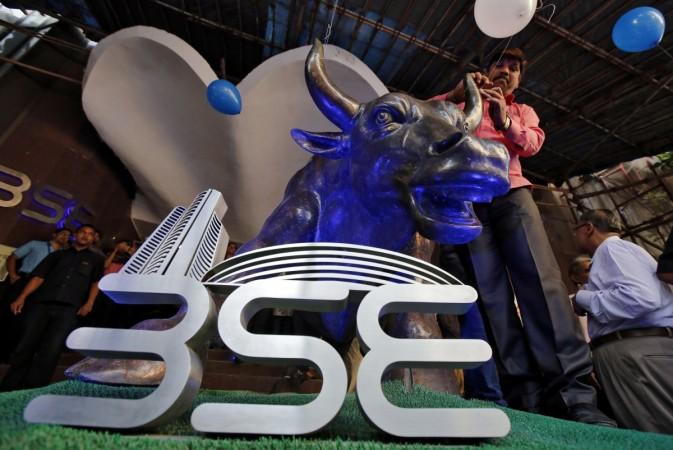 Trading on Monday is likely to be influenced by the announcement of tax rates for various goods and services by the Goods and Service Tax (GST) Council over two days — Thursday and Friday (May 18 and 19). The Council is expected to decide on gold and other items at its next meeting on June 3, which means gold stocks will remain unimpacted for now.
Most of the rates were on expected lines and didn't have any element of "surprise", as was said by none other than the GST Council chairman and union finance minister Arun Jaitley.
Read: GST Council exempts healthcare, education from taxes; next meeting on June 3
"In our view, GST rates in most cases are in line with the prior rates/expectations set by the government in previous briefings," Sanjeev Prasad, Sunita Baldawa and Anindya Bhowmik, analysts at brokerage Kotak Institutional Equities, said in a note.
Another brokerage, Nirmal Bang Institutional Equities (NBIE), had a mixed view on the rates. "We see a positive one for commonly used FMCG goods like soap, toothpaste and hair oil (but this was largely expected) but negative one for others that are not commonly used where tax incidence seems to have increased from 24% to 28% (not expected)," analyst Girish Pai wrote in his note.
While the finer details are still being analysed by companies and brokerages, some of the stocks are likely to react to the announcements, as listed below:
Multiplex chains PVR, Inox Leisure
The replacement of multiple rates of entertainment tax across states with an uniform 28 percent is being seens as marginally positive. "Tax rates on ticketing of multiplexes have been increased marginally from 25-27 currently to 28%. Further, tax on F&B has been hiked to a blended rate of ~ 19-21%, as against the current rate of 11-13%. However, the impact of higher duty is likely to be more than offset by the benefit from additional tax credits on lease rentals and annual maintenance contracts (which are currently not available). We believe the overall impact will be lower than originally expected by investors," brokerage Motilal Oswal Securities Limited (MOSL) said.
Capital goods companies L&T, ABB India, BHEL, Siemens
The impact is expected to be negligible, though there are two positive triggers.
"This (18 percent) rate is similar to the existing indirect tax rate paid by the sector. Consequently, the GST rate per se will have a negligible impact on revenue and margins as it is a B2B business with order win depending on becoming L1 in tenders," Girish Pai of NBIE said in his note.
Automobile makers Maruti Suzuki, Tata Motors and Mahindra
India's biggest car-maker (by units sold) Maruti Suzuki India Ltd. (MSIL) could face some selling pressure on Monday, given the likely impact on some of its models.
"For automobiles, the GST rate is fixed at 28% plus cess (1% for small petrol cars, 3% for small diesel cars and 15% for others). This will lead to an increase in on-road prices of small diesel cars and mid-sized cars by ~1.6% and ~2.1%, respectively. MSIL derives ~15% and ~8.5% of its volumes from small diesel cars and mid-sized cars, respectively, which may be impacted due to the change in tax rates," MOSL said.
On-road prices for large SUVs will decline by ~3 percent.
FMCG companies Hindustan Unilever, Colgate-Palmolive, Dabur, Marico, ITC
This sector is seen by most analysts as a significant beneficiary of the rates finalised by the Council.
"Current incidence of indirect tax on most FMCG items is in the range of 20%-24% and therefore the proposal to tax some of the commonly used products (soap, hairoil and toothpaste) at 18% is positive. The above tax proposals, to some extent, were consensus and therefore there is no major positive surprise for the street," Girish Pai said.
Some stocks in the space are worth buying, according to MOSL. "We have Buy ratings on HUL, ITC, Colgate, Britannia (GST rate announcement on biscuits has been postponed), P&G Hygiene and Emami."
Weekly round-up
On Friday, the BSE Sensex closed 30 points higher at 30,464 while the NSE Nifty ended flat at 9,428. Foreign portfolio investors (FPIs) were net sellers of Indian equities worth Rs 988 crore, according to provisional data released by the National Stock Exchange (NSE).
"Markets opened with positive sentiments during the week but the same got punctured when the noise about impeaching US President became louder. Irrespective of such rhetoric the Indian market had moved ahead of fundamentals although the corporates results were no big surprises," Jimeet Modi, CEO of SAMCO Securities, said in a statement.
TCS retained its position as the most-valued Indian company, with a market capitalisation of Rs 4,93,946 crore after adding Rs 29,024 crore during the week. The next four companies were Reliance Industries, HDFC Bank, ITC and State Bank of India.
The rupee closed 20 paise higher at 64.64 to the US dollar.
On Saturday, gold closed Rs 100 lower at Rs 29,100 per 10 gm while silver gained Rs 50 to end at Rs 39,200 per kg.
For the week ended May 12, 2017, India's foreign exchange reserves ended $443 million at $375.27 billion, according to RBI's weekly statistical supplement released on Friday.
Trump turmoil
The Trump turmoil, a reference to the impact of Donald Trump's relations with Russia and the scrutiny of FBI Director James Comey's abrupt sacking, caused mayhem on US stock markets on Wednesday, wiping out almost $35 billion of investors' wealth.
However, a report by Marketwatch said that any comparison to the Richard Nixon episode over Watergate in the 1970s that led to an almost 45 percent crash on US stock markets, is misplaced. "He (Donald Trump) still has a net positive impact on the U.S. economy, and correspondingly, on the stock market," the website quoted David Kudla, founder, CEO, and chief investment strategist of Mainstay Capital Management, as saying.
Read: Donald Trump had asked FBI chief Comey to end Flynn's Russia investigation
Comey will testify in a public session at the Senate Intelligence Committee after May 29 to present his side of the story behind his sacking by US president Donald Trump last week.
"I hope that former Director Comey's testimony will help answer some of the questions that have arisen since Director Comey was so suddenly dismissed by the President. Director Comey served his country with honor for many years, and he deserves an opportunity to tell his story. Moreover, the American people deserve an opportunity to hear it," Senator Mark Warner of Virginia, the top Democrat on the panel, was quoted as saying by politico.com.