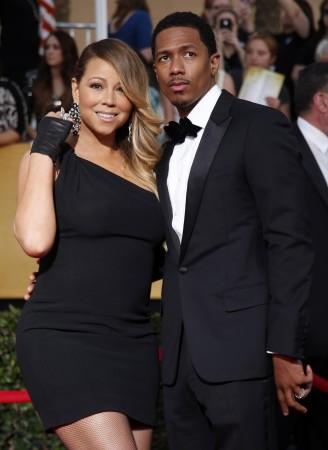 Mariah Carey's split from husband Nick Cannon is affecting her personal as well as professional life, and close ones feel she is heading for an emotional breakdown. Their concern increased after Carey started crying during her 15 December performance in NYC.
Reportedly, poor reviews from fans have further disappointed Carey and affected her emotional health, an In Touch source said.
"She feels like the walls are caving in the more she's slammed by critics and fans about her singing," the insider said. "She's been coping with the stress by binge-eating and numbing the pain with alcohol."
"She's cracking, and her friends are worried that the split, the weight gain and the bad reviews are going to drive her over the edge. It's really a sad situation."
Carey and Cannon, parents to three-year-old twins Monroe and Moroccan, separated over the summer after six years of marriage. The couple is yet to file for divorce and friends believe Carey hasn't given up hopes of reconciliation.
However, a new Hollywood Take report pointed out that Carey's career has taken a tumble due to numerous factors that includes an embarrassing live performance at the Rockefeller Center Christmas tree lighting and a lawsuit alleging she didn't pay her ex-assistant Ylser Oliver overtime.
"My client put her family's life on hold while tending to Mariah Carey's family, and Mariah repaid her by underpaying her," said Oliver's lawyer, Matthew Blit. "My client is a very hardworking woman who treated Mariah and her family like her own, working all hours of the day and night. Even celebrities are required to abide by the law."
Meanwhile, the InTouch report adds that there is a possibility Carey could end back in a mental health institute if she doesn't get her act together.
"She used to at least be able to hold it together in public, but not anymore," the source told In Touch magazine. "She's just one big emotional mess. The divorce and all the fighting with Nick are weighing heavily on her that now it's affecting her professional life. There's been talk that she could end up back in the psych ward."