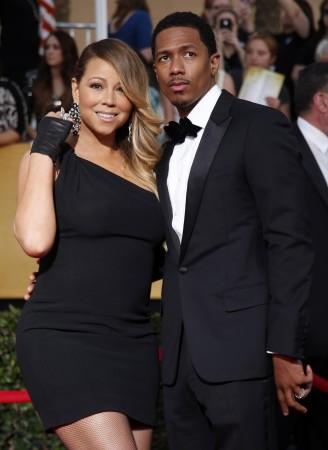 Monday night was indeed a weird one for Mariah Carey, whose performance at the Beacon Theatre for her "All I Want for Christmas Is You: A Night of Joy and Festivity" show was filled with drama.
The night saw her losing a shoe and Carey shedding tears in the middle of her performance.
Although the 44-year-old mother of two lost a shoe at one point in her performance, she did not let this footwear malfunction disrupt her act, and she continued with her performance with one of her red heels in her hand.
But later on in the show she couldn't help but shed a few tears while rendering "Hero." Carey, who was wearing a low-cut, cleavage-baring red gown, was seen wiping away tears as she sang the ballad.
But she suffered another mishap halfway through the show when a part of her mic pack fell off her dress. "Really? I'm sorry. Cut!" Carey yelled as she picked up the audio device. "I'm gonna take these out and leave them out!" she said, and soon after she continued her performance to much cheering from the audience.
Later, Carey took to Instagram to share a video from her performance, and captioned it saying: "finally got into the holiday spirit tonight & it's only the beginning! Loved celebrating with you! #AIWFCIY #Lambily # MC20."
In the meantime, speculations are rife that Carey might have found it difficult to control her emotions, as she was yet to get over her separation from Nick Cannon.
The duo, who have three-year-old twins Moroccan and Monroe, separated back in August, and earlier this month Cannon announced that the two were officially living apart.
"We'll forever be family," Cannon said during a promotional interview for his new book, "Rock and Roe's 12 Days of Christmas," according to Today. "At the same time, we're there for our children, making them the No. 1 priority and understanding they're loved and can have an amazing holiday."