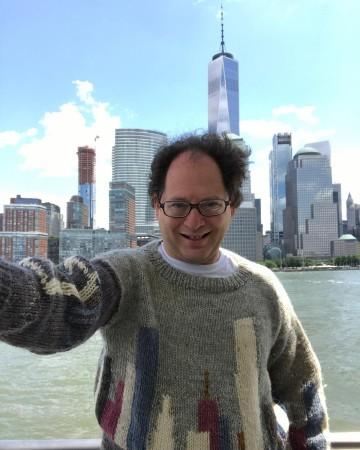 Knitting sweaters featuring famous landmarks — that's what Samuel Barsky is known for. The 43-year-old resident of Baltimore City, the US, has become a popular social media phenomenon because of his extraordinary knitting skill.
According to The New York Times, Samuel Barsky has been an artistic knitter since 1999 when he dropped out of nursing school at his local community college. The first sweater he knitted depicted a covered bridge. Eventually, he took over the famous landmarks around the world.
"If I know my plans in advance I'll knit a sweater and take it there," he told The New York Times.
He started sharing pictures of his sweater selfies on social media in 2013 only after he "discovered that Facebook had different groups for all different interests, including knitting," according to Fox News.
Since then, he has earned social media reputation and mass followers on many platforms, who absolutely adore his works.
Barsky told Fox News that he decided to feature landmarks in his sweaters after seeing a picture of London's Tower Bridge. "After first knitting a few sweaters with generic scenery, I saw a picture of London's Tower Bridge and thought it would make a great sweater," he said.
Knitting sweaters that adorn those famous destinations and landmarks have been his favorite leisure over the years. He has knitted a total of 119 sweaters including designs of Niagara Falls, Stonehenge, Hollywood sign and even Eiffel Tower.
Speaking of his trip to the Hollywood sign in Los Angeles, Barsky told The New York Times, "I was looking for the right angle when a minibus full of tourists pulled over. One of them asked, 'Are you the knitting guy?' I said, 'I have some good news for you. I am about to take a picture with the landmark.'"
While the internet is going gaga over his beautiful knitting skill, he told Fox News, "It is a career for me now. I have made a career out of knitting events. And I am planning in the future to have them mass produced, to write books on the topic, and a lot more."