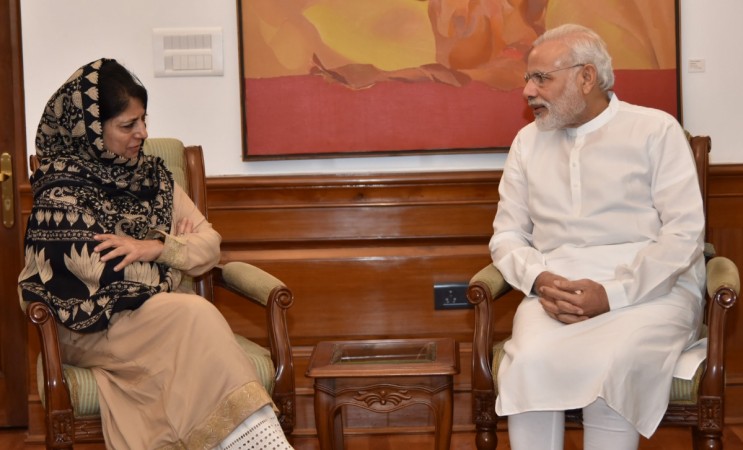 Prime Minister Narendra Modi on Sunday touched upon a variety of topics, ranging from Kashmir to the Rio Olympics to even eco-friendly idols for Ganeshotsav and Durga Puja, in his fresh address on the latest edition of the Mann Ki Baat radio programme.
Here are the salient points of his speech, in order of mention:
Modi started his address with a mention of "wizard of hockey" Dhyan Chand, whose birthday on Aug. 29 is celebrated as Rashtriya Khel Divas, or National Sports Day. He talked of the time when cricket legend Don Bradman had said of the man who helped India get hockey gold in 1928, 1932 and 1936 in the Olympics: "He scores goals like runs."
Modi then talked of the Olympics, saying he had received the most number of suggestions on this topic. He lauded all the Indian athletes who had performed well at the Olympics, including medal-winners Sakshi Malik and PV Sindhu. He also praised the near-misses and achievements of Deepa Karmakar, Lalita Babar, Abhinav Bindra, Saina Nehwal, Rohan Bopanna and the men's and women's hockey teams. He also spoke of the task force he had constituted for better perfomance of India in future Olympics.
With Teachers' Day approaching on Sept. 5, Modi took the opportunity to thank P Gopichand, who coached Sindhu, for the latter's Olympic performance. He also spoke of his 90-year-old teacher, who still sends him hand-written letters every month. He also reminded the nation of Sarvepalli Radhakrishnan, on whose birthday Teacher's Day is celebrated, saying the former president used to say: "A good teacher always ensures that the student within him does not die."
With Ganesh Chaturthi coming up, he urged people to not install idols made of plaster of Paris, as it may pollute water bodies after the idol immersion. He instead asked people to use idols made of clay from ponds for both Ganeshotsav and Durga Puja.
Modi said Nobel laureate and Bharat Ratna Mother Teresa would be conferred sainthood on Sept. 4, for which an official delegation from India would be sent.
Modi talked of a few instances where the Swachh Bharat Abhiyan had taken a special turn, adding that the chiefs of several villages on the banks of the Ganga had vowed not to pollute it.
First, he talked of 1.25 lakh students — aged seven to 11 — from 1,700 schools in Chhattisgarh writing a letter to their parents asking for toilets at home. They replying the next day, setting a date by which they would get toilets.
Second, he talked of Mallamma, a teen from Koppal in Karnataka whose stand for a toilet had inspired the villager chief to get her one at a cost of Rs. 18,000.
Third, he urged people to send in short films on cleanliness — made even with mobile cameras — for a contest whose winners would be announced on Oct. 2.
He talked of good neighbourly relations by mentioning the shared content creation of broadcasting between Akashvani Maitree in India — a service inaugurated by President Pranab Mukherjee in Kolkata — and in Bangladesh.
Modi also talked about an 84-year-old school-teacher who was so touched by his gesture of sending a personal letter to her because she had given up LPG subsidy that she had decided to donate Rs. 50,000 towards providing more women in rural areas with an alternative to smoky stoves. She had asked Modi not to mention her name, calling the letter from him "nothing less than a Padma Shri."
Modi lauded all the political parties for coming together to pass the GST Bill unanimously.
Modi also lauded them for speaking in unison on the Kashmir issue, encapsulating the resulting sentiment in two words: "Ekta," meaning unity, and "mamta," meaning endearment or love. He said life lost in Kashmir — be it from the security forces or the civilian populace — was a loss to the entire nation, adding: "People who are pushing these children [reference to stone-pelters] forward in protests will one day have to answer to them." This seemed to be in direct correlation to claims by a top-ranking Army official that militants had fired at soldiers in Jammu and Kashmir from behind stone-pelters.