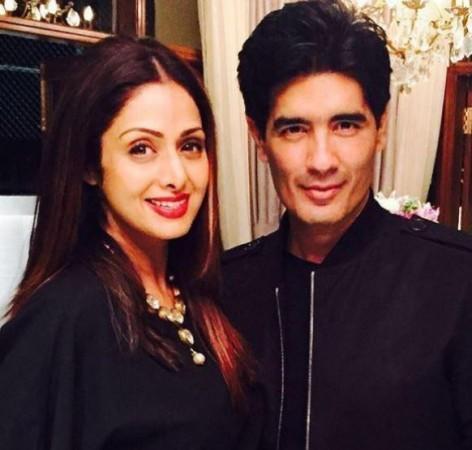 Celebrity designer Manish Malhotra, who was one of the closest friends of late actress Sridevi, has penned a long and heartfelt note for the English Vinglish star. Manish's note was published in the fashion magazine, Vogue.
In the note, the designer revealed that he had a long conversation with Sridevi the day she died. They spoke everything from Janhvi's film to what she had for the meal earlier that day.
"This is the first time I've lost someone so close, and it feels surreal. I'd known her for 28 years. We were at a wedding together and then, out of nowhere, her sister Srilatha was handing me a silk sari for her funeral. I spoke to her the night she passed away. We talked about everything under the sun, from Janhvi's film, how beautiful Khushi looked at the wedding to even what she had eaten earlier that day. Even now, so many days later, I still expect my phone to ring, and to hear her discuss an outfit or a project which we can work on together," he wrote.
He also revealed that Sridevi never used to bad-mouth anyone. "I realize gossip never entered our conversations. We talked about clothes, food, movies—all the good things in life. She never wished ill upon anyone, or remarked upon her contemporaries."
Manish is now designing Sridevi's daughter Jahnvi's outfits for her debut film and talking about the similarities between the mother and daughter, Manish wrote: "It's funny how life comes full circle. I used to make little cholis and ghagras for the girls when they were younger. Now I'm working with Janhvi on her debut. Much like her mother, she's a bundle of talent and discipline."
Sridevi passed away February 24 in a hotel room in Dubai. Three days after her death, the 54-year-old's body was flown back to Mumbai.