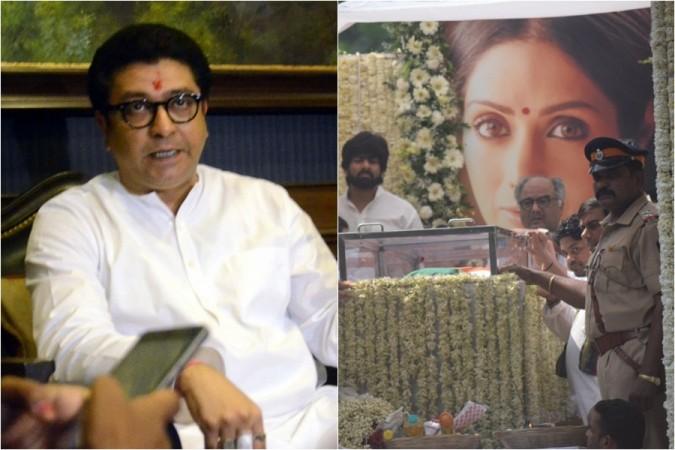 Maharashtra Navnirman Sena (MNS) chief Raj Thackeray on Sunday (March 18) hit out at the Maharashtra government for wrapping veteran actress Sridevi's body in tricolor and giving a state funeral.
He was addressing the party workers at a rally at Shivaji Park in Mumbai.
"Sridevi was a great actor, but what did she do for the country that her body was wrapped in the tricolor?" Thackeray asked. "When a person like Sridevi dies, you wrap her in the tricolor and you say you did that because she was a Padma Shri. It was all fault of the Maharashtra government," he added.
Sridevi, who died at 54 due to accidental drowning, received state honors on February 28.
Who is eligible for a state funeral?
As per the rules, a state funeral is accorded in the event of the death of the President, Prime Minister, a former President or a Governor and not any other dignitary. However, in individual cases, the central government may order a state funeral.
Detailed procedures have been laid down which are observed on the death of high dignitaries in India viz., president, vice-president, prime minister, former president, speaker of the Lok Sabha, Chief Justice of India, union cabinet minister, minister of state or deputy minister
of the Union, governor, the chief minister of the state.
Proper arrangements would be made by the government before conducting a state funeral. After performing the customary/religious rituals, the body will lie in State to enable last homage being paid to the deceased. The body will be draped in tricolor and honored with a gun salute.
The main procession will normally start from the residence of the deceased or the place where the body is lying. The body is then escorted by a small party in vehicles to a selected place where the cremation will be performed.
So when Sridevi was given a state funeral, it was not because she was a Padma awardee but by the discretion of the state government. As the rules have changed over the time, now the government decides who will be accorded a state funeral considering the person's contribution to various fields like literature, politics, law, science and cinema.
The decision is taken by the chief minister of the state after consultation with senior cabinet colleagues.
Mahatma Gandhi was the first person to receive the state funeral in India post-Independence. Mother Teresa, spiritual leader Sathya Sai Baba, and founder of Shiv Sena Bal Thackeray were also given state funeral.