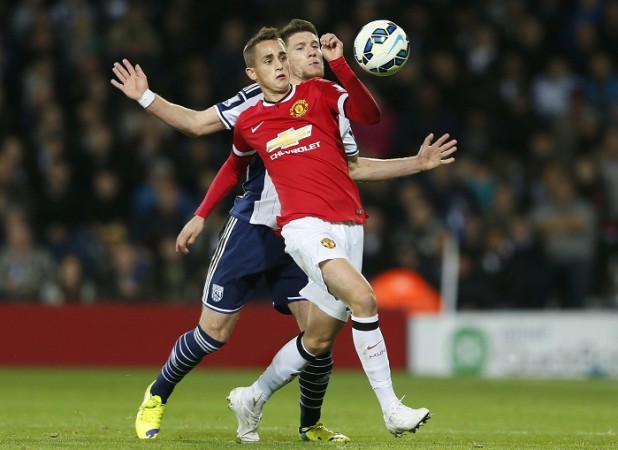 Manchester United winger Adnan Januzaj revealed he did not hesitate even for a second when he was asked if he wanted to wear Ryan Giggs's legendary No.11 shirt, but admitted the weight of such an honour is lying heavily on his shoulders.
Januzaj has not quite had the same impact he had last season, when he broke into the Manchester United first team and impressed one and all with his explosive performances.
Louis Van Gaal has been more circumspect when it has come to handing the young Belgian starts, despite being such a revelation last campaign.
However, one thing that does not remain in doubt is the 19-year-old's quality and Januzaj admitted he was happy to be wearing the shirt vacated by Manchester United legend Giggs, who felt Januzaj was the perfect candidate to take over his number.
"I was really happy to get the number of such a legend and it was a really big deal for me," Januzaj told the club's official website. "I went to the office and they asked me if I wanted the shirt.
"I wasn't going to say no! Straight away I said 'of course' and I didn't have to think about it. It was a 'yes' straight away."
With great power comes great responsibility, however, and Januzaj is aware the expectations will inevitably rise with wearing that iconic shirt number, much like the No.7 shirt at Manchester United.
"It feels different," added Januzaj. "Things have changed because it is a big responsibility to wear the no.11 shirt and having the number of a legend is really big.
"Ryan has helped me a lot and is like a godfather. He has told me to work hard on the training pitch and the rest is more personal. We talk about football a lot."
Januzaj might only be 19 at the moment, but he can see himself becoming a Manchester United legend of the future and even going onto play in his 40s like Giggs, the current assistant manager to Louis Van Gaal, himself.
"I learned a lot from him and the experience was great," said Januzaj. "He was such a good player to watch and is my favourite player of all time at United.
"Could I imagine playing at 40? Of course, if I am still fit. You never lose your quality, that's something I learned from him."