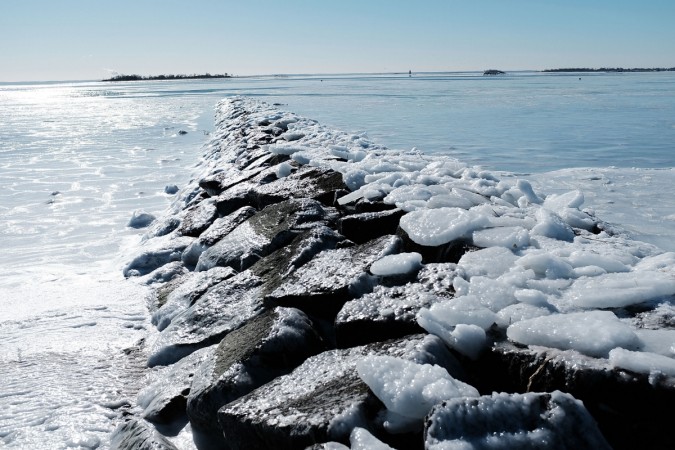 Everything is deeply frozen in the United States along the eastern coast. And some people are using the frozen beach as an ice-skating rink.
The result of the Bomb Cyclone, the extreme cold weather, is not sparing anyone with its Arctic air and wind chill for the time being.
However, the record low temperatures could not beat the enthusiasm of some locals as they have been spotted taking a stroll along the beach, skating on the beach and even walking on the ocean.
As reported by ABC News (Australian Broadcasting Corporation), some footage of this has emerged on the YouTube. One shows a man ice-skating next to the frozen ocean at Long Sands Beach in Maine, in the north-east coast.
Also read: Donald Trump hopes for 'good old Global Warming' for freezing East coast while he golfs in sunny Florida
Peter Lekousi, who went for a short stroll Sunday evening along with his wife Sandra Lekousi on the Long Sands Beach in York, Maine, spotted a man ice-skating on the frozen ocean.
"It was freezing cold — too cold for us to be on the beach — and he was skating on the beach,'' Sandra said in a phone interview with Boston.com.
Taking to Facebook, Peter Lekousi wrote how happy he was to see that the man had brought his ice skates to the beach.
"I keep trying to tell you all, every day is a beach day in Maine," he wrote on Facebook.
Earlier reports had said that it was so cold in the United States that the Atlantic White Shark Conservancy found three thresher sharks washed up in Cape Cod. Even iguanas were falling out of trees in Florida, according to a report by The Washinton Post.
The Bomb Cyclone has resulted in the death of at least 18 people. Thousands of flights are backlogged.
The US National Weather Service (NWS) wrote in its weekend forecast: "Based on the latest forecasts, overnight temperatures should go below zero degrees over most of New England with perhaps even some 5 to 10 degree numbers all the way into North Carolina. Suffice to say, it will be a brutally cold weekend but some relief is in sight heading into early next week."