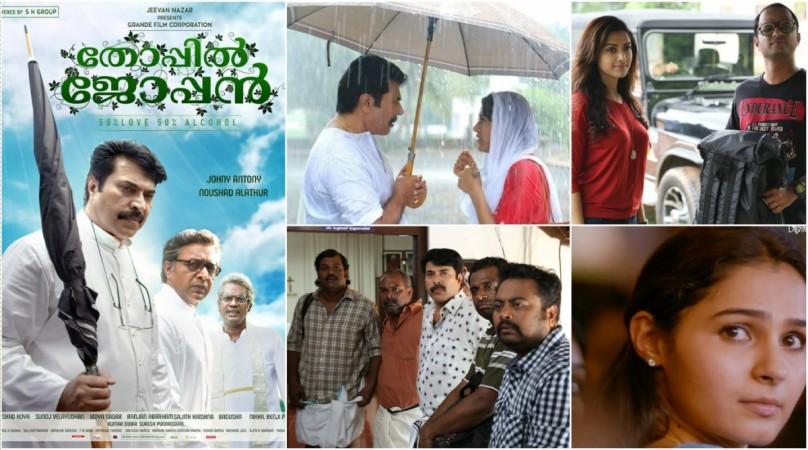 Is Thoppil Joppan a serious movie? No. Is it predictable? Yes, very much. Then why did Mammootty act in such a simple movie? The ultimate aim of a family entertainer is to entertain the audience with some fresh comedies even if it is not driven by logic sometimes.
Plot
Though Thoppil Joppan (Mammootty) is a successful Kabbadi player in Thopramkudy, he is unlucky when it comes to his love life. The movie begins with Joppan's friends -- Alencier Ley, Pashanam Shaji, Sreejith Ravi and Sohan Seenulal -- telling how he fell in love with Annie (Andrea Jeremiah) during their childhood days. However, he is forced to leave the hometown due to pressure from his family on not having a job. Before leaving to Mumbai, he requests Annie to wait for him till he comes back. However, he returns on her betrothal day that makes him a drunkard. The incidents that happen in Joppan's later life are being narrated in the movie.
First things first, the double-meaning dialogues of Mammootty in Kasaba were heavily criticised, but the humour in Thoppil Joppan without any vulgarity deserves a special mention.
Performance
The megastar has shined as Thoppil Joppan, a rich man who always spends time with his four close buddies. The comedy roles handled by the star have many times entertained the Malayalam audience, and there are many elements in Thoppil Joppan that makes the movie-goers have similar experience.
Pashanam Shaji, Alencier, Sreejith and Sohan have nailed one-liners throughout the movie. Though Andrea has less screen presence, Mamta Mohandas as Dr Maria has exhibited a lively performance in the movie. She has conflicting choices when it comes to men in her life. Salim Kumar has made an amazing comeback by playing as Fr Issac Valamparambil, a strict priest at a de-addiction centre. Renji Panicker as parish priest and Harishree Ashokan as marriage-broker also have good screen presence to entertain the audience.
Kaviyoor Ponnamma as Joppan's mother and Reshmi Boban as his sister have delivered convincing performances. Jude Anthony's appearance as Thomaskutty surprises the audience, but you will wonder how a smart girl will fall deeply in love with such a person (no offence).
Direction and scripting
Though director Johny Antony's previous movies had failed to mark at the box office, the Mammootty-starrer has helped him to make a comeback. However, his directorial venture is predictable from beginning till end, with the comedy dialogues the only saviour.
Thanks to scriptwriter Nishad Koya for including few dialogues and moments from some of the superhit Malayalam movies like Meeshamadhavan, Sagar Alias Jacky and Inspector Balram, it created a laughter riot in theatres. The makers have used the stardom and appealing look of the megastar to make it totally a Mammootty-movie.
Songs and technical aspects
Thoppil Joppan has five songs composed by Vidya Sagar, out of which the title song Ithaanu kavyanayakan sung by Niranj Suresh is catchy and spot on. But looks like the composer remains in his comfort zone without bringing any freshness in the music. The devotional song Poovithalai, sung by KS Chitra is impressive. The choreography of Chil Chinchilamai song looks odd without syncing well with its lyrics.
What's wrong?
Though Thoppil Joppan doesn't have any vulgar comments on women, the way a handicapped person is treated by Mammootty's character is debatable. Also, Thoppil Joppan shows the patriarchal attitude of the society, where women are not treated equal with men. But what else can we expect from a superstar movie? No offence, but it is enjoyable only if feminists watch Thoppil Joppan keeping this fact in mind.
As expected from any superstar movies, Thoppil Joppan is Mammootty's one-man show. He can fight without getting hurt. Only he can make a villain turn a good Samaritan. Despite having all these clichéd elements and predictable plot, if the movie entertains, then why should we regret buying a ticket?
Final verdict:
If you watch Thoppil Joppan with least expectation, it might make you feel happy for two hours. The one-liners by the comedians are the USPs of the movie though they haven't gone well with few people, who criticise it as a bad movie.