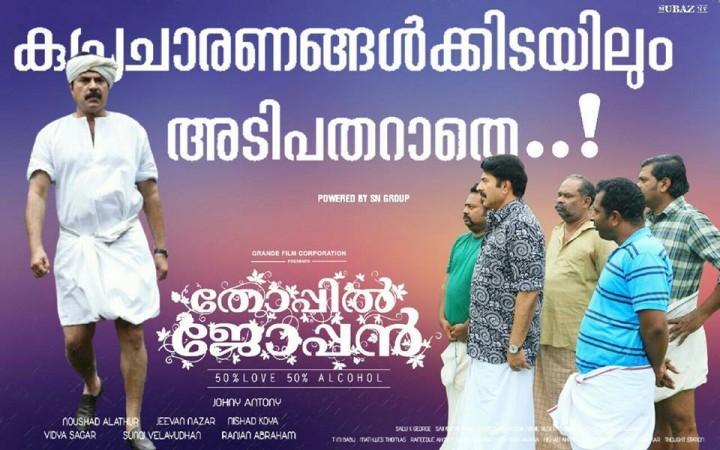 "Mammootty or Mohanlal, whom do you like the most?" is a question that is sure to lead fights between the fans of the Malayalam superstars. The fan fights happen especially when the movies of the actors get released. If a Mammootty-starrer hits the theatres, the fans of Mohanlal try to degrade the former's movie in as all ways possible and vice-versa.
Now, with the release of Mohanlal's Pulimurugan and Mammootty's Thoppil Joppan on the same day, the fight between the two teams has become inevitable. In an attempt to ruin the success of Thoppil Joppan, the fans of Mohanlal have allegedly shared the news on the comedy entertainer hitting the mini-screens soon. A photo, which is said to be photo-shopped, has been doing the rounds on social media claiming that the Mammootty-starrer will telecast on popular entertainment channel Surya TV.
Read Thoppil Joppan IBTimes India review | Thoppil Joppan 1st week collection
After noticing the photo that has gone viral on social media, the team of Thoppil Joppan has now come forward slamming the rumours on the movie's television telecast. Calling it a fake news, the makers have announced that strict legal action will be taken against people who spread such news about the Mammootty-starrer.
"We have come across few posts on social media about Thoppil Joppan hitting the mini-screen soon. Few people spread these false news with an intention to destroy the movie's success. We haven't revealed the details on the telecast of Thoppil Joppan on TV and strict legal action will be taken against people who spread such news through Facebook, Whatsapp and other social media [translated from Malayalam]," the makers write on Facebook page of Thoppil Joppan.
Apart from this, there has been a lot of confusion regarding the box office collection figures of the Mammootty-starrer. Read more: Johny Antony clarifies on the box office collection of Thoppil Joppan
Read the Facebook post and the viral photo here: