After a long time, Mallika Sherawat has shared pictures of her in a bikini while chilling by the swimming pool beating the summer heat. The once Bollywood bombshell posted the pictures on her Instagram and sent her fans into a frenzy.
"Koi Aawat hai. Koi jaawat hai. Jo khul ke saamne aaye, wohi Mallika Sherawat hai." This line from Navjot Singh Sidhu's shayari has always resonated in our ears every time we saw Sheri Paaji deliver it in his own inimitable style.
And when the 41-year-old actress flaunted her curves in a skimpy bikini, her fans soon started singing the popular song Bheegey Hont Tere Pyaasa Dil Mera from her 2004 erotic thriller, Murder. They also blamed her for global warming and said that she has lit the pool with her hotness.
Fans were happy to see Mallika in her signature bikini avatar and called her the real bombshell of Bollywood.
"U are dammnn deadly beautiful ...u are all time hottest actress ...I still can't forget ur steamy scene from murder movie," an excited fan commented.
Another user commented, "So hot ,u as well as weather ,but now u hv defeat weather in terms of heat."
Mallika's bikini avatar remined a fan of her bold avatar in Murder and started singing, "Bhige honth tere, pyaasa dil mera, lage abra sa, muje tan tera."
Check out Mallika Sherawat's recent bikini avatar here.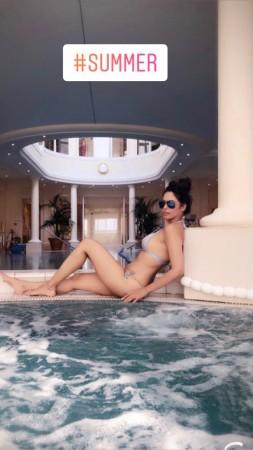 On the work front, Mallika may have been out of the showbiz for quite a while now but she keeps entertaining her fans with her pictures on social media. She recently dazzled on the red carpet at Cannes Film Festival 2018 wearing a beautiful lilac gown, which was designed by Yolancris. Known for her philanthropic activities, Mallika attended the film festival to spread awareness about the issue of child prostitution and trafficking in collaboration with an NGO callled Free A Girl India.
She will soon make a comeback into showbiz with her two upcoming films - Zeenat and Saali Khushi - which will hit the screens soon.