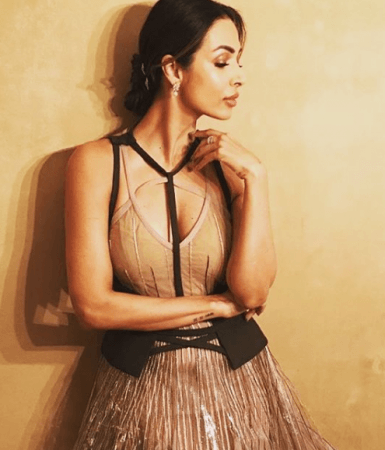 During a recent interview with Anaita Adajania Shroff, Malaika Arora was at her candid best when she was asked about insuring one of her assets. Malaika un-hesitantly replied that it was her 'backside'.
While talking about confidence, Malaika said that since her childhood days, she had never been shy or awkward and had always been brimming with confidence.
She added that she can't imagine her life without her girl gang. The Chaiyya Chaiyya star said that life would be boring, mundane and useless without her girl pals. Even though her core gang comprises of her sister Amrita, Karisma Kapoor and Kareena Kapoor, she sometimes lets in Karan Johar for fun as well.
Explaining her days after being divorced, Malaika said she has become calmer and is more at peace with her surroundings. Malaika added that while being married, she felt all over the place but is more stable and composed now.
Delving into the kind of men she would like to swipe right, Malaika revealed that her ideal man should be an animal lover, have a rugged look and be someone who loves to travel. She also added that the way to her heart is literally through food.
Talking about her son Arhaan, Malaika revealed that she is not one of those possessive moms and just lets her son the way he wants to be. She also added that she doesn't have any house-rules or "do's and don'ts" for her son or his friends when they come over. However, it is Arhaan who has an opinion on everything his mom does and has an opinion on every man in her life.
On being asked whether she would want to date men who are ten-years-younger or older, Malika said she would choose men who are younger. Ahem!
While Arbaaz Khan has openly declared his love for girlfriend Georgia, we guess it's only a matter of time, before Malaika sets her eyes on someone. Don't you think?