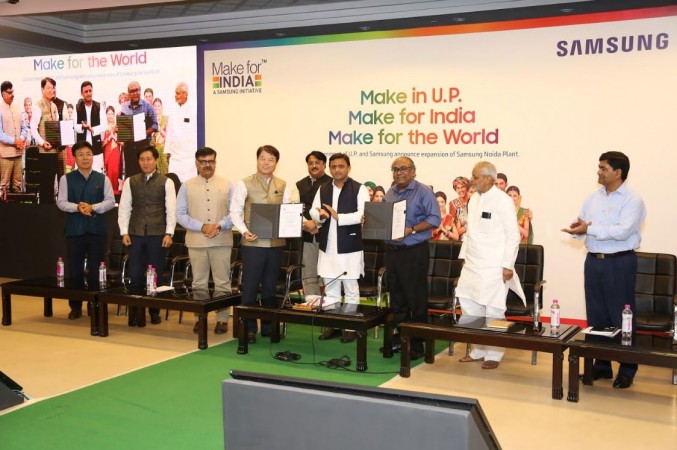 Global consumer electronics major Samsung is investing more funds for the company's smartphone manufacturing plant in Noida, Uttar Pradesh, giving boost to the central government's 'Make in India' initiative.
Samsung, which leads as the top smartphone-maker in India committed Rs. 1,971 crore to enhance the infrastructure of its Noida plant. As per reports, Samsung employees around 45,000 people in its three research labs and two manufacturing plants across India, including 10,000 plus people in UP alone.
Also read: Samsung to buy AI-developer Viv Labs, owned by original Apple Siri creators; Will Galaxy S8 come with AI-assistant?
With the infusion so much money, it looks like the company intends to consolidate more share in Indian smartphone market with local-market-oriented phones and software. For instance, S bike mode, ultra data saving mode, battery optimization which we see recently released Galaxy J series are India-region specific phone features.
Even the Samsung's proprietary phone interface Tizen, an alternative of Google's Android is designed and developed, here in India.
"In line with our commitment to 'Make in India' and living by our promise to 'Make for India', we are pleased to receive the Uttar Pradesh Government's approval to invest in the state and expand our manufacturing base here in India. As digitization expands across the country, we are witnessing an increase in the adoption of electronic devices, appliances and mobile phones. A bigger and more robust manufacturing facility will help us address the needs and demands of our growing customer base across the country and the region. We plan to further the Samsung innovation promise across our Refrigerator, Mobile and LED TV range, offering the latest and best of the world to our customers," HC Hong, President and CEO of Samsung India, said in a statement.
In a related development, Samsung rival Huawei, which is currently placed as world's third biggest smartphone-maker, opened a mobile phone assembling unit in Chennai.
Read more: Make in India: Huawei opens smartphone-manufacturing unit in Chennai
Other prominent smartphone vendors which have already set-up plants in India include Lenovo, Xiaomi and OnePlus, among others.