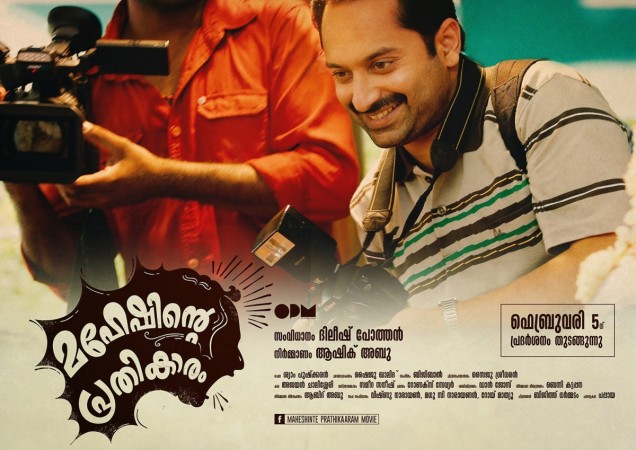 The year 2015 was dull for Malayalam actor Fahadh Faasil, whose films could not make an impact at the Kerala box office. It seems the actor is back with a bang in 2016, as his latest movie "Maheshinte Prathikaram", released on Friday, 5 February, has been getting tremendous response from critics and audience alike.
Plot
The movie narrates the story of Mahesh, who owns a studio in Idukki and works as a wedding and funeral photographer in the village. Anusree plays Soumya, his love interest from their school days. How he manages to overcome struggles in life form the gist of "Maheshinte Prathikaram".
Read more: Maheshinte Prathikaram Audience Review
Fahadh's performance in the family entertainer, which deals with the topics of love and revenge, is being considered one of the bes in his career. It is the directorial debut of Dileesh Pothen, who is best known for playing a director in the superhit Malayalam movie "Salt N Pepper" in 2011.
Read More: Maheshinte Prathikaram celebrity review: Fahadh Faasil is back with a bang
Shyju Khalid's depiction the beauty of Idukki and Bijibal's music are said to be highlights of the film. "Maheshinte Prathikaram" also has Soubin Shahir, Alancier Lay, Jaffer Idukki and Aparna Balamurali in pivotal roles.
Although there wasn't much pre-release hype, the word of mouth "Maheshinte Prathikaram" has been receiving from the audience is expected to help it rock the box office in the coming days.
Check out review roundup of "Maheshinte Prathikaram" below:
Maheshinte Prathikaaram is a movie rich in its humor, sensible with the motives and has characters that have dilemmas and insecurities we can relate to. It is a hilarious and cheerful cinema that is cent percent entertaining.
Nice visualisation of a simple and lighthearted theme. Fahadh Fazil who is going through a lean patch at the box office has chosen a good screenplay in Maheshinte Prathikaaram. As the protagonist, he was able to emote really well in conveying the innocence of the character. Anusree played her part as Sowmya, Mahesh's love interest. Shoubin Shahir in his trademark style came and conquered our hearts. This is an honest approach from Dileesh and his team. Anyone from a family can sit through and relax watching this light-hearted film. Humour, songs, romance, emotions are all there put together quite well.
Anusree again proves that she is one of the most talented yet underrated actresses in our industry. As Soumya, she just lived and the expression of her at many scenes was priceless. Other actors like Alancier Lay, Dileesh Pothen, Jaffer Idukki etc also done their part to perfection as well. Aparna Balamurali is going to be in the limelight for a long time as it is so obvious in the way she looked, talked, and went emotional. In total, Maheshinte Prathikaram is a superb entertainer with some great quality performances, direction, screenplay and above all it gives you something really fresh. Don't miss this one at your theatres nearby. Well, Malayalam cinema is back...
The film is a great watch and it has got blockbuster written all over it. At two hours, it is indeed cut to the correct size and you actually get the feeling that they were padding it with some songs to stretch it out. Most of the songs move the story forward anyway and so it doesn't matter. It doesn't get sentimental at any point of time and the ending kind of reminded me of Neram. Some might find it a bit anti-climactic or abrupt but I thought it was perfect. Fahadh is badly in need of a significant hit and this one looks like a sure bet.