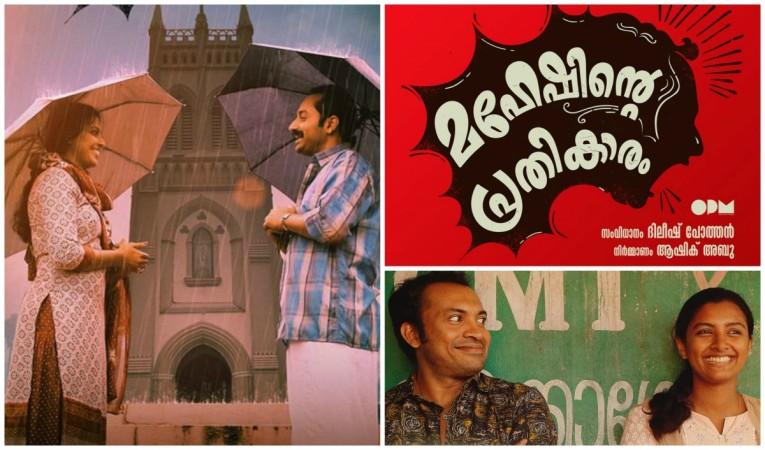 Fahadh Faasil starrer "Maheshinte Prathikaram," released on Friday, 5 February, did not witness a huge crowd pulling during the opening shows in Kerala. However, after the movie opened to good response and due to the audience's positive word-of-mouth, it got picked up by many during the evening shows.
"Maheshinte Prathikaram," which deals with the topics of love and revenge, is touted to be a simple family entertainer that tells the story of a person named Mahesh who owns a photography studio in Idukki, Kerala. Anusree is seen in the role of Soumya -- Fahadh's love interest since his childhood days. He faces some struggles in life and how he overcomes them along with some suspense elements form the gist of "Maheshinte Prathikaram."
With his performance in "Maheshinte Prathikaram," Fahadh has come back with a bang, considering his previous movies could not make it big at the box office. Soubin Shahir, who rose to fame with his turn as PT Master in Nivin Pauly's blockbuster movie "Premam", has also been receiving good response from the audience for his role as Crispin in the Fahadh starrer. The movie also has Alancier Lay, Jaffer Idukki and Aparna Balamurali in significant roles.
Many celebrities, including Fahadh's brother Farhaan Faasil, actor Sunny Wayn, music composer Gopi Sunder, scriptwriters Vivek Ranjit, Salil Sankaran, director Mithun Manuel Thomas, have been heaping praises on the Dileesh Pothen's debut directorial venture.
Check out celebrity review on "Maheshinte Prathikaram" below:
Sunny Wayn
‪#‎MAHESHINTE‬ PRATHIKAARAM - Beautifully made with brilliance in both technicalities and performances! Fahad , sorry... Mr. MAHESH, u were so cute on the screen, u made me smile, and sometimes u made my eyes fill up with tears! supporting actors' contribution was just awesome! They brought so much energy on the screen!‪#‎Soubin‬, way to go man( crispin , lispin cripsin hahaha ),.. thank u so much for such a lighthearted movie, ‪#‎Dileesh‬ Pothen.. Fahad, like you said yesterday,.. Everyone would have experienced through such moments in different phases of life. Loved it!☺☺☺
Vineeth Sreenivasan
Maheshinte Prathikaaram - മഹേഷിന്റെ പ്രതികാരം is a movie that's impossible not to love.. Right from the beginning credits, i fell in love with this film.. Syam Pushkaran has done some amazing work writing this film.. Though the movie looks very simple, a very detailed work has gone behind the screenplay.. So is the cinematography.. And music blends into the film like a river.. When music, cinematography and screenplay go hand in hand, that's the best support a director can have.. Dileesh Pothan has done this movie with a lot of conviction and it cuts through every scene.. And it was so good to see Shanu [fahadh] back in a movie that deserves his talent.. Watching Maheshinte Prathikaaram - മഹേഷിന്റെ പ്രതികാരം was like watching a beautiful malayalam movie from the 80's.. It's that good!! Let the rest of the film industries in India shout out loud with their big budget giant films and 100 crore clubs.. We ll make them all turn back and look at us by making beautiful films like this.. Commondraaa Mahesheeee!!
Farhaan Faasil
Aannnndd He's back with a bang !!!!!!! Super super super happy !!!! LOVED THE FILM !!! Awesome reports all over !!! You guys nailed it Fahadh Faasil Dileesh Pothan Syam Pushkaran Soubin Shahir Aashiq Abu and everyone involved in the movie !!! കമോണ്‍ട്രാ മഹേഷെ !!!!!!!!!!!!!!
Dear dileesh pothan , I respect u for this treat . . No words . Really proud . Loved the movie ,"maheshinde pratikaaram". It's Gona b a supper hit . No doubt . Manassu niranju ☺☺☺
Vivek Ranjit
Maheshinte Prathikaaram - മഹേഷിന്റെ പ്രതികാരം - One of the most satisfying movie experiences in recent times. Director Dileesh Pothan deserves a huge round of applause, a warm welcome, and a big hug for displaying such amazing craft and setting the movie in the wondrous atmosphere of Idukki. Its a beauty to see the characters come alive in this film. Syam Pushkaran has written his best script so far with a detailed understanding of the place he has set the movie in, and the people who live there. He has derived crazy, fresh humour out of the most simple and subtle situations rather than going for the skit-styled 'comedy scenes' we're used to seeing. There is a long, hilarious sequence which is a brilliant commentary on Malayali's favorite hobby of poking their nose into others' lives. Each plot-point is cleverly woven into the narrative and maintains a beautiful flow through-out. Shyju Khalid's camerawork will not make you take your eyes off the screen. Mindblowing work. Saiju Sreedharan's seamless editing, Bijibal's lovely songs and even lovelier background score (one of his best works so far), Ajayan Chalissery's authentic art direction, Dan Jose's sound design have all come together magically to create a wholesome, satisfying experience. The fight sequence was perhaps the most effectively shot 'naadan thallu' since Kireedam (and Chenkol which get a hilarious reference in the movie). Alencier Ley is kickass (great to have one more extremely talented actor in our mainstream cinema), Soubin Shahir hits it out of the park yet again, Anusree is brilliant, the new girl Aparna Balamurali is a real find, Dileesh Pothan himself is hilarious and there are numerous others in small and big roles who're really impressive, especially the man who played Mahesh's father. For the first time, liked Jaffer Idukki too. But the movie belongs to the man who's been missing in action for quite some time - Mr. Fahadh Faasil who amazes us like only he can after a long time. After some odd choices, he's back here in a great film, in a great role and delivering a milestone performance. Subtle, powerful, heartfelt and super-massy when needed. There are many instances and many more scenes where he's just silent, but simply stunning! His films haven't had a great run for some time now, but this film easily deserves a 100-day run at the box office and has all the potential to bring Fahadh back to the forefront. I saw that all the shows on bookmyshow were green in the morning and now its all red. Watching it again tonight, with family. Congratulations Aashiq Abu, Rima Rajan and the entire team! Go watch the very next show and come out smiling! കമോണ്ട്രാ മഹേഷേ!!
Gopan R Nair
Maheshinte Prathikaaram - മഹേഷിന്റെ പ്രതികാരം - 2016 ettavum mikacha class , entertainer movie ! kidilan script Syam Pushkaran , kidilan direction Dileesh Pothan , kidilan music Bijibal , @kidilan cinematographyShyju Khalid , kidilan perfomances Fahadh Faasil , Alencier Ley , Soubin Shahir and all others. orale vittu poi Aashiq Abu - kidilan producer. kudos to whole team
Salil Sankaran
So happy to see such fresh thoughts coming alive on our screens smile emoticon Congrats to the whole team. Dileesh Shyam Aashiq Abu and Rima surely deserve a big round of applause.