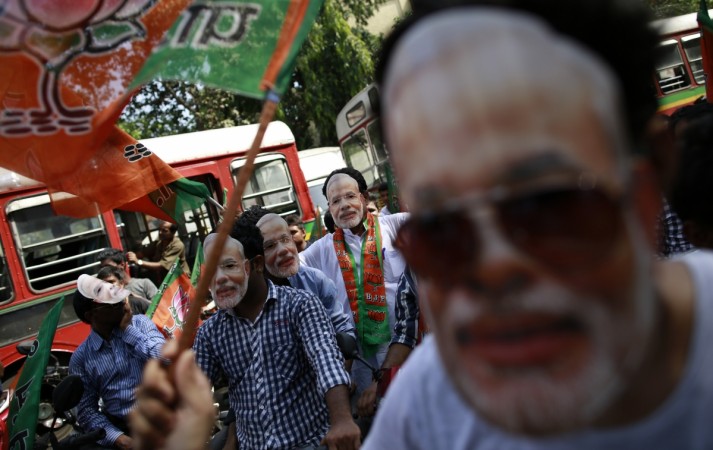 With just days left before the new government in Maharashtra is sworn in, which is likely on Thursday, the political drama in the state seems to have ended as the Shiv Sena seems set to join the Bharatiya Janata Party, as per the latest reports.
According to television news reports, the two parties are likely to settle their differences and revive their 25-year-old alliance, which they had called off a few months ago.
In a latest editorial published in its mouthpiece, Saamna, on Monday, Shiv Sena said that it is "happy that the BJP will run the state" and stated that the party would support any candidate as the chief minister.
"Shiv Sena is ready to support anyone who will take Maharashtra ahead with the blessings of the people," the editorial said.
Party chief Uddhav Thackeray also had words of praise for Prime Minister Narendra Modi after weeks of lashing out at him post the alliance break-up. In the latest editorial, he has reportedly attributed BJP's success in the Maharashtra elections to Modi.
BJP leader Vinod Tawde had said on Sunday that a coalition could be on the table if "Sena is serious and unconditional in its approach", as reported by Hindustan Times.
"The BJP wants to bring Shiv Sena into the alliance and form the government. If we come together in our minds then we can discuss portfolios etc," Tawde was quoted as saying by NDTV.
The new chief minister is set to be elected by party MLAs in the state on Tuesday in a meeting, following which he will be sworn in on Thursday. BJP state president Devendra Fadnavis is likely to be named the leader of the legislature.
The BJP will form a minority government if talks with Sena fail, as per reports.
While BJP won the most votes in the recently held assembly elections, it fell short of a majority by 22 seats, and the party has since been mulling offers for alliances from the Nationalist Congress Party led by Sharad Pawar and its former partner in the state, Shiv Sena.