After Sunday's "historic" win in Maharashtra and Haryana, BJP has yet another task to be accomplished, where despite becoming the single largest party it still needs 23 more seats to form the government.
Party president Amit Shah called for a meeting of party heads and state legislators on Monday to decide on Maharashtra's Chief Minister and to discuss strategies to form independent government in the state.
Meanwhile, Shiv Sena has now extended its support, after initially refusing to approach BJP. Sena chief Uddhav Thackeray reportedly reached out to BJP and asked for the past to be forgotten and said that the two parties must move forward.
However, to ensure that the party rules the state without sharing their ruling power with any other party, BJP is said to have considered either extending the President's rule in the state or poaching MLAs from other parties to form government to avoid entering into an alliance, according to The Hindustan Times.
BJP has chosen home minister Rajnath Singh to carry forward the discussion on major decisions for the party -- to get needed support for the party to form independent government and to decide on state's CM candidate.
"I am going to Maharashtra tomorrow to decide on the BJP legislature's party leader," Singh said while addressing media after the assembly poll result came out on Sunday evening.
While Devendra Fadnavis has already been projected as the frontrunner for the CM's position, recent reports have suggested that late BJP leader Gopinath Munde's daughter Pankaja Munde is also being considered one among the strong contenders in the CM race.
In the meantime, BJP is planning strategies to ensure forming an independent government, for which Nationalist Congress Party has lent its outside support. On 19 October, when the poll results indicated BJP's victory in the mid way, NCP extended unconditional support to BJP and said it wants a stable government in the state and is ready to do anything for the sake of Maharashtra's development.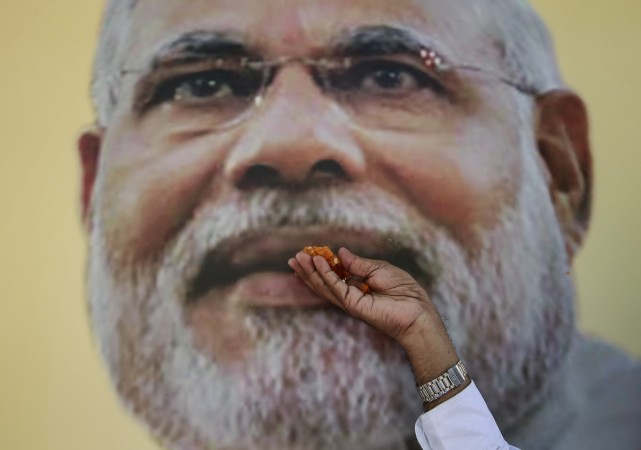 Shah and PM Modi are said to have received a call from Thackeray on Sunday evening in which the Sena chief offered to end disputes and start afresh to form a stable government in the state, to which Modi is said to have agreed.
The Shiv Sena source said that Thackeray had proposed to settle disputes saying "whatever has happened is in the past, how do we move forward?" to which Modi agreed and said, "yes, let's move forward," according to an NDTV report.
As of now, BJP seems unsure on its next step and has reportedly decided to wait to hear Shiv Sena's demands before taking further steps.