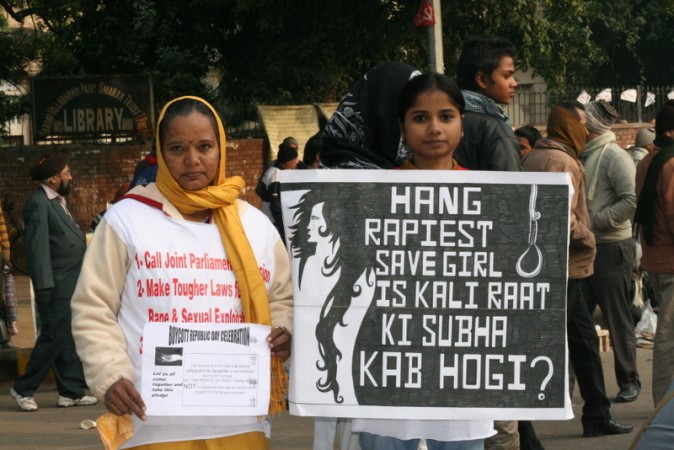 Protests escalated in Maharshtra following the brutal rape and murder of a 14-year-old girl in the Ahmednagar district of the state. The agitation became violent at places, with a crowd setting a bus on fire in the Latur district of the state, as it emerged that the accused had actually been shielded from goons by the victim's brother, and had apparently been emboldened when another of their victims had not complained against them.
It had been known so far that the girl was raped, beaten and killed on July 13 in the Kopardi village of Ahmednagar's Karjat taluk, allegedly by three labourers. When the class 9 student's body was found, it is said to have borne numerous signs of a brutal beating and human bite marks. It is now said several bones of her limbs were also fractured due to the beating. The incident happened just a few metres from her house, where she was returning that fateful evening.
In fact, it was a cousin of hers who first saw her dead, lifeless, unclothed body being carried by chief accused Pappu Shinde.
As the news spread from the rural setting to across the state, so did the outrage, until it reached the doors of Maharashtra Chief Minister Devendra Fadnavis, who appointed noted advocate Ujjwal Nikam as public prosecutor in the case.
It has now emerged that the accused could be repeat offenders. Her brother, an 18-year-old college student, told the Indian Express the labourers had apparently molested another girl the same day his sister had been raped and killed, and had been emboldened by the fact that she had not raised an alarm or complained to the authorities.
He also said: "These men who did this had nothing against us. Actually, I personally had good relations with them. There is no enmity between the two communities either. In fact, three months back, I saved them when some goons from Shrigonda had come looking for them."
He also refuted Pappu Shinde's claim that he alone had committed the act. "My sister was a strong girl. She was a kabaddi player. It's impossible that a person like Pappu Shinde can overpower her alone. Also, the way it was done. So many bites on her body, hair pulled off and broken limbs, it can't be the work of a single man; let alone Shinde, who is a frail drunkard," he told IE.
"When my cousin saw him, he was carrying the body in his hands, while the clothes were thrown a 100 feet away. His bike was at a third location nearby. This shows there were many people and not just one," he added.