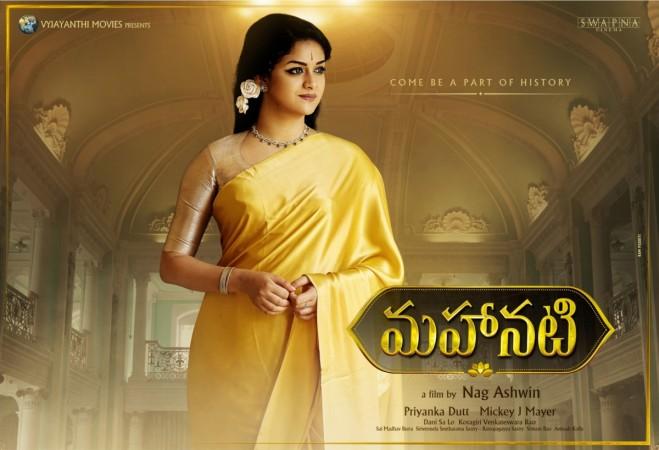 Director Nag Ashwin, who is busy promoting his next movie Mahanati/Nadigaiyar Thilagam, says that his bilingual movie is a celebration of Savitri's life and he has tried his best in showcasing her life.
Mahanati is a biographical film, based on the life of legendary South Indian actress Savitri, who ruled the hearts of millions then, now and forever. The movie is simultaneously made and released in as Nadigaiyar Thilagam on May 9. However what has raised the curiosity in the minds of the film goers is the question, what this biopic is all about.
In a statement released to media, Nag Ashwin said that there is no better story than a true story. The director said, "Savitri had immense, diverse talent, a director, playback singer, producer and someone who loved car racing. As a race car driver, she won trophies. There are so many such beautiful facets of this actor she deserves to be reminisced today."
Director Nag Ashwin added, "It's a celebration of Savitri's Life. As a storyteller and makers of the film, we want people to appreciate her professional talent and being a beautiful mother and a family person, about her association with people, who were part of her life from childhood to her passing away."
Noted producer Ashwini Dutt's daughter Priyanka has bankrolled this bilingual movie under her banner Swapna Cinema. She said, "For us, the important thing was as a filmmaker and the best we can do is get things right. Life is big and laden with troubles, awful and wonderful. It was indeed a massive task for us, in this film we have done our best to distil Savitri's life story into two hours of quality entertainment."
Keerthy Suresh is seen playing the titular role of Savitri in Mahanati, which has been termed as a tough role to play. But the film unit claims that she has done a brilliant job. Her look featured in its promos like posters and teasers has not only impressed the filmgoers but also created a lot of curiosity about the movie.
Talking about the role, Priyanka Dutt said, "Vijaya Chamundeswari (daughter of Savithri) had expressed it is a huge challenge to play this big role on her young shoulders, I found many qualities in Keerthy that kind of made me feel yes, she can pull it off. There was so many instances in the set that made not just me but many in the sets believe that Keerthy had mannerisms that strike lot of similarity like Savitri."
Malayalam actor Dulquer Salmaan is playing the role of late legendary actor Gemini Ganesan in Mahanati, while Samantha Akkineni, NagaChaitanya and Vijay Devarakonda essay other important roles. It is one of the most-awaited southern movies of 2018 and it is expected to make a record-breaking collection at the box office.