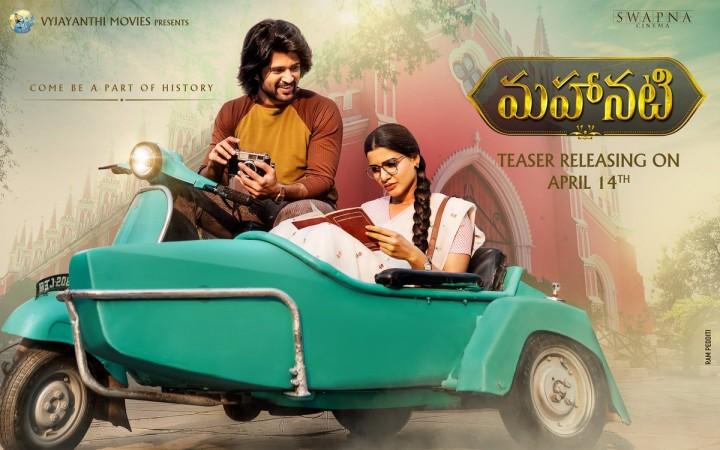 Young Telugu actor Vijay Devarakonda has stirred a controversy with his 'cool chick' remark on legendary actress Savitri's look featured on the poster of the movie Mahanati starring Keerthy Suresh.
Vijay Devarakonda is basking on the back-to-back blockbuster hits of Pelli Choopulu and Arjun Reddy, which have catapulted him to stardom. The actor is now busy promoting his next film Mahanati, which is set to hit the screens across the world on May 9.
Mahanati is a biopic on the legendary south Indian actress Savitri, who ruled the roost in the late '50s and '60s. Vijay Deverakonda is playing an important character called Vijay Anthony. He tweeted a poster of the movie, which shows some trivia about Savitri's penchant for vintage cars. In his cheeky style, the actor went on to write, "What a cool chick. #Mahanati."
Vijay Devarakonda's comment did not go down well with many filmgoers who condemned him for his remark on actress Savitri and demanded an apology.
Spoorthi Raina (@spoorthiraina) replied, "I WAS a big fan of u But now I hate u Vijay! U cannot call MAHANATI a CHICK(even though the word has no offence) SHAME! She is the greatest actress in cinema and you..who got famous only for 2 films cannot address her like that without any respect! *Sigh*"
But Vijay Deverakonda went on to defend his remark in a series of tweets. He said that the actress, who was called a home breaker and alcoholic, would have been very happy with his comment.
Here is Vijay Devarakonda's series of Twitter posts:
All who want an apology - chennai Leela Palace lo unna ocheyandi. I will even be giving you #Mahanati audio launch entries. She would have been happy to have you all back then - because appudu me lanti morals and ethics batch called her a home breaker and alcoholic.

"She was many things fearless, philanthropic, generous, but at her core she was like anyone else a girl with dreams first, a woman who loved & wanted to be loved next and a superstar last. #MahanatiOnMay9th"

I think she would have been super happy to be called in admiration "what a cool chick" ☺ compared to home wrecker and alcoholic.

But if you want to decide how I write my posts and think you know better - you can apply for the post to "teamdeverakonda@gmail.com". That way you'll also get a job