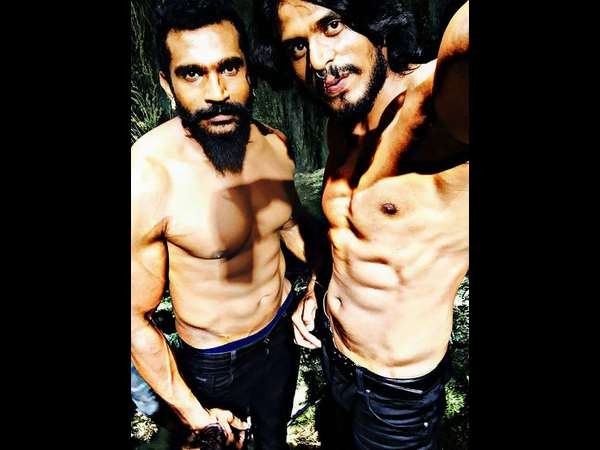 In a tragic incident, two budding actors died on the sets of Duniya Vijay's forthcoming Kannada movie Masti Gudi on Monday, November 7. Anil Raghav and Uday reportedly drowned while performing an action sequence in Thippagondanahalli Reservoir, 35 km west of Bangalore. Breaking News: Both the bodies found
Photos of Anil and Uday just before the tragic mishap | Rishi Kapoor Mours the death of the duo

The action sequence was being shot under the supervision of stunt master Ravi Varma. Duniya Vijay with Anil Raghav and Uday were part of the sequence where the three jumped into the lake, which is estimated to be between 30 to 60 feet deep, from the helicopter.
While Vijay was rescued by the team, the two others went missing. Reports add that the team planned to shoot the dangerous sequence without taking proper safety measures.
Stunt director Ravi Verma to be banned from Kannada?
A suo moto case has been filed lodged against the film unit of Mastigudi by the superintendent of the Thippagondanahalli reservoir at Tavarekere Police station. FIR has been filed against five members from the film unit, including director Nagashekar, action choreographer Ravi Verma and producer Sundar under IPC section 304, 188 and sub-section 34.
The climax required close to 11 days of shoot. "This film has six important fights and the climax fight has Vijay's stunts, choreographed by Ravi Verma that will take your breath away," the producer had told the Indian Express earlier while talking about the climax portion.
A few TV channels were present at the venue to report about the climax of Masti Gudi. In fact, Uday spoke about the sequence moments before he kick-started the shooting.
He said, "I am not an expert in swimming, but have little ability to reach the shores safely. This is the first time I am going to jump from a height. So, I am little nervous" He also pointed out that they had not prepared for the sequence and hopes everything would go well.
"I am even afraid of heights; I still cannot look down from first floor. I have told that to the director and they have assured to handle it. Three of us are friends, so we are thrilled to do the stunt," he had told the media.
The initial reports say that the Masti Gudi team did not have permission to shoot in the waters of the lake and the authorities granted permission to shoot only on the surrounding banks of the lake.
Raghava Uday was a budding actor, who was seen in negative roles. He acted in movies like Puneeth Rajkumar's Dodmane Hudga, Ramya's Nagarahavu and Yash's Santu Straight Forward. He had won an award for his performance in Duniya Vijay's earlier movie Jayammana Maga.
Anil was a close aide of Duniya Vijay and the president of his fans' association. He was a body builder and did supporting roles in Vijay's films.
Meanwhile, many celebrities have expressed their condolence messages on social media. Below, we bring you their messages:
Tamil Actor Suriya: Suriya Sivakumar: Deeply saddened!! At the age of VFX this is unfortunate!! High time,safety of the crew is taken seriously!My condolences to family members!
Kishore: Deeply pained and angered at the way we lost young Uday & Anil, just when we were feeling proud about this young breed of actors.Shameful
Akul Balaji: Prayers for the families of Anil & Uday. It's really unfortunate that their lives were shortened by an unfathomable mishap! RIP brothers
Aishwaryaa.R.Dhanush (Rajinikanth's daughter and Dhanush's wife): Deeply saddened by the tragic passing away of the 2 stuntmen in karnataka. Unable to comprehend the unforgivable carelessness.#RIPAnilNUday
Rakshit Shetty: A very sad day for all of us. Nothing is important than life. Even a smallest stunt, before being performed, needs lot of training and lots of safety measures with backups. It is very saddening to know the demise of two most hard working actors. Anil and Uday, may your soul rest in peace.
Kichcha Sudeepa: Very upsetting to hear that demise of #anil&uday.. Anil worked wth me in Hebbuli..Silent n a very hard worker.. really sad. RIP
SURAJ GOWDA: Sad demise. Very upsetting . Our condolences to the families of Anil and Uday . #rip
Pavan Wadeyar: Absolutely shocking :( #ಉದಯ್ ಮತ್ತು #ಅನೀಲ್ ಅವರ ಆತ್ಮಗಳಿಗೆ ಶಾಂತಿ ಸಿಗಲಿ ಎಂದು ಆ ದೇವರಲ್ಲಿ ಪ್ರಾರ್ಥಿಸುತ್ತೇನೆ
Parimala Jaggesh: Anil & Uday; such wonderful human beings. My son Yathi's friends. Such sweethearts; no longer alive? Fact is not sinking. Life Ishteyna ???
Ganesh: Iam really shocked,extremely broken... can't believe this,my god!how can this happen,RIP Anil and Uday
Chiranjeevi Sarja: Such heartbreaking news.. really upset about it..very hardworking and dedicated people... may ur soul RIP
HariPrriya: Very saddening,Last month ws shooting wid Uday & Anil.Nt able 2 believe dis happened.Still hoping dat dey r found alive
Darshan Thoogudeepa: It was like a death in the Family. It's totally depressing and Shocking. R.I.P. Deepest Condolences to #RaghavaUday & #Anil Families.
SRIIMURALI: Unfortunate incident,grief stricken.my heart goes out to the family and friends of Anil and Uday... rest in peace
Upendra: Anil and Uday taught all aspirants that life is more important than achievements
Aindrita Ray: Disastrous safety measures taken!2 precious lives lost!Hav workd wit Uday n Anil hope their bodies r recovered soon n strength to the family
Sharmiela Mandre: RIP Uday and Anil . But it's hard to believe why no safety precautions were taken . Negligence ??
Masti Gudi is written and directed by Nagashekhar and produced by Sundar P Gowdru. It is a thriller in which Amulya and Kriti Kharbanda are playing the female leads. The film has Sathya Hegde as its cameraman and music by Sadhu Kokila.
ಬಡತನದಿಂದ ಬಂದ ಕಂದಮ್ಮಗಳು..ಎರಡು ತುತ್ತಿಗಾಗಿ ದೇಹಧಣಿಸಿ ತಯಾರಾಗಿದ್ದ ಬಗೆ ನನ್ನ ಕಣ್ಣಮುಂದಿದೆ.ಎದುರಿಗೆ ಸಿಕ್ಕರೆ ಬಾಯ್ ತುಂಬ ಅಣ್ಣಾಅಂತ ತಬ್ಬುತ್ತಿದ್ದರು.ಹೆಣವಾದರೆ!

— ನವರಸನಾಯಕ ಜಗ್ಗೇಶ್ (@Jaggesh2) November 7, 2016