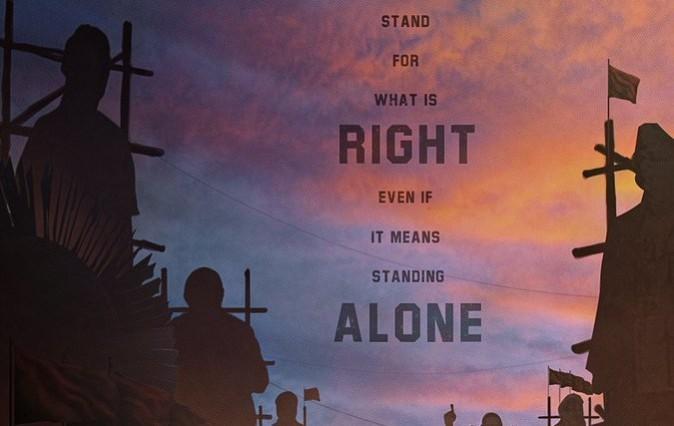 Director Venkat Prabhu revealed that the name of the next movie he is making with Simbu is Maanaadu.
"The moment all you #Strfans waiting for!!! We are really proud to announce our next #strvp title!! It's #strmaanaadu #maanaadu #aVPpolitics #vp9 @sureshkamatchi @Deepanboopathy @Vijayakumar1959 @subbu6panchu with all your love and blessings!! #titleposter. [sic]" Venkat Prabhu formally announced the news.
The poster draws the viewers' attention with the catchy caption – Stand for what is right even if it means standing alone. More than the words, the cut-outs in the promotional material have created a kind of curiosity around Maanaadu.
On close observation, one can notice the replicas of Subhash Chandra Bose, Mother Teresa, Dr BR Ambedkar and Sardar Vallabhbhai Patel. Next to Patel's replica seems to be a silhouette of Simbu.
Looking at all those personalities in the first look, it becomes clear that Venkat Prabhu is set to come with a full-fledged political thriller. It has to be seen whether the filmmaker has taken inspiration from contemporary politics for this commercial entertainer.
It has to be noted that Venkat Prabhu's father Gangai Amaran is associated with the BJP and people would not be surprised if the movie has references to the national and Tamil Nadu politics. The mention of the word "right" in the politics strongly indicates the movie might have some connection with the saffron party.
Meanwhile, the hunt for the female lead in Maanaadu is still on. There were rumours that Jhanvi Kapoor and Keerthy Suresh were approached. The Mankatha creator has said that he has not decided on the heroine and requested people not to spread rumours about the film.
The movie will hit the screens next summer.