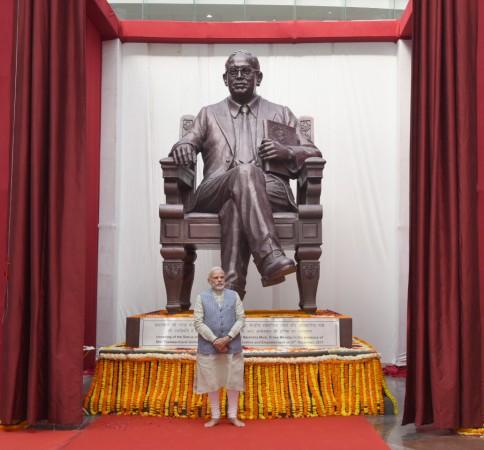 On the occasion of Ambedkar Jayanti, the 127th birthday of the father of the Indian constitution, Prime Minister Narendra Modi took to Twitter to extend his wishes to the nation. He also expressed his gratitude towards BR Ambedkar, for framing the constitution of India, which is considered the backbone for the smooth functioning of the country.
Greetings on Ambedkar Jayanti. Pujya Babasaheb gave hope to lakhs of people belonging to the poorest and marginalised sections of society. We remain indebted to him for his efforts towards the making of our Constitution.

सभी देशवासियों को अम्बेडकर जयंती की शुभकामनाएं। जय भीम! pic.twitter.com/NZW6QsKgN0

— Narendra Modi (@narendramodi) April 14, 2018
However, did you know that Dr Bhimrao Ramji Ambedkar, wanted to burn the constitution if it did not take into consideration the welfare of the minorities in India.
Shocking, isn't it?
Here are ten other lesser known facts about the messiah of the Dalits:
Ambedkar was born in the military cantonment of Mhow in Madhya Pradesh as the 14th and last child to Maloji Sakpal and Himabai Murbadkar Sankpal. Ambedkar's father was a Subedar major — the highest rank for an Indian under the British rule.
His original name was actually Ambavadekar. But his teacher, Mahadev Ambedkar, who was fond of him, changed his surname to his own surname—Ambedkar— in the school records.
Ambedkar, who went to a government school, witnessed discrimination from a very young age. When he and his other untouchable classmates were thirsty, the people from the higher caste used to pour the water from a height so that they would not come in contact with the vessel. The school peon would do this for Ambedkar and when the peon was not around, Ambedkar had to go without water.
The chief architect of the Indian constitution, who was the first untouchable to pass matriculation, had once considered converting to Buddhism.
He was the also the only one among his siblings to have passed his examinations and complete graduation.
Impressed by his performance, the Maharaja of Baroda funded his doctorate degree in Economics and Ambedkar became the first Indian to get an Economics doctorate from abroad.
He was later appointed as the first Minister of Law and Justice in 1947, but he resigned when his women rights bill was opposed by the Parliament
It was during the governance of Atal Bihari Vajpayee that Madhya Pradesh and Bihar was split. Interestingly, Ambedkar was the first person to have suggested the split 45 years ago.
The Article 370 of the Indian Constitution has accorded special status to Jammu & Kashmir, but Ambedkar was against Article 370.
Ambedkar was a diabetes patient and died in his sleep December 6, 1956, three days after he completed his manuscript— The Buddha and his Dhamma.