M Natarajan, husband of jailed AIADMK leader VK Sasikala died Tuesday, March 20, at a Chennai hospital. He was 74 and died of multiple organ failure.
"It is with profound grief and sorrow that we announce the sad demise of Natarajan Maruthappa at 1.35 am today. Every possible attempt was made to sustain his revival. However, despite our best efforts he was unable to recover," a release by Shanmuga Priyan, the chief operating officer of Gleneagles Global Health City.
Born in Vilar village in Thanjavur district, Natarajan consistently rose up the ranks in AIADMK and was known to have claimed "I made Jayalalithaa Chief Minister," according to the News Minute.
But everything has a flipside and Natarajan also courted quite a few controversies. Here are a few.
Dual organ transplant raises questions
Natarajan underwent dual organ transplantation in October 2017. While that may have saved his life then, the procedure raised quite a few eyebrows in terms of the donor.
A 19-year-old daily wage worker Karthik is known to have been airlifted from Thanjavur and brought to Chennai, where his liver and kidney were harvested and transplanted into Natarajan.
The Global Hospital in Chennai had at the time said that Karthik's family had been advised against shifting him to Chennai, but they chose to move him for better treatment. However, the issue blew up after BJP Tamil Nadu unit president, Tamilisai Soundararajan said that the organs belonged to the hospital that declared Karthik brain dead and not the Chennai hospital.
"All rules relating to organ donation and transplant were flouted," she alleged, reported the Hindustan Times. "How could the family of the very poor boy afford him being airlifted to a private hospital in Chennai and who paid for the services raised important questions that point to a foul play."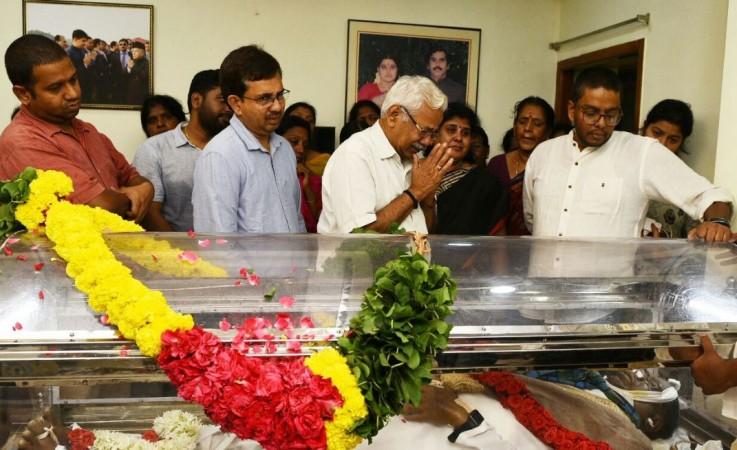 Questions were also raised on how the family afforded to airlift Karthik and who paid the bills.
"A lawyer contacted us and told us that insurance money would take care of treatment of Karthik at a bigger hospital in Chennai," Karthik's sister told a private television channel. She said, "We were advised to donate but were not aware to whom they were given."
Evasion of customs duty
Natarajan had surrendered before the CBI Special Court in January 2018 after he was accused of evading customs duty when he imported a luxury car from the United Kingdom in 1994. The figures were pegged at Rs 1.5 crore, reported IANS.
He had reportedly imported a Lexus luxury car from the UK and forged documents to show that it was a used car.
Natarajan is known to have missed several court hearings, after which a CBI special court had sentenced him and three others to two years of imprisonment. The Madras High Court later upheld the order.
Natarajan's presence at Jayalalithaa's funeral
Like the political scene in Tamil Nadu, Jayalalithaa's funeral too grabbed quite some limelight. Onlookers were surprised to see Natarajan back in the fold, despite the fact that he had been asked to leave Jayalalithaa's Poes Garden residence by the then CM herself.
Since the time Jayalalithaa was admitted to the hospital, rumours had it that Natarajan was trying to make his way back to the party.
In an interview with a TV channel later, he is also known to have said that there was no void in the party and "we" will take forward the legacy of MGR and Jayalalithaa.
At the time it was speculated that by "we" he meant himself and Sasikala.