M Natarajan, husband of jailed AIADMK leader VK Sasikala died Tuesday, March 20, at a Chennai hospital. He was 74.
Natarajan was admitted to the hospital Saturday, March 17, with a severe chest infection and was put on ventilator support. However, he breathed his last early in the morning after multiple organ failure.
"It is with profound grief and sorrow that we announce the sad demise of Natarajan Maruthappa at 1.35 am today. Every possible attempt was made to sustain his revival. However, despite our best efforts he was unable to recover," a release by Shanmuga Priyan, the chief operating officer of Gleneagles Global Health City.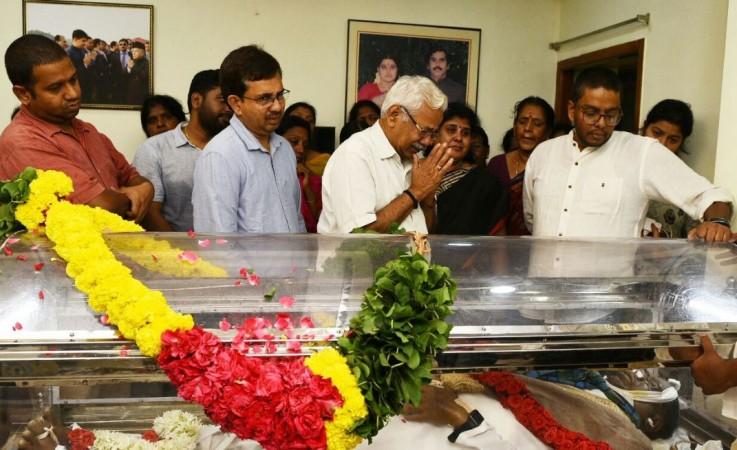 He had undergone a kidney transplant in 2017.
Natarajan's body has been kept at his Besant Nagar residence, and people have been visiting to pay their tributes. The body is likely to be taken to his native village in Thanjavur district for the last rites, reported the Press Trust of India.
The exact time of the last rites is not known. Sasikala had applied for a 15-day parole, which has now been granted and she is expected to travel to Thanjavur by road. She is lodged at the Bengaluru Parappana Agrahara prison after she was handed a four-year jail term in the Rs 66.6 crore disproportionate assets case. She was last out on a 15-day parole last October when Natarajan under a dual organ transplant.
Early life and his rise to power
Natarajan was born in Vilar village in Thanjavur
As a student leader, he formed close ties with the DMK.
He married Sasikala in 1973 when he worked in Tamil Nadu's Directorate of Information and Public Relations.
Their wedding was famously presided over by then chief minister M Karunanidhi.
Natarajan and Sasikala are known to be close aides of Jayalalithaa.
They fell apart in 2011 when Jayalalithaa accused Natarajan and Sasikala of working against her. The couple was even expelled from AIADMK.
But the thaw came in March 2012, and Sasikala was back with Jayalalithaa in AIADMK after issuing a written apology.
Natarajan slowly rose up the ranks in AIADMK and often claimed that he had helped Jayalalithaa run the government.
He's even known to have claimed: "I made Jayalalithaa Chief Minister," reported the News Minute.
He said that even though they might not have been in the best of terms for quite some time, she still consulted him.
But he was not someone who intended to remain on the sidelines and opened up on how he would want to take the lead in Tamil Nadu with Jayalalithaa leading at the Centre.
Many officials and top ministers are known to have had close ties with Natarajan and often turned to him for advice.