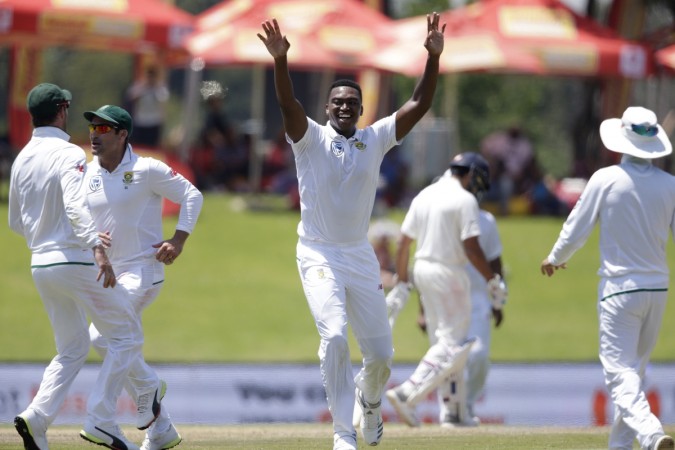 Lungi Ngidi is set to make his debut in the Indian Premier League (IPL) this year with the Chennai Super Kings (CSK) and the South African bowler is looking to creating an impact straightaway.
Lungi, 21, was snapped up by the returning CSK at the IPL Auction for his base price of Rs 50 lakh. We at the International Business Times had predicted that would happen long ahead of the auction!
The fast bowler is currently a part of the South Africa squad for the six-match ODI series against India. India won the first and the second ODI already and the third one is scheduled for later on Wednesday in Cape Town.
He made a stunning debut last month in the Centurion Test match (2nd Test) after Dale Steyn was ruled out of the remainder of the Test series owing to injury. Lungi picked up a total of seven wickets in the match, which included dismissing Virat Kohli, KL Rahul, Hardik Pandya and more.
Lungi however didn't make his appearance in any of the ODIs and it remains to be seen if he gets a chance to feature in the 3rd ODI.
Meanwhile, Lungi remains keen to produce a good performance in the IPL 2018, which starts off April 4.
"Looking forward to the IPL... I've been to India with the U-19 team, so I've experienced it (India) a little and really loved the passion for the game," the 21-year-old told the official website of CSK. "I'm so very excited!"
He was also asked about the Bollywood number 'Lungi Dance', picturized on Deepika Padukone and Shah Rukh Khan, from the movie 'Chennai Express'.
"I'll all part of the experience. I guess I'm just lucky that my name is Lungi," he continued. "But (I'm) not feeling any expectation, just looking forward to a great tournament. I love the energy of CSK."