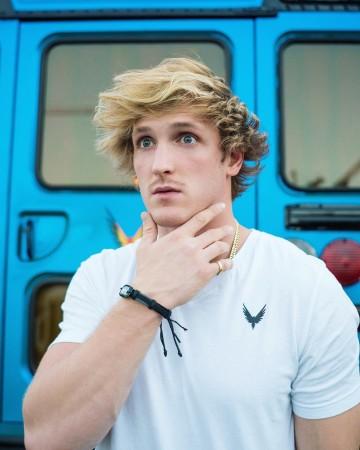 YouTuber Logan Paul is under a lot of flak on social media once again.
Recently, the popular vlogger posted a video showing an apparent suicide victim in Japan's 'suicide forest'.
Also read: Gigi Hadid armpit hair controversy trumps Priyanka Chopra? Twitter can't decide!
The video, which has since been deleted from Logan's official YouTube account, circulated the internet as multiple social media followers uploaded it to YouTube following the deletion of the original video. It featured him and several of his friends recording the trip to the infamous forest.
The intro to the video is titled – "We saw a dead body in the Japanese Suicide Forest." And then he goes on to say, "This is not clickbait. This is the most real vlog I have ever posted on this channel."
Also mentioning a warning to the viewers about the videos graphic content, he calls it "a moment in YouTube history because I'm pretty sure this has never hopefully happened to anyone on YouTube ever."
The people featured are then shown to venture off, following a trail until they come across the possible suicide victim hanging from a tree.
The bunch walks up closer, filming their reactions along the way and also showing to the camera several close-ups of the body, even though they keep the face blurry.
"Suicide is not a joke," Logan says in the video, continuing, "Depression and mental illnesses are not a joke. We came here with an intent to focus on the 'haunted' aspect of the forest."
But the tone of their conversation soon changes to that of joking as a voice claims, "what, you've never seen a dead guy before?"
He ends the video, once again reminding that "suicide is not the answer," and that "being depressed is fine. What's not okay is when you don't seek help or talk to people. Don't feel like you have to hide your feelings. Stay strong, whatever it is you're going through."
But that didn't stop social media from blasting him on Twitter as even celebrities took to shaming him for exploiting a victim's ordeal. Even though he, later on, posted an apology message, social media refused to have any of it.
@LoganPaul You're an idiot. You're not raising awareness. You're mocking. I can't believe how self-praising your "apology" is. You don't deserve the success (views) you have. I pray to God you never have to experience anything like that man did.

— Sophie Turner (@SophieT) January 2, 2018
Dear @LoganPaul,

How dare you! You disgust me. I can't believe that so many young people look up to you. So sad. Hopefully this latest video woke them up. You are pure trash. Plain and simple. Suicide is not a joke. Go rot in hell.

Ap

— Aaron Paul (@aaronpaul_8) January 2, 2018
i'm truly sickened by this logan paul situation. i lost my brother to suicide... my brother took his own life by hanging himself... how insensitive and sick can you be to film someone in that state ?

— mommy (@CorinnaKopf) January 2, 2018
Now seems like a good time to remind the world that YouTubers like the Paul brothers DO NOT represent the entire community. That is all.

— Marques Brownlee (@MKBHD) January 2, 2018
logan paul exploiting a suicide victim in Japan to the tune of 6M+ views while youtube demonetizes students protesting in Iran is a perfect example of what a sociopathic garbage fire youtube has become. this industry has no soul left.

byeee. ?

— Laci Green (@gogreen18) January 2, 2018
Please stop tweeting about logan paul and jake paul, stop watching their videos to leave a hate comment & stop disliking their videos. Good or bad, publicity is still publicity and it's embarrassing to work for a website where they're the biggest stars. Talk about something else.

— Adelaine M♡RIN (@AdelaineMorin) January 2, 2018
Logan Paul's apology letter amounts to:
- I didn't do it for success I'm successful already
- I laughed at that dead body and zoomed in to raise awareness
- I make too many videos to think about what I upload

He's not sorry about his insensitivity. He's sorry he got called out.

— Eunnie (@eunnieverse) January 2, 2018
logan paul did not spread awareness. logan paul filmed a man who hung himself for his own personal gain. logan paul stood next to a suicide victim and laughed. logan paul showed millions of CHILDREN a dead body. logan paul exploited a victim of suicide.

— em (@CurlyDucks) January 2, 2018
Logan Paul filmed a dead body hanging in the woods & this is who kids are watching? Do u understand how damaging that is for the people involved with the person who died, or for anyone who's dealing with the same thing, this isn't how u teach people anout mental health or suicide

— ??✨???? (@oshimakesmusic) January 2, 2018