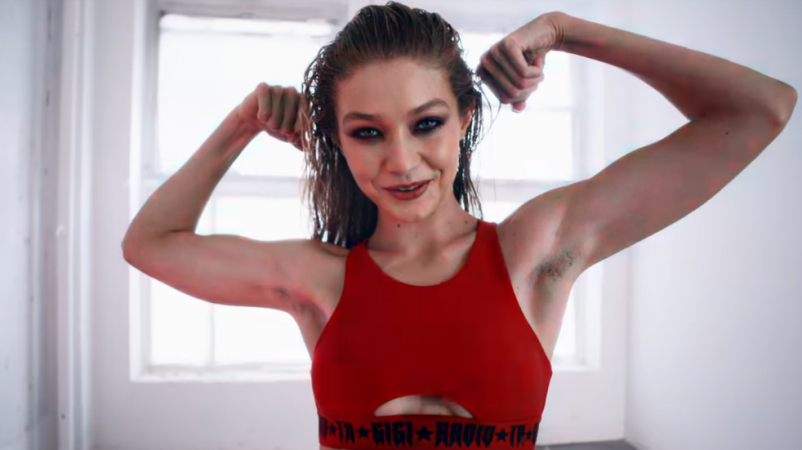 Gigi Hadid has the internet buzzing again. While this time it's not about her makeup or fashion collab with high-end brands, it's no less controversial. Recently, featuring in a photoshoot for LOVE Advent Calendar, Gigi flashed more hair than just her luscious mane.
Also read: The real reason why Gigi Hadid didn't attend the Victoria's Secret Fashion Show 2017
The entirety of Netizens were split trying to decide if it was armpit hair that Gigi, 22, was trying to sport, or not, but of course – some people had more to say than just debating over the dark patches in her underarms as she kicked and boxed to promote the "stray strong" theme of the video.
Being one of today's top models, both Gigi and her sister, Bella, undergo a lot of scrutiny from social media with every step they take. And while they have been called out before for cultural appropriation and ignorant racist views, this time Gigi is accused of fake feminism.
The video shows her clad in a crop top and shorts – both red, as she shows off her kickboxing skills and volleyball moves, right after saying, "I'm Gigi Hadid. Today is free form day."
Even though sources close to Gigi busted the "armpit hair" claim to TMZ, saying it was just fabric residue from her jacket, people have taken to bash the idea that unruly body hair is now just a commodity for brands to seem socially 'woke' and gain market revenue.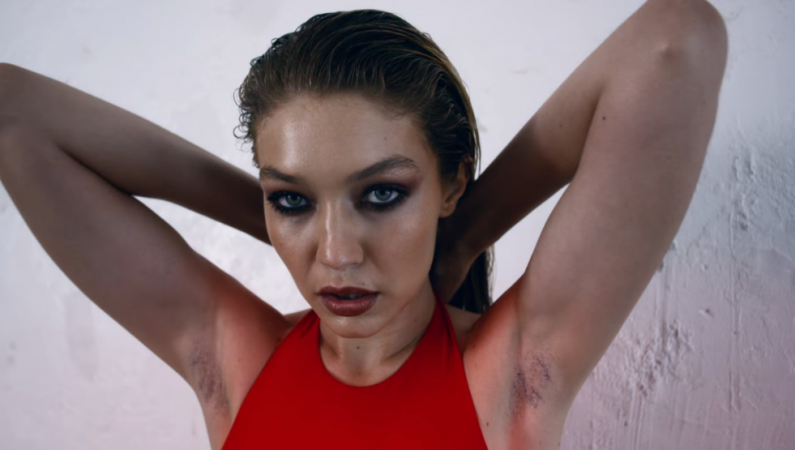 This brings back memories of Priyanka Chopra's perfectly flawless armpit on the cover of Maxim which was accused to be overly photoshopped and had thus gained massive scrutiny for setting unrealistic standards of bodily features.
Not that Gigi's new "bold" flashing was received with warm welcome, as fans are still divided on Twitter, debating whether the idea was to promote women empowerment or just a plain old publicity stunt.
It started with the world trying to decide if it was normal or just gross...
Why is everyone so upset about Gigi Hadid having armpit hair? It's a natural thing, men always have armpit hair everywhere, why can't women have hair? pic.twitter.com/WZrJWnmCHy

— Renezmee (@ItsRenezmee) December 11, 2017
no she really doesn't tho ?she looks like she's she's run out of razors ffs? has everyone gone mad

— Almaz (@almaz187) December 11, 2017
And then began speculations about how okay the entire concept was. By the looks of it, people are just not ready to accept Gigi as a "feminist icon."
gigi hadid filmed her love advent video without shaving her armpits and as much as that REALLY shouldn't matter by now i'm here for it

— Tess (@HiThisIsTess) December 12, 2017
Gigi Hadid is suddenly a feminist icon now that she has armpit hair and the whole world suddenly forgets she flagrantly mocked Asian people. #WhiteFeminisn

— The Progressive Wave (@TheProWave) December 12, 2017
The love advent calendar has become so vulgar it's not sexy anymore.

— j (@pradavlada) December 10, 2017
There's attempting to use feminism to sell products, and then there's Love Magazine's advent calendar. Adding "stay strong" to the end doesn't stop it being misogynistic male-gaze pornography pic.twitter.com/gNGcXOPmfj

— Kiah Shabka (@kiahshabka) December 8, 2017