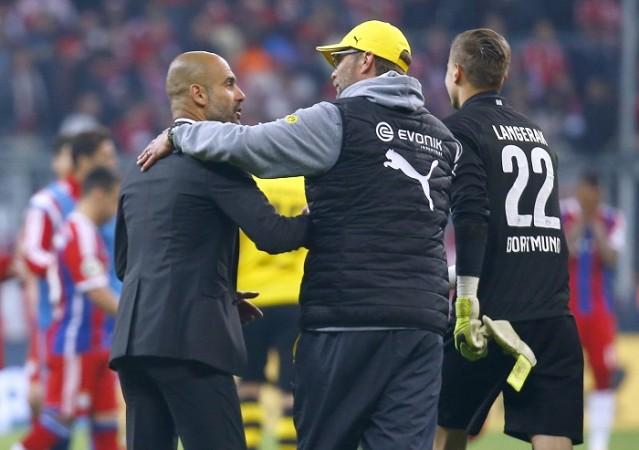 The Premier League has become a house of top managers of the world. Two such high-profile and respected men in world football, Jurgen Klopp and Pep Guardiola, will be active/emotional in the touchline area when their respective teams Liverpool and Manchester City meet at Anfield for a huge encounter on Saturday, which becomes extra special as it is the New Year's eve.
Klopp confident ahead of City clash
Liverpool vs Manchester City, quality teams of the league, is always a special fixture, and this time, it is of massive importance to both the teams in the context of the league standings.
Liverpool lie second with 40 points, while City are breathing down their necks in the third place, one point away. But in the bigger context, both teams know that Chelsea enjoy a six-point lead at the top of the table.
When it comes to title race, no one knows it better than these two world-class managers, who have managed some big teams in the Bundesliga. When Klopp was Borussia Dortmund's boss and Guardiola was Bayern Munich's gaffer, the two were involved in some incredible contests in Germany.
So, from here it is easily understood that Klopp and Guardiola are no strangers to one another. They are aware of the one another's tactics that is going to be used in the fixture on Saturday, though both the managers have different ammunition and are in a different country as well.
Here is a look at the head-to-head record between the two when they managed in Germany.
There is nothing to choose between Klopp and Guardiola as they faced one another eight times in the past from 2013-15 in Germany, and they have won four each.
Though Klopp was in charge of Dortmund from 2008, their rivalry only started once Guardiola took over the reins of Bayern in 2013, and their first head-to-head meeting was a brilliant contest with high level of entertainment. Six goals were scored with Dortmund winning the match 4-2 in the DLF-Supercup 2013. Later in the same year, Guardiola took revenge as they scored three goals past Dortmund to make it 1-1 in Klopp-Guardiola rivalry.
Matches played between the two teams were never dull as they took their game to the next level. Klopp and Guardiola also made sure, from the touchline, that the players never let their guard down in this contest as a small mistake here or there could pose problems.
The two teams were involved in some good matches in 2014, with Dortmund defeating Bayern in the Bundesliga encounter 3-0. However, Bayern looked a strong team in the German Cup final, winning the title after some impressive performances, resulting in 2-0 victory. Dortmund did not take much time to take revenge with Klopp's team clinching the German Supercup 2-0.
Bayern won the last two Bundesliga matches to allow Guardiola take 4-3 head-to-head lead, while it was even stevens at 4-4 after Dortmund defeated Bayern in the German Cup semi-final on penalties in 2015.
Head-to-head results
Klopp-4: Guardiola-4
Dortmund 4 Bayern 2 (German Supercup, 2013)

Dortmund 0 Bayern 3 (Bundesliga, 2013)

Bayern 0 Dortmund 3 (Bundesliga, 2014)

Dortmund 0 Bayern 2 (German Cup Final, 2014)

Dortmund 2 Bayern 0 (German Supercup, 2014)

Bayern 2 Dortmund 1 (Bundesliga, 2014)

Dortmund 0 Bayern 1 (Bundesliga, 2015)

Bayern 1 Dortmund 1 (German Cup, semi-final 2015, Dortmund 2-0 on penalties)