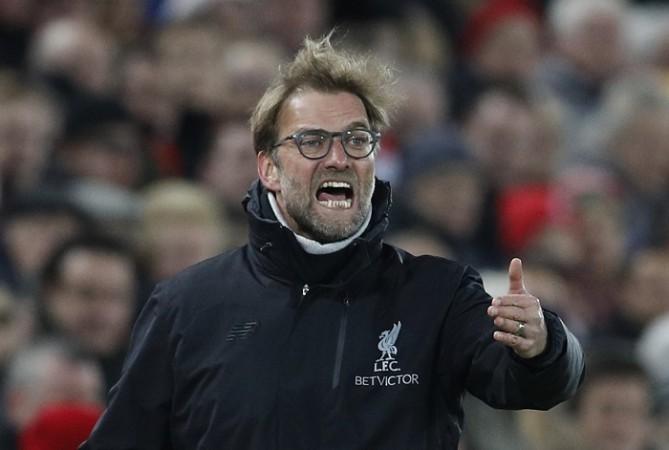 Jurgen Klopp is never one to hold off on praising a rival and the Liverpool manager was in full praise form while talking about Pep Guardiola, the man he will come up against on Saturday. The Premier League's final match of 2016 promises to be a tasty one with Liverpool hosting Manchester City, the two highest scorers this season, at Anfield.
Premier League weekend schedule
The Klopp vs Guardiola matchup is just as fascinating with the two having battled in the Bundesliga when they were Borussia Dortmund and Bayern Munich managers respectively. With the first round of their battle in the Premier League set to take place in New Year's Eve, Klopp commended Guardiola for taking on the challenge of the Premier League, when it would have been easier for the Spaniard to stay at Bayern Munich and win Bundesliga title after Bundesliga title.
"He came here with open eyes," Klopp said. "He could have had easier jobs in easier leagues, that is for sure. He could have gone anywhere but he wanted to come here. He was probably 100 per cent aware of the big challenge.
"You can see it on the pitch, he is a really influential manager, and he has a clear idea, it's pretty much a good idea, to be honest. He had a fantastic career until now, with a nice start at Barcelona, really, really good at Bayern, and now he's at City and he's there to be successful, not to show good he is."
That challenge looks even bigger at the moment with the way Chelsea are playing. The Blues, under another new manager to the Premier League in Antonio Conte, have won 12 matches in a row, which sees them six points clear of Liverpool and seven ahead of Manchester City. So, it goes without saying that this game is crucial to both sides as far as their title hopes and staying within touching distance of Chelsea are concerned.
"[City have] the highest quality in the team and highest quality on the bench, it's a really good mixture," Klopp said of Guardiola's squad. "They are successful but this league is really difficult to play for all of us.
"There are a lot of challenges to win each week. I didn't think too much in the summer about where Man City will end and not too much in the last week, I only thought about what we have to do to win the game."