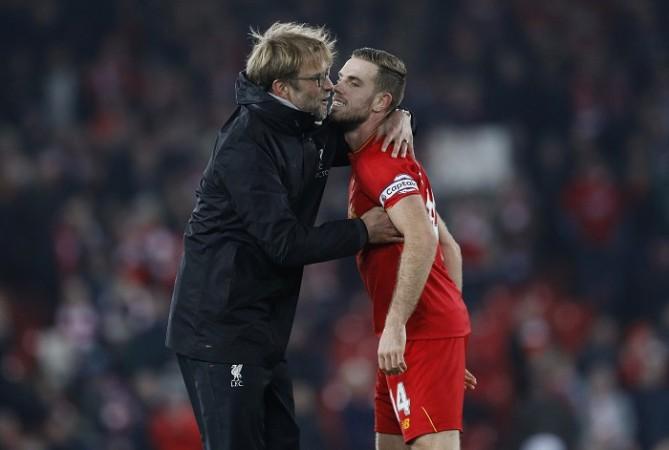 Bring on Manchester City was pretty much the message that Liverpool sent after another impressive performance at Anfield on Tuesday. Jurgen Klopp, the Liverpool manager, hailed his team's resilience after his side came from a goal down to see off Stoke City with aplomb.
Liverpool vs Stoke City highlights
Knowing only a win would do after Chelsea, Arsenal, Manchester City and Manchester United had all picked up wins on Boxing Day, Liverpool went down to an early goal from Jonathan Walters, before Adam Lallana, Roberto Firmino, a Giannelli Imbula own goal and Daniel Sturridge made it 4-1 in Liverpool's favour.
While it took a while for Liverpool to find their offensive rhythm, once they did, there was never any doubt of the result, highlighting just how potent an offensive team they are at the moment.
"Confidence is not a problem of the team at the moment," Klopp said. "We know about our quality. We don't show it all the time, but the start of the game was really difficult because the plan of Stoke was obviously to press really high, especially with the two strikers.
"We were not patient enough in our passing game in these moments. It was pressure, of course, but we could have done much better. So it became a wild game and when they had the ball it was immediately in the air and Crouch was outstanding. It was really difficult to defend. With the second balls, Joe Allen was brilliant in the beginning. So we had to work really hard and the game was completely open.
"In creating our moments, we again struggled a little bit with protection, with our position game. A lot of things we could have done better, but we forced two goals with our quality – they were really good and both really important."
While the result against Stoke was impressive all the attention will now turn to the match against Manchester City, also at Anfield. Only a point separates the two teams at the moment – in second and third in the Premier League table – so it goes without saying how important a match this is for both teams.
Klopp believes his team are in a great position to stop Manchester City in their tracks. "It is [a big game]. It is for both," Klopp said. "It's a difficult game for both teams, but exciting and the best thing is it's at Anfield. I am really looking forward to it. They are an outstandingly good side and we are not too bad, so it will be a nice game."
Pep Guardiola, the Manchester City manager, was at Anfield to watch Liverpool dismantle Stoke, and Klopp believes that is a sign of how important a game this is.
"I heard Pep Guardiola was in the stadium," Klopp added. "I am not sure he watched a lot of games in the last few weeks from the stadiums of the opponents, so that's a first sign it's a special game and we are already looking forward to it.
"I did it a lot in the past, but obviously it's not too easy anymore because it's more a signing hour than you can watch a game. Maybe he saw nothing. Hopefully we had no security and Pep had to write all the autographs.
"The game is on December 31 and whatever I say can't win it. But maybe I could say a few things that would make it a bit more difficult for us to win it, so it's probably best I shut my mouth."