5.45 pm: Another absorbing day of Test match cricket. India did what they had to do, put the runs on the board and set Sri Lanka a daunting target. SL have chased down 67 of the 386 that was needed, but there is still a long, long way to go. Ishant Sharma was the wrecker-in-chief again for India, picking up a couple of wickets, with Umesh taking the other. Apart from that wicket, though, Umesh was pretty poor, and he needs to improve on Day 5.
Sri Lanka still have an outside chance of making a game of this, if Mathews and Silva stay together for a considerably time on Tuesday. India are the favourites, but as they showed in the first Test, Sri Lanka play their best cricket when they have nothing to lose.
We had plenty of drama and banter on Day 4, particularly between Ishant and Prasad, who chased the former all the way to the dressing room after the end of the Indian innings, and while it was fun to watch, hopefully, it is the cricket that does the talking on Day 5.
That's it from me and IBTimes India folks, it's been a long day, but catch you tomorrow, right here for the Day 5 live blog. Till then, have a great evening.
5.40 pm: Play is called off and it is stumps.
5.40 pm: First ball from Ashwin, Mathews goes for the cut, gets an outside edge and it goes quickly past Rahane at first slip for a boundary. Sri Lanka 67/3 in 18.1 overs, 319 runs needed.
5.39 pm: Ishant was going to bowl again, but the umpires said it has to be a spinner and so it is Ashwin.
5.37 pm: Mishra again, nice and easy as Mathews fails to get him away. Almost gets a wicket as well, as Mathews gets an inside-edge which just evades the stumps. Sri Lanka 63/3 in 18 overs, 323 runs needed.
5.34 pm: Good over from Ishant this time, even beats Silva's bat once with an absolute peach that just moves away after pitching. Sri Lanka 62/3 in 17 overs, 324 needed.
5.29 pm: Spin time with Amit Mishra. Stead over, even if there is not much turn. Sri Lanka 62/3 in 16 overs, 324 runs needed.
5.25 pm: Silva is really pulling the ball well. A short ball from Ishant to start his spell and Silva pulls it to midwicket for another boundary. We have another 20 minutes or so to go, but the light is getting bad, so don't know if we can play until then. Runs coming easily now for Sri Lanka, even off Ishant. Sri Lanka 61/3 in 15 overs, 325 runs needed.
5.20 pm: Binny with another over, no sign of spin yet, although there is little chance of Umesh lasting at the other end. Mathews is counter-attacking now, as a half-volley from Binny is sent to the cover fence. The movement has gone now, even for Binny. Either Ishant has to come back or Ashwin needs to be given a bowl. Sri Lanka 54/3 in 14 overs, 332 needed.
5.16 pm: The last Umesh over began with two boundaries, and it is the same again as Mathews, this time, hits the second ball straight back, before cover-driving the next. Umesh is getting punished here and Kohli is showing his frustration, which is not a great thing. Umesh comes back with a good bouncer, with Mathews just ducking under, but the pressure, again, has already been eased considerably. Sri Lanka 50/3 in 13 overs, 336 needed.
5.11 pm: Binny is doing his job here and he gets another outside edge off Mathews, which again falls away from the fielders. Outside off to Silva and the opener leaves it, gets the next to come back in a touch, and it takes Silva's inside edge and hits his front pad. A stifled appeal is made. On and around off, a good over from Binny, ruined by a boundary off the last ball as Silva drives one through point. The pressure on Sri Lanka is slowly easing. Sri Lanka 41/3 in 12 overs, 345 needed.
5.07 pm: A change of ends for Umesh, but the results stay the same. Short ball first up and Silva pulls it perfectly through midwicket. So the next one will be pitched up right? Nope, again another short one, waist high and Silva says "thank you my friend" and smashes it again for a boundary to the same area. Next ball is where it should be, good length outside off and Silva plays and misses. Can he stay there all over, that is the key. Can't, it is down leg and Silva takes a couple of leg-byes to fine-leg. Should have put it away for a boundary, really. Next ball again is a corker as it beats Silva's bat, but why can't he bowl it there all the time. Sri Lanka 36/3 in 11 overs, 350 needed.
5.02 pm: Binny again and he beats the outside edge of Mathews with a nice ball that tails in and shapes away. Comfortably defended after that, though, before an outside edge fails to carry to the slips again. Sri Lanka 26/3 in 10 overs, 360 needed.
4.58 pm: Angelo Mathews now facing a charged-up Ishant. First ball is let go by Mathews, with the second, more pitched up and nearer the stumps, defended well. Stays outside off and Mathews, after a couple more defensive strokes, takes a quick single to the offside to get off the mark. Sri Lanka 26/3 in 9 overs, 360 needed.
4.53 pm: Stuart Binny now. Silva drives first ball as the ball shapes away, and an Ashwin misfield in the covers allows Sri Lanka to take a couple. Binny keeps it on and around off with that shape going away. Those gentle outswingers, though, allow Silva to go for his shots outside off, and a push to the offside get him another couple. Sri Lanka 25/3 in 8 overs, 361 needed.
4.46 pm: The counter is definitely on as Chandimal picks up a couple with a flick off offstump to square-leg. Then a single is taken to midwicket. Looking quite comfortable already is the man who won Sri Lanka the first Test match. Silva is the leaver extraordinaire after that, and as I say that he plays at one and gets the edge, which, again, does not carry to the slips, ball falls just short of Kohli at second slip. Next ball, Wicket, Chandimal (18, 17b, 3x4) gone! Good length ball again, Chandimal looks to guide it to third man for a boundary, only gets an outside edge, which flies to Rahul, who, expectedly drops it – no way he should be in the slips. However, the ball, thankfully for India, lobs up to Kohli at second slip and the team let out a huge roar. Sri Lanka 21/3 in 7 overs, 365 needed.
4.41 pm: Chandimal looking for the counter-attack again. Going for those big, booming drives off balls that are pitched up. He hasn't got it quite right yet, and after an attempt at a big cover drive, the slip cordon lets out a big laugh, sensing a wicket. Nope, no wicket, though, as Chandimal gets his first boundary with a guide to third man. Next ball that drive is working, and what a drive it is as well, as the ball races away to the point boundary. Umesh is losing his line here, as he overcorrects and strays onto the pads and Chandimal flicks it easily fine for a third consecutive boundary. Big over for the hosts here just to release the pressure. Sri Lanka 17/2 in 6 overs, 369 runs needed.
4.35 pm: Another outside edge to begin the Ishant over and Chandimal is lucky as the ball falls just short of KL Rahul at third slip. Next ball is a jaffer and a half, and Chandimal does well not to nick it. Another good over from Ishant. Sri Lanka 4/2 in 5 overs, 382 needed.
4.31 pm: DineshChandimal is almost picked up first ball. On the stumps, Chandimal flicks it to the onside, and the ball falls just short of Cheteshwar Pujara at short leg. Gets off the mark with a flick to fine-leg, as Umesh strays down leg. Sri Lanka 3/2 in 4 overs, 383 needed.
4.27 pm: Wicket, Karunaratne (0, 7b) gone! Again that angle across does the trick. Umesh keeps it at a good length just going away from Karunaratne, who plays at it, gets a healthy outside edge with Ojha again taking the catch. Sri Lanka 2/2 in 3.2 overs.
4.25 pm: Dimuth Karunaratne is the new man in. Short ball from Ishant greets Karunaratne, who played a good knock in the second innings of the last Test. Then it is those good length balls again. Sri Lanka 1/1 in 3 overs, 385 needed.
4.21 pm: Umesh Yadav to bowl now. A bit of shape away first ball, and Kaushal defends. Looks for that magic ball already, but the ball continues down leg the next two deliveries. Just keep it outside off, Umesh. The umpires spoke to Kohli after that wicket celebration, asking India to not surround the batsman like they did. It was hard to do that since, Ishant celebrates right next to the batsman. That was wrong, but the others just went to congratulate the bowler. Couple of decent balls from Umesh. Sri Lanka 1/1 in 2 overs, 385 needed.
4.15 pm: First ball is across and Tharanga is happy to leave. Second ball is on the stumps, which Tharanga defends, but that no-ball problem returns again for Ishant. A wide ball follows and Tharanga looks to hit it, when he should be leaving. Next ball is a really good one, short of a length and just leaving the batsman, plays and misses, after initially looking to duck under. Tharanga thought a short ball was coming there. Remains outside off and Tharanga leaves.Fifth ball of the overIshant induces a genuine outside edge, doesn't carry to first slip. Kohli, at second slip, might have gone for it, but he stood still.Next ball, Wicket, Tharanga (0, 7b) gone! Boy, Ishant is charged up, celebrates right in front of the batsman, don't really like to see that. A beautiful ball, though, just leaving the left-hander, has to play at it, gets a thin outside edge and the wicketkeeper Naman Ojha takes the catch. Sri Lanka 1/1 in 1 over, 385 needed.
4.11 pm: Upul Tharanga and Kaushal Silva are the openers. Ishant Sharma to bowl to Tharanga.
4.10 pm: The players are on the field. Kohli is out there giving the India players some final instructions. The umpires are telling Kohli as well, no more of this nonsense. Ha ha to Kohli, now that is funny!
4.02 pm: Quite an innings from India, considering they were nothing for three. It was another good rearguard action with the lower middle order and lower order coming to the party. There was plenty of excitement there towards the end as well as Ishant and Prasad clashed. Some needle now definitely in this contest, who will that fire up more?
Sri Lanka need 386 runs for victory.
4 pm: Mathews is still talking to Llong, trying to explain Sri Lanka's version, with Herath speaking to Rod Tucker as well. Ah just move on guys and let's get into this final innings.
3.57 pm: Pradeep now. Ishant bruised Pradeep's hand in the previous innings with a rasping short ball, and expectedly, the first three balls from Pradeep are short ones, Ishant ducks/sways under all three comfortably. Third ball is short of a length, Ishant guides it to deep point for a single. While taking the run, Ishant goes past Prasad by gesturing towards his helmet probably saying :hit me on the helmet if you dare." Then it is a free-for-all as words are exchanged. Dinesh Chandimal comes in as well and gives a slight barge to Ishant before saying some (not)kind words. The umpires have to come in to defuse the situation, with Sri Lanka skipper Angelo Mathews also called in. Ah Test cricket at its fiery best this. Ashwin takes a single next ball and that brings Ishant on strike again. Another short ball, a big no-ball and a warning for too many short balls as well. Prasad is losing it a little here, while Ishant is the one winning this contest. Next ball is pitched up and Ishant flicks it to square-leg for a single. Ashwin has to play out the last ball, but can't Wicket, Ashwin (58, 87b, 7x4) gone! Pitched up, Ashwin looks to guide it to third man to stay on strike, only gets an outside edge. India 274 all out in 76 overs, lead by 385 runs.
3.46 pm: Umesh is making Ishant proud the way he is hanging in there. Couple of balls from Pradeep, after Ashwin takes a single early, gives him a little discomfort, but he just manages to fend the short balls away from the fielders. Final ball of the over, Wicket, Umesh (4, 19b) gone! Finally an attacking shot from Umesh, as he moves towards the offside to try and hit one to the onside. Gets a top edge and the ball goes miles high towards fine-leg, Herath waits and waits and he just about holds onto it inches short of the ropes. India 269/9 in 75 overs, lead by 380 runs.
3.41 pm: Ashwin is putting on a batting clinic here now. Second ball of the Kaushal over he plays a gorgeous cover drive which goes straight to the fielder, so next ball he just opens the face a touch more to evade that fielder and it runs away for a boundary. Such a good-looking batsman he is, gives Rohit Sharma a real run for his money, when it comes to sheer elegance. India 268/8 in 74 overs, lead by 379 runs.
3.38 pm: Finally a break in spin as Pradeep is given a bowl. Beats Ashwin's outside edge with the first ball and then Ashwin plays probably the shot of the day. A whip from outside off, timed to perfection, with the ball racing away to the wide long-on boundary. what a shot that is. Pull shot next ball and it is another boundary and it is also Ashwin's half-century, his fifth in Test cricket. India 263/8 in 73 overs, lead by 374 runs.
3.32 pm: A nothing game at the moment. Waiting for one of the team's to make their move, although it must be said it is India's turn to do so, and has been for a while. Runs are coming, but not in bucketloads. This Kaushal over is better, however, as a glance to fine-leg gives Ashwin a couple, before another boundary goes to third man by that late cut. India 252/8 in 72 overs, lead by 363 runs.
3.28 pm: The overs are going quickly with the two spinners on and India not really playing too many big shots. Ashwin does get a boundary off the second ball of this Herath over, as a late cut is sent to the third man fence. India 245/8 in 71 overs, lead by 356 runs.
3.24 pm: Can't quite understand the plan, I must confess. Umesh has come in and he has not played one shot in anger yet, gets beaten by a couple of doosras from Kaushal as well. A maiden over. India 238/8 in 70 overs, lead by 349 runs.
3.22 pm: No T20 cricket yet as Herath continues. Ashwin using his feet to Herath, but not really going through with a big shot. Yadav nearly gives a catch to short leg, but the ball falls just short. India 238/8 in 69 overs, lead by 349 runs.
3.19 pm: Block, beaten by a doosra and then a thick outside edge to deep point for a single to start from Umesh. Ashwin stays on strike with a single off the last ball. India 236/8 in 68 overs, lead by 347 runs.
3.17 pm: Umesh Yadav in ahead of Ishant Sharma. Kaushal to bowl.
3.15 pm: Final session coming up. No declaration, not that one was expected. Expect a few big shots.
3 pm: Another session that India will be more than satisfied with. Sri Lanka just seemed to give up after a while, waiting for the batsmen to make the mistakes rather than looking for one themselves. That last wicket thanks to some outstanding fielding will give them encouragement, though, as they look to force the issue by taking the last couple of wickets. Will India declare in this Tea break? I don't think so, but we will know in about 15 minutes.
2.56 pm: Wicket, Mishra (39, 62b, 4x4) gone! Ah this is some great work from Kaushal Silva at short leg. Mishra flicks a Tharindu Kaushal ball to the onside, Silva at short leg fields it and flicks it in a flash to the stumps. Mishra has overbalanced and is well out of his crease and by the time he gets back that direct hit has already worked its charm. Another outstanding innings from Mishra. What will India do now. India 234/8 in 67.2 overs, lead by 345 runs. Tea.
2.54 pm: Mishra takes his time to try and make sure this Herath over will be the last one before Tea, and then, first ball, he plays a nice late cut for a boundary. The paddle sweep then gives him a single, with Ashwin then dispatching a short and wide ball to the point boundary. India 234/7 in 67 overs, lead by 345 runs. Not Tea yet.
2.50 pm: Just waiting for Tea are both the teams now. Another Kaushal over comes and after a single taken by Ashwin, he beats Mishra's bat with that doosra, which has rarely been used. Another comfortable over, otherwise though, for India. India 225/7 in 66 overs, lead by 336 runs.
2.47 pm: Herath over the wicket now to the two right-handers. Single first ball from Mishra and then Ashwin shows his defensive chops again, before taking a single third ball to mid-on. Another couple of singles follow. India 223/7 in 65 overs, lead by 334 runs.
2.44 pm: MaybeKohli is waiting for the input from the two bowlers – Mishra and Ashwin – on how the pitch is playing before deciding on the declaration. Because there is absolutely no sign of it right now.
2.43 pm: Bowling it a lot quicker is Kaushal, not bothering with flighting it at all. A maiden over. India 219/7 in 64 overs, lead by 330 runs.
2.40 pm: All spin now as Herath is given a bowl again. No worries for Mishra and Ashwin as they take singles and twos comfortably. India 219/7 in 63 overs, lead by 330 runs.
2.36 pm: Plenty of singles in this Kaushal over, with less than 20 minutes to go to Tea. India 212/7 in 62 overs, lead by 323 runs.
2.33 pm: Prasad again. Single first ball for Mishra and then Ashwin defends, before taking a single to deep point fifth ball. Obvious that India are not looking at a declaration at Tea, otherwise we would be seeing more intent from Ashwin and Mishra. India 209/7 in 61 overs, lead by 320 runs.
2.28 pm: Kaushal continues and there is an appeal for lbw in the second ball of the over. Decent shout, as it hits Ashwin's pads, but Llong says no, probably for height. Quick and easy over for Kaushal. India 207/7 in 60 overs, lead by 318 runs.
2.24 pm: Prasad is back and a little worry for the Sri Lanka batsmen as his first ball stays down a little. Ashwin was expecting proper bounce from a good length, but had to bring his bat down in time to prevent it from crashing onto his pads. Could have been the lack of pace in the delivery as well, as it was only 125km. Ashwin takes a single second ball and then Mishra brings up the 200 for India with a nice drive through the offside for a boundary off a full and wide delivery. India 204/7 in 59 overs, lead by 315 runs.
2.19 pm: Kaushal returns and second ball Mishra is dropped. A full toss, Mishra drives it straight to Mathews at short cover and the Sri Lanka skipper cannot hold on. Easy enough catch over his head. Next ball it is almost a run out as well as Mishra paddles one fine. Then there is a yes, no, yes, no for the double, they eventually run, and if the throw had been better from the deep Mishra would have been short of his crease. Always something happening when Kaushal bowls. India 198/7 in 58 overs, lead by 309 runs.
2.12 pm: Short ball barrage coming. Pradeep around the wicket to Mishra, first ball is too short and the batsman has no problems ducking under. A bit fuller next ball, and Mishra plays it nicely to fine-leg for a single. Same plan for Ashwin as well. Ashwin leaves his first ball, as it goes with the angle outside off. Defends the next ball straight and then it is nearly a wicket as a pull shot attempt hits Ashwin's bottom edge, then his elbow and lobs up to the place where silly point would have been. Last ball of the over is Ashwin at his pure-timing best, a nice push through wide mid-on for a boundary. India 196/7 in 57 overs, lead by 307 runs. Drinks.
2.06 pm: Herath continues. A sweep shot for a single to fine-leg second ball takes India's lead to 300. Kohli and the rest of the team in the dressing room clap. Absolutely no signs of a declaration, though. India 191/7 in 56 overs, lead by 302 runs.
2.03 pm: Short and wide from Pradeep to begin with, Mishra throws his bat at it, gets a top edge and it flies over the slips for a boundary. India 188/7 in 55 overs, lead by 299 runs.
1.59 pm: Just a couple from this Herath over, via a nice cover drive from Ashwin. India 183/7 in 54 overs, lead by 294 runs.
1.56 pm: Pradeep with the ball as Prasad is given a rest. Full and outside off first ball and Ashwin resists from playing at it. He has got out a fair bit while playing that loose stroke outside off, but this time he is a bit more watchful. Pradeep hits Mishra's helmet with a really good short ball. India 181/7 in 53 overs, lead by 292 runs.
1.52 pm: R Ashwin comes in. Sees off Herath, who did get a fair bit of turn in this over, while taking a single to mid-off to get off the mark off the last ball. India 180/7 in 52 overs, lead by 291 runs.
1.47 pm: Wicket, Ojha (35, 63b, 4x4) gone! Got out to a poor shot in the first innings, and I'm afraid it is the same again. Goes for a cross-batted slap through the onside off Herath, the ball turns just enough to take a leading edge and a simple catch is taken in the covers by Dimuth Karunaratne. India 179/7 in 51.3 overs.
1.46 pm: Mathews has kept the fast bowlers to three-over spells, but Prasad gets a fourth over. First ball is short and wide and Mishra plays the upper cut for a boundary. Gets beaten once and also gets hit on the shoulder with a short ball, but Mishra is still very much there. India 177/6 in 50 overs, lead by 288 runs.
1.40 pm: Another quick over from Herath. Mishra looks for the big shot, fourth ball, but does not get hold of it and the ball falls short of the long-off fielder. India 173/6 in 49 overs, lead by 284 runs.
1.37 pm: Prasad again, starts with a short ball that's called a wide, and then after Mishra looks comfortable for three balls, the bowler induces another outside edge which is dropped in gully. Difficult catch that for substitute fielder Jehan Mubarak diving low and to his left, with the ball going at a fair clip as well. India 172/6 in 48 overs, lead by 283 runs.
1.27 pm: Just a bit of lull in the proceedings after the Binny dismissal as Ojha decides to defend. As I say that, however, Ojha lofts one off the final ball of the Herath over to pick up a boundary to the offside. India 168/6 in 47 overs, lead by 279 runs.
1.25 pm: Good, probing over from Prasad, has Ojha in a bit of trouble on a couple of occasions, but just not enough to produce that wicket. India 164/6 in 46 overs, lead by 275 runs.
1.20 pm: Ooh, almost a wicket for Herath first ball. Mishra jumps down the track and drives, not to the pitch so the ball goes in the air, but just wide of the short cover fielder. Herath then gets a bit of turn and bounce as he beats the bat of Ojha. India 163/6 in 46 overs, lead by 274 runs.
1.17 pm: Ashwin has been poor with the bat and he has been demoted, with Amit Mishra, who played so well in the first innings, coming in. Survives the Prasad over does Mishra while getting off the mark with a single to the offside. India 161/6 in 45 overs, lead by 272 runs.
1.12 pm: Prasad with the ball now. Binny moves to within a run of a 50 with a drive for a couple through point and then Wicket, Binny (49, 62b, 7x4) gone! He has lived dangerously hasn't he and this time he gets an outside edge off a peach of a delivery that just seams away from Prasad and Tharanga takes a good catch in the slips diving low to his left. Binny will be kicking himself at having missed out on a half-century, but he has done a good job here. India 160/6 in 44.4 overs.
1.09 pm: Herath bowls another quick over, with Ojha and Binny content to manoeuvre the ball around. Way too easy, the runs at the moment. Mathews and Sri Lanka are hardly trying for a wicket here, they seem resigned, like they are waiting for the batsmen to make the mistake. India 158/5 in 44 overs, lead by 269 runs.
1.06 pm: After a couple of balls from over the wicket, which Binny plays comfortably, Pradeep comes around the wicket, not a short ball, though, and the batsman pushes a single to mid-off. Back over the wicket to Ojha and the wicketkeeper takes a single off the last ball to stay on strike. India 154/5 in 43 overs, lead by 265 runs.
12.58 pm: Pradeep once more and Ojha defends the five balls, after Binny takes a single first ball. India 147/5 in 41 overs, lead by 258 runs.
12.54 pm: after giving away nine runs in the first over of the second session, Kaushal is off and Herath is given a go by Mathews. No worries for Binny and Ojha, with little to no spin. India 146/5 in 40 overs, lead by 257 runs.
12.51 pm: Pradeep has looked good in this innings, and Mathews will hope his fast bowler can break this partnership and get the lower order in. Steady from the seamer as Ojha defends the first five balls, but then he uses his hands to guide a ball outside off to the backward point boundary. India 145/5 in 39 overs, lead by 256 runs.
12.46 pm: Ojha speeds up the scoring right from the off, picks up a couple first ball and then a boundary with a dab fine. Takes a single fourth ball and the lead is at 250. India 141/5 in 38 overs, lead by 252 runs.
12.43 pm: The players are out on the field. It will be Ojha on strike to Kaushal.
12.35 pm: Five minutes to go to the second session. India will want to move the scoreboard along quicker now, especially with two aggressive batsmen in Binny and Ojha at the crease. Sri Lanka need to pick up the final five wickets ASAP, or else this game could go beyond them, if it hasn't already.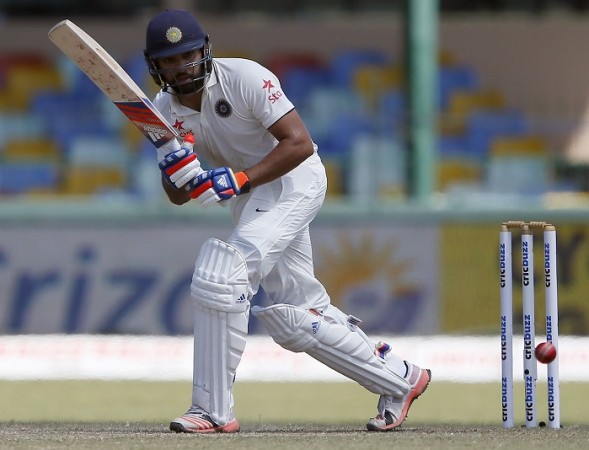 12.06 pm: India will be pretty happy with this session. It started off slow, with Kohli, in particular, looking tentative. However, once the India captain got out, the runs came much more easily, with Binny (38, 45b, 7x4) counter-attacking well, albeit with plenty of luck. Rohit (50, 72b, 4x4, 1x6) was elegant and comfortable until he got himself out with 20 minutes to go to Lunch, but Ojha (11, 18b, 1x4) has come in and looked quite decent. India scored 111 runs in 28.5 overs in this session and their overall lead is 243 runs. Back in about half an hour.
12.03 pm: Single first ball and Ojha is off strike. Keeps it outside off to Binny and after leaving a couple, he cuts one to deep point for a single. Ojha defends the next and finishes the session off with a single to deep point. India 132/5 in 37 overs, lead by 243 runs. Lunch.
11.59 am: Final over before Lunch to be bowled by Pradeep.
11.58 am: Kaushal has the habit of leaking runs. Around the wicket again, but he bowls his first ball of the over short and just outside off, and Ojha carves it for a boundary to third man. India 129/5 in 36 overs, lead by 240 runs.
11.55 am: Stead over from Prasad, even if he doesn't trouble the batsman too much. India 124/5 in 35 overs, lead by 235 runs.
11.48 am: Tharindu Kaushal now for the first time in this innings. Around the wicket to start off, and that no-ball comes into play again after a couple of dot balls. Runs come easily enough. India 122/5 in 34 overs, lead by 233 runs.
11.44 am: Naman Ojha gets a ball on his pads first ball from Prasad and he flicks it to fine-leg to get off the mark. India 119/5 in 33 overs, 230 runs.
11.42 am: A couple second ball from Rohit with a flick to midwicket of the Prasad over brings the half-century partnership off just 60 balls, and then a single to the offside gives Rohit his half-century off 71 balls. A no-ball and a single brings more runs for the away team, but after that Wicket, Rohit (50, 72b, 4x4, 1x6) gone! A careless shot from Rohit. Short ball on his hips, he helps it along straight down the throat of Pradeep at fine-leg. Rohit cannot believe he has thrown his wicket away again. Needed to stay there and push the score further, but it is another if only innings from the Mumbaikar. India 118/5 in 32.5 overs.
11.35 am: Herath with another over now. Single taken by Rohit first ball to long-on and then Binny, after defending one, plays a beautiful pickup shot to midwicket for a boundary. India 112/4 in 32 overs, lead by 223 runs.
11.32 am: Binny has looked to counter-attack, he has ridden his luck a little (OK, a fair bit) but at least he has given the scoreboard that impetus. Another 50 more runs or so and India are golden on this wicket, or so they will be thinking, at least. Prasad again and with the second ball of the over he hits Binny's helmet – on the front – as the batsman misses his hook shot attempt. Good, quick ball from Prasad, who has looked a little tired, otherwise. Good one from Prasad. Binny is living a charmed life, as another outside edge, this one a proper one, goes through the slips for a boundary. India 106/4 in 31 overs, lead by 217 runs.
11.25 am: Herath slips another over in. No trouble for Rohit, who takes a single and then a paddle sweep from Binny brings about another boundary. An inside edge saves Binny from an lbw next, and then missed stumping from Perera. Binny comes down the wicket, misses the ball completely, an easy stumping for Perera, but he fumbles the ball and Binny has a lucky escape. India 99/4 in 30 overs, lead by 210 runs.
11.22 am: Prasad now for Pradeep. First ball is short and outside off, and Binny plays it nicely through point for a boundary. The bowlers asks for a deep point immediately. A shot fine by opening the face gives Binny a couple more as the deep point runs in to cut the ball off, those runs also take India's lead past 200. Finishes the over off with another boundary, not convincing as he throws his hands at a wide ball outside off and it flies over the slips. If you're going to flash, flash hard, right. India 94/4 in 29 overs, lead by 205 runs.
11.16 am: Herath comes back and a single is all there is. India 84/4 in 28 overs, lead by 195 runs.
11.12 am: Pradeep again and first ball Rohit takes a single to the offside. Binny gets the block on for two balls and then lashes out at a wide one, gets a thick outside edge and it goes through the gap between slips and gully for a boundary. A deep point goes out after that shot and Binny takes a single. India 83/4 in 27 overs, lead by 194 runs.
11.06 am: Nice steady over from Mathews, not too many alarms for the batsmen – Rohit and Binny. India 77/4 in 26 overs, lead by 188 runs.
11.02 am: Pradeep starts with a ball well outside off, which is left by Binny. Brings one in next ball and Binny just gets his bat down in time and he hits it well enough to go to the midwicket boundary. First runs for Binny in this Test match. A couple of boundaries follow off the blade of Rohit. First one is an elegant – when isn't it elegant when he plays well – square drive through point and the next is a wonderful cover drive. India 77/4 in 25 overs, lead by 188 runs.
10.57 am: Just the one over for Prasad ad Mathews is back. First ball is defended to the offside by Rohit, but Sri Lanka go for a big appeal, thinking it has hit his pad first. Llong shakes his head, and replays show it might have, but it probably struck him outside off as well. The pressure is right back on India, though. A second maiden on the spin. India 64/4 in 24 overs, lead by 175 runs.
10.53 am: If there is ever a time for Stuart Binny to show his worth with the bat, it is now. He is greeted with a corker of a delivery from Pradeep, that comes in on the angle and then seams away. Really good over from Pradeep, a wicket maiden. Plays and misses the final ball as well, and a hopeful appeal is made, but he hasn't nicked it. India 64/4 in 23 overs, lead by 175 runs.
10.47 am: Pradeep comes in as well. Wicket, Kohli (21, 63b, 2x4) gone! It is so easy to get Kohli out isn't it. Outside off, on sixth stump, Kohli feels for it for absolutely no reason – at least go for a drive man! – and gets the outside edge, which Upul Tharanga takes at first slip after a bit of a juggle. Pradeep strikes again and Kohli is left with a lot of questions to answer. Such a poor shot, very similar to the way he got out in the first innings. India 64/4 in 22.2 overs. Drinks is taken as well.
10.45 am: Prasad is back and starts off with a no-ball. Hits Kohli's inner half of the bat next ball with a delivery that just seams a touch in. Next ball induces a proper inside-edge off Kohli, who plays far away from his feet, but again, luckily for India, the ball misses the stumps and goes down to fine-leg for a single. Rohit then picks up a boundary, dispatching a short ball, hip-high on legstump to backward square-leg. India 64/3 in 22 overs, lead by 175 runs.
10.39 am: Rohit guides one to third man for a couple second ball of the Mathews over and it brings up the fifty partnership for the fourth wicket. The batsmen walk to the middle of the wicket and shake hands, but they will also know the job is far from done. India 58/3 in 21 overs, lead by 169 runs.
10.33 am: Herath again and Kohli gets a three second ball with a square-drive through point. Rohit then is a little lucky again as his drive only gets a thick outside edge which foes past Mathews at first slip for a three. India 56/3 in 20 overs, lead by 167 runs.
10.30 am: Mathews with another over. After three "OK, nothing much is happening deliveries" Mathews gets one to seam in, and it hits Rohit's pads. Mathews makes a big appeal but the ball hit him top of the knee roll and it was probably going down leg as well. Next ball is away and Rohit pokes at it, gets a proper outside edge, but luckily for him it goes between slips and gully. Poor shot that from Rohit, didn't have to play it. India 50/3 in 19 overs, lead by 161 runs.
10.25 am: Not too many worries for Rohit and Kohli in this Herath over. India 45/3 in 18 overs, lead by 156 runs.
10.23 am: Mathews again, to Kohli. First ball outside off and Kohli defends, before one that comes in hits him high on the pads; a stifled appeal is made, but it was never going to be out. On the stumps again, and Kohli drives to mid-on. Plenty of open spaces on the legside, with Mathews positioning three fielders in the deep. Stays outside off next three balls, though. India 43/3 in 17 overs, lead by 154 runs.
10.19 am: Just a slip for Rohit, but there is a short mid-off in position, near the stumps at the non-striker's end. After a couple of defensive shots, Rohit jumps down the track and lofts one over midwicket for a three. Kohli then takes a single to long-on, after a bit of miscommunication in the previous ball, when Rohit ran for a single, before being sent back. India 43/3 in 16 overs, lead by 154 runs.
10.16 am: It is Mathews now. After a first ball bouncer, Mathews gets that typical delivery that moves away, which Kohli leaves. Mathews hen looks for that same shape from leg-stump, it doesn't move and Kohli flicks it comfortably to square-leg for another boundary. No worries after that. India 39/3 in 15 overs, lead by 150 runs.
10.12 am: Pradeep just gets the two overs and it is now Rangana Herath. A lot more comfortable is Rohit, who takes a single to long-off third ball, with Kohli picking one up as well to fine-leg. Rohit, next ball, drives another one to long-off for a single with Kohli also doing the same. India 35/3 in 14 overs, lead by 146 runs.
10.08 am: Kohli can't help himself playing that drive as well, and he could have easily played one on off a good length ball from Prasad. Gets the inside edge, but it skews towards midwicket. Next ball is on the stumps and Kohli looks to get that whip shot of his working, but only a leading edge comes, with the ball luckily, for India, falling safely. It is a bit of a catch 22 situation for Kohli, because the more he is bobbed down, the more chances of him getting out, but the way Sri Lanka are bowling at the moment, there really are no options to score freely. As I say that, however, Prasad drops a half-volley onto the pads and Kohli easily flicks it to square-leg for a boundary. India 31/3 in 13 overs, lead by 142 runs.
10.02 am: All the 17 deliveries so far this morning have been on the mark, and Pradeep continues that trend, staying on and around off, only straying when attempting a bouncer, which is called a wide. Kohli gets a single as well with a flick from off to backward square-leg. India 26/3 in 12 overs, lead by 137 runs.
9.58 am: Lots of pressure on Rohit to produce an innings of substance here and after a couple of good defensive strokes, that poor shot comes in as he plays and misses while going for a drive off a good length ball. Just can't help himself. More such shots, though, and he will get that outside edge. Defends next ball and then with that forward press the ball hits him on the pads, but umpire Nigel Llong turns down the appeal. Dot ball to finish what is a maiden. India 24/3 in 11 overs, lead by 135 runs.
9.53 am: Nuwan Pradeep is the bowler and India get off the mark on Day 4 with a quick single, before Kohli gets a couple with a nice drive through the offside. On and around off from Pradeep for the most part. India 24/3 in 10 overs, lead by 135 runs.
9.48 am: First ball is just outside off, moving away, and Kohli lets it go. Next one is pitched up on offstump, and Kohli pushes to mid-on. Outside off again after that with Kohli leaving the ball well, while also showing some good defence. India 21/3 in 9 overs, lead by 132 runs.
9.44 am: The players are out on the field. Kohli on strike to Dhammika Prasad.
9.40 am: Five minutes to go to the start of play on day four. India start on 21/3 in 8.1 overs, with an overall lead of 132 runs. Virat Kohli and Rohit Sharma are the batsmen.
9.35 am: Kusal Perera: I was a bit nervous, it was 46/6 but I had to do something for my team and at the end I did something. I have to adjust my batting and in that situation yesterday I had to attack, I had to take some calculated risks. I like to play as a wicketkeeper/batsman. Morning session is very crucial, we have to take some more wicket, we have to get them all out pretty quickly. If we can restrict the read to 200, then we have a chance to win.
9.32 am: Jonty Rhodes with the pitch report. The patches of green, live grass still there and will provide movement for the seam bowlers. It is all about digging in again on Day 4.
9.26 am: Ishant Sharma: I haven't changed anything, I am still bowling the same. I think my experience has helped. I shortened by run-up, and it helped my rhythm and I got more stability. I am feeling well and when I had a lean patch, the ball was not coming out right. But I persevered and now I am OK. We are looking to get as much of a lead as possible, but we are looking at a minimum lead of 250.
9.16 am: Good news to begin the day, as there is no rain. Nice and sunny today morning.
8.49 am: All of 15 wickets fell on Day 3 of this third Test match, and while Sri Lanka will think more of the same to start Day 4 off, India will bank on their batsmen to get them a fair few more runs.
Either way, Day 4 of the third Test at the SSC in Colombo promises to be an entertaining one, and I will be right here to give you all the updates as it happens with this thoroughly unforgettable and outstandingly fun live blog.
Hello and welcome everyone, stay right here to receive all the live coverage from Day 4 of this Test match, with every over brought to you in an informative nutshell (does that even makes sense?).
Not sure (told you it would be entertaining). Anyway, India are currently on 21/3 after Sri Lanka struck with Dhammika Prasad and Nuwan Pradeep late in the day, and the overall lead is currently only at 132 runs.
The wicket is still doing a fair bit for the faster bowlers, especially with the new cherry, and Virat Kohli and Rohit Sharma will need to bat out Day 1 morning to ease the pressure.
Sri Lanka have their tails up after that wonderful rearguard action and the late wickets, and if India give them a sniff, they will open up that door and waltz through.
Also, do not forget about the rain. It has been a factor on all three days so far, and let's just hope the Rain Gods decide to take a break for the next couple of days, because there is nothing more frustrating than a stop-start day is there.