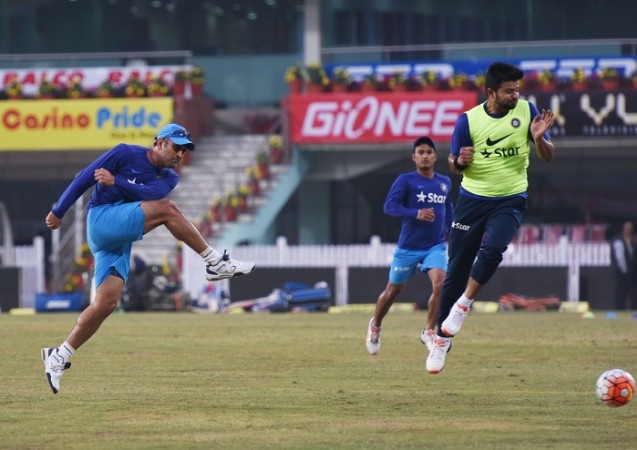 10.47 pm: The third biggest win for India T20 internationals, and what a convincing win it was too. The batsmen did what they had to do, scoring the big runs on a wicket that slowed down as play progressed. Then it was spin control time, with Dhoni relishing captaining on this wicket at his home ground. Sri Lanka never really got into the chase, losing three wickets early on, and it was easy as pie for India from there.
The series is level, and it is all to play for in Visakhapatnam on Sunday. This has been fun, do stay here for reaction stories and highlights. But that is it from me, until Sunday, it is bye, bye.
10.44 pm: Bumrah cannot finish off the innings with a wicket, but it doesn't matter as Sri Lanka finish on 127/9 in 20 overs to give India a 69-run victory.
10.41 pm: Dhoni gives Pandya a bowl now. Going through the motions here. Sri Lanka 124/9 in 19 overs.
10.36 pm: Chameera has caused a bit of trouble for the Indian batsmen. So, Bumrah backs his batsmen up with a beautiful yorker, which nearly sneaks through to the stumps. Follows that up with a short ball and then another full ball, which hits the stumps this time. Wicket, Chameera (0, 3b) gone! Such is the force of the delivery from Bumrah, that is breaks the leg-stump. Sri Lanka 119/9 in 18 overs.
10.33 pm: Wicket Senanayake (0, 2b) gone! Full and straight from Bumrah. Senanayake misses, and the ball hits him plumb in front. Sri Lanka 119/8 in 17.3 overs.
10.30 pm: Wicket, Thisara Perera (0, 1b) gone! Goes for the big shot immediately by jumping down the track, only gets a leading edge, and Rahane takes a simple catch at backward point. Sri Lanka 118/7 in 17 overs.
10.28 pm: Wicket, Shanaka (27, 18b, 3x6) gone! Ashwin, in his final over, gets the breakthrough, and that too off a leg-spinner. It was an awful ball, really, pitched halfway down the track. Shanaka, though, perhaps tries to hit it too hard, and mistimes it, with Rahane taking the catch at long-on. Sri Lanka 116/6 in 16.2 overs.
10.25 pm: Jasprit Bumrah for the first time now. And his first ball is an on-the-money yorker, which Shanaka can do nothing about. A slower ball third ball, sees Siriwardana find the gap behind point for a boundary. That is followed up by a wide, but this is a good chance for Bumrah to hone his death bowling skills a little bit more. Goes for a six, though, off the final ball, as Shanaka times one over Pandya at long-on. Sri Lanka 115/5 in 16 overs. 82 needed.
10.21 pm: Another six rains in, as Shanaka gets one off the meat, with the ball sailing over long-on. Shanaka gets another six as well, this one to cow corner as the slog sweep comes out. Too little too late, though, this. Sri Lanka 102/5 in 15 overs. 95 needed.
10.17 pm: Jadeja continues and the first ball is spanked over midwicket for a six by Siriwardana. Singles and twos follow. Sri Lanka 86/5 in 14 overs. 111 needed.
10.14 pm: All about the spinners as Suresh Raina gets the ball. Just singles and twos. Sri Lanka 75/5 in 13 overs. 122 needed.
10.11 pm: Shanaka and Siriwardana are the new batsmen, but Jadeja doesn't get his hat-trick. Sri Lanka 69/5 in 12 overs. 128 needed.
10.09 pm: Wicket, Chandimal (31, 30b, 2x4) gone! Boy Dhoni has been quick behind the stumps in this match. Another quick as a flash stumping as Chandimal is beaten by Jadeja, with the captain doing the rest. Sri Lanka 68/5 in 11.3 overs.
10.07 pm: Wicket, Kapugedera (32, 27b, 3x4, 1x6) gone! Another big shot attempt straight down the ground, this time off Jadeja, hits the toe of the bat and Pandya runs in from long-on to complete a smart catch, a really good one that. Sri Lanka 68/4 in 11.2 overs.
10.06 pm: Almost a wicket. Man that would have been an absolutely ridiculous catch. Kapugedera goes for the straight hit off the first ball from Yuvraj again, this one is not as pitched up, though, and the right-hander can't get enough of it. Rohit runs in from long-off, gets the right hand to it on the dive forward, but the ball just hits the turf as well, even if he held on afterwards. Chandimal gets a boundary to long-off, but this was the worry as Rohit injures himself on the dive, with his knee getting stuck on the hard ground. Winces a little, but he seems fine, thankfully. Sri Lanka 67/3 in 11 overs. 130 needed.
10.01 pm: Not getting enough boundaries are the batsmen, as Jadeja slips another quick one in. Sri Lanka 59/3 in 10 overs. 138 needed.
9.58 pm: Good start to the over for Sri Lanka as Kapugedera thwacks one straight back for a big six. Yuvraj comes back well, though. Sri Lanka 53/3 in 9 overs. 144 needed.
9.55 pm: Two left-armers as Jadeja comes in. Chandimal tries the reverse-sweep, but is lucky to survive as the ball drops short of deep cover. Another sound over. India 45/3 in 8 overs.
9.53 pm: With the Powerplay done, Dhoni brings in Yuvraj. Soldi over from the left-arm orthodox. Sri Lanka 40/3 in 7 overs.
9.49 pm: A good over finally for Sri Lanka as Kapugedera strikes two nice boundaries off Nehra. One through midwicker and the other through the covers. Sri Lanka 37/3 in 6 overs.
9.44 pm: Just the singles from the Ashwin over. Sri Lanka 25/3 in 5 overs. 172 needed.
9.42 pm: Couple of beats Kapugedera deliveries from Nehra, who bowls an outstanding over. Kapugedera gets off the mark with a bit of luck, as his pull shot attempt off a good short ball from the left-armer takes the top edge and flies to the fine-leg boundary. Sri Lanka 21/3 in 4 overs.
9.38 pm: Wicket, Gunathilaka gone! Pandya makes this wicket by getting Gunathilaka on strike with a brilliant effort at the boundary to prevent the ball hitting the ropes. Nehra gets the ball to just seam a touch inside and the left-hander nicks it off the inside of his bat through to Dhoni. Sri Lanka 16/3 in 3.2 overs.
9.36 pm: Lot os balls that is coming into the left-hander from Ashwin. Another good over from the offspinner. Sri Lanka 13/2 in 3 overs.
9.33 pm: Chandimal the new batsman, who starts his innings off with an inside-edge which doesn't carry to Dhoni. Then gets a life, as a shot to wide mid-on is just missed by Pandya. Great effort from the youngster, who did everything to get there, diving to his right, but just could not get enough of a hand to latch on. Chandimal then finishes the over with a cover drive for a boundary. Sri Lanka 9/2 in 2 overs.
9.29 pm: Wicket, Prasanna gone! A complete mishit from Prasanna, who goes for the loft over mid-off, but only manages to find Yuvraj, who takes a nice catch diving forward to give Ashish Nehra a wicket. Sri Lanka 3/2 in 1.1 overs.
9.27 pm: Nearly another wicket for Ashwin as Seekkuge Prasanna misses his sweep shot with the ball hitting the pads. Umpire shakes his head, though, and rightly too with the ball pitching outside leg. Not turning it yet is Ashwin, but effective still. Sri Lanka 3/1 in 1 over.
9.24 pm: Down the legside first ball, and it is called a wide, with the batsmen running for a single as well, as Dhoni fails to gather. Next ball, Wicket, Dilshan (0, 1b) gone! My god, that was quick from Dhoni. Beats Dilshan's bat does Ashwin, and with the right-hander just out of his crease, Dhoni, quicker than Flash, gets the bails off. Sri Lanka 2/1 in 0.1 overs.
9.23 pm: R Ashwin to open the bowling.
9.22 pm: The huddle is on for India and then the players walk onto the field. Second innings soon.
9.15 pm: Man that was a crazy first innings. Dhawan going nuts, Rohit getting a few, Rahane looking ugly while batting for the first time, one near hat-trick from Chameera, one hat-trick from Perera, some huge sixes from Pandya, who showed his brilliant hititng power and another outstanding innings from Raina. Dhoni got the biggest cheer from the crowd, but the captain could not quite get those levers working. Still a good score for India, Sri Lanka will have to bat really well to get close. Back in ten.
9.14 pm: Hardik Pandya: I wasn't even in match clothes. Mahi bhai said you might be needed, it was quite surprising, but nice. No plans, just went with the flow. It is quite a slow wicket, the slower ones are not easy to hit. It is quite difficult after six overs, we have got good runs on this wicket."
9.11 pm: India 196/6 in 20 overs.
Just two singles off the first three balls from Chameera, as Dhoni swings one and misses. No timing for the captain, as another big swing only gets him a couple as the ball drops near the circle straight. That is followed by what should have been just a single, but an overthrow, brings Dhoni back on strike for the final ball. Yorker length, Dhoni gets an inside edge and the ball goes through to the boundary.
9.05 pm: Hat-trick for Perera! Wicket, Yuvraj (0, 1b) gone! Aye, aye, aye. Pitched up, Yuvraj goes for the big shot over long-on, does not get it in the middle and Senanayake takes the catch. Hat-trick for Perera, but more importantly, three dot balls and just seven runs off the over. India 186/6 in 19 overs.
9.04 pm: Wicket, Raina (30, 19b, 5x4) gone! Raina tries to paddle it over short fine for a boundary, but the ball is way too outside off, and he only find the fielder. On a hat-trick is Perera now. India 186/5 in 18.5 overs.
9.02 pm: Perera to bowl the penultimate over. Perera keeps it full and wide to Pandya, but it is the low full toss that does the trick, as Pandya holes out in the deep to long-on. Wicket, Pandya (27, 12b, 1x4, 2x6) gone! A ridiculously huge roar as Dhoni walks in. India 186/4 in 18.4 overs.
8.56 pm: Raina is like "Ok Pandya boy, now it's my turn." Brilliant batting from Raina, who gets the first boundary by moving across and helping the ball over short-fine. Next ball is pitched up from Chameera and Raina is waiting for it to thump it to cow corner for another boundary. A wide follows and then Raina forces one to the midwicket boundary, helped out a little by some poor fielding from Kapugedera., who is not helped by the sandy outfield. Gets a dot ball in next does Chameera with a wide yorker, which Raina cannot make contact with. Another full and wide one follows, but Raina gets some bat on it this time, an outside edge, which flies past Chandimal for a boundary. Brings up the 50-partnership, off 23 balls. Single off the final ball. India 179/3 in 18 overs.
8.49 pm: Big, big and bigger from Pandya, who brings up his first six in T20 international cricket with a 90 metre six, before following that up with an even bigger one. The second shot is absolutely beautiful, sttaight back over long-on for a massive six. India 161/3 in 17 overs.
8.46 pm: Pandya has been sent up the order to go to tonk-town, and he does that first ball from Rajitha, with an outrageous flick-smash to cow corner. Singles and twos follow, before Raina finishes the over off with a wonderful cover drive for a boundary. Rajitha goes for 45 runs in his four overs. India 145/3 in 16 overs.
8.40 pm: A run out appeal, but the ball doesn't even hit the stumps, it is Chandimal's gloves that knock the bails off. But ridiculously poor running from Pandya, who does not ground his bat at all. Someone needs to give him a proper rollicking over that, nothing gets my goat more than not grounding your bat. India 131/3 in 15 overs.
8.36 pm: Wicket, Rahane gone! Rahane has looked ugly, not something you usually say about his batting, all day, and the right-hander falls to an ugly-looking shot. Goes for the pull off Senanayake, gets nowhere near good enough contact and Dilshan takes a simple catch at cover. India 127/3 in 14.2 overs.
8.35 pm: Changing his pace really well is Chameera, who is bowling like a T20 pro. Plenty of short balls for Raina. India 127/2 in 14 overs.
8.32 pm: No hat-trick for Chameera, as Suresh Raina takes a single off a ball on his hips.
8.30 pm: Wicket, Rohit (43, 36b, 2x4, 1x6) gone! Chameera again. Ball holds up, Rohit gets a leading edge, and the bowler himself takes a stunning catch, diving forward and to his right. India 122/2 in 13.1 overs. Chameera is on a hat-trick.
8.28 pm: Another one of the bowlers who made such an impact in the last game -- Dasun Shanaka -- comes in. Rahane is just looking lost out here, playing too many shots, and that too wild ones, with absolutely no timing. Just give the strike to Rohit should be his mantra, while waiting for the bad balls. Nope, Rahane's hear me, and he finally connects one. Pitched up by Shanaka, and Rahane hits it straight back for a boundary. Much-needed boundary for him that. He gets another one next ball, and this is all Sri Lanka's own making, as Rajitha commits an awful misfield at short third to concede four runs. Finishes the over with a couple. India 122/1 in 13 overs.
8.23 pm: Another Prasanna over, another over with just singles. Umm, wait, not the final ball. Prasanna drops it short and Rohit uses all that power of his to loft it over midwicket and well into the stands for a big six. First boundary in six overs. India 110/1 in 12 overs.
8.19 pm: Rajitha, who was spanked for 24 runs in his first two overs, returns and he is a much more happy chappy this time around, with the batsmen happy to take the singles. Would it have been a better idea to send in Raina ahead of Rahane, who is struggling for timing here? I think so. India 100/1 in 11 overs.
8.13 pm: A little bit of variable bounce maybe creeping in as a couple of deliveries from Prasanna keeps a touch low. Just the singles again. India 93/1 in 10 overs.
8.10 pm: More spin as left-armer Siriwardana comes in. And he makes a brilliant entrance too, with a ball that grips and turns away to beat Rohit's bat. Outstanding first ball from Siriwardana, who troubles the right-hander on a couple more occasions in the over. Momentum has definitely been quelled by Sri Lanka with that Dhawan wicket. As I say that, though, Rahane gets his first boundary, jumping onto a short ball to hit the gap between long-on and midwicket. The fielder makes the big dive in the deep, but with all that sand in there, it is a difficult task. India 87/1 in 9 overs.
8.06 pm: Ajinkya Rahane is the new batsman as leg-spinner Seekkuge Prasanna gets a bowl. Just the singles in the over. India 80/1 in 8 overs.
8.02 pm: Dushmantha Chameera gets the ball for the first time, and after Rohit takes a single to third man first ball, Dhawan cuts the fast bowler to wide third man for a couple, which brings up his half-century off just 22 balls. What a knock it has been, but he needs to go on and get an 80 at least. That 80 could come in the next couple of overs, though, mind, seeing the way he is batting at the moment. Nope, no big innings. Wicket, Dhawan (51, 25b, 7x4, 2x6) gone! The short ball does the trick. Dhawan, looking to help it to third man, can only get an edge through to wicketkeeper Chandimal. His blitz is over, and Chameera does the trick again, bowled really well this over. India 75/1 in 7 overs.
7.56 pm: Rajitha is taken off again and Perera is back once more. Plenty of singles, twos and wides in the over, and then Dhawan gets that cover drive working again, for another beautiful boundary. Too full was Perera, and Dhawan did not miss out. Finishes the over with a boundary as well, with a nice help to fine-leg. The ball trickles to the ropes, with the fine-leg fielder up and deep square, well, too square. India 70/0 in 6 overs. Powerplay over, but what a Powerplay for India.
7.50 pm: Three singles off the first three balls from the Senanayake over, and then Dhawan latches onto a short ball to spank it to the midwicket boundary. The sweep shot follows, with the ball hitting the ropes at deep bacward square-leg. India 55/0 in 5 overs.
7.47 pm: Change of ends for Rajitha and Rohit welcomes him back with a beautiful tonk over mid-off for a boundary. Dhawan gets one as well, fourth ball, with an uppish drive through the gap between extra cover and mid-off. Same shot follows next ball, off a full toss this time, and that is the third boundary of the over, before the fourth one follows, with a gorgeous cover drive. What a difference one match makes, aye. India 44/0 in 4 overs.
7.41 pm: Rajitha is taken off after just one over and the offspinner Sachitra Senanayake is brought in by Dinesh Chandimal. No turn to speak of, and after Dhawan survives a close lbw appeal, he hits another six, to around the same area behind square, but this time it is a lofted sweep shot. Nice one that from Dhawan, who follows that six with a single to long-off. Rohit does the same off the final ball. India 27/0 in 3 overs.
7.39 pm: Thisara Perera opens the bowling from the other end. Dhawan gets off the mark second ball, with a forced push through midwicket for a couple. Takes a single next ball to third man. A single to square-leg brings another single for Rohit. A serene, uneventful over till the final ball, which Dhawan dispatches to the stands with a nice pickup off his legs. India 18/0 in 2 overs.
7.33 pm: Second ball is on the stumps, and Rohit flicks it through midwicket for a couple. Rajitha gets the line right next ball, with a bit of outswing as well, as Rohit defends to cover, before taking a single down to third man fourth ball. Shikhar Dhawan defends the next two deliveries. India 7/0 in 1 over.
7.31 pm: Slight delay as there is a problem with the sight screen.
7.29 pm: Here we go Kasun Rajitha to bowl to Rohit. Short and wide, and Rohit spanks it over point for a boundary.
7.27 pm: A few minutes away from the start of play. Teams bowling first have won five of the seven T20 matches played here so far, so the India openers need to give India a good start.
The players are walking out onto the field.
7.13 pm: Some reading material just before the match
Key battles, Players to Watch and here is what Ravi Shastri had to say in his pre-match press conference. Also, if you feel the need to watch the match online, HERE is all the information you need.
7.03 pm: Teams: India: Shikhar Dhawan, Rohit Sharma, Ajinkya Rahane, Suresh Raina, Yuvraj Singh, MS Dhoni, Ravindra Jadeja, Hardik Pandya, R Ashwin, Ashish Nehra, Jasprit Bumrah.
Sri Lanka: Tillakaratne Dilshan, Danushka Gunathilaka, Dinesh Chandimal, Chamara Kapugedera, Milinda Siriwardana, Dasun Shanaka, Thisara Perera, Seekkuge Prasanna, Sachitra Senanayake, Kasun Rajitha, Dushmantha Chameera.
7.02 pm: Good to be home. Nice to be here especially when you have a young daughter. I don't really feel the pressure playing at my home ground.
Surprise, surprise, same team for India. So no Negi or Harbhajan.
7 pm: Sri Lanka win the toss and will bowl first.
We want to bowl first because the wicket looks good, and nothing will change. Hopefully we can restrict them. One change for SL, Dickwella makes way for Dilshan.
6.58 pm: Two minutes to the toss. Bat first, or chase?
6.54 pm: No grass whatsoever, says Sunil Gavaskar at the pitch report. Nice and glistening is the pitch, which might come on but will also keep low according to the former captain. A good cricket game, we should have.
6.50 pm: India vs Sri Lanka is back with the 2nd T20, with the promise of a lot more runs than we saw in the first match, when the bowlers made merry on a green wicket. India need to bounce back from a five-wicket defeat to level the series up, and the only way to do that is by playing some good cricket (yup, I am stating the obvious).
The batsmen need to fire (there I go stating the obvious again) after their poor show in Pune, and you feel if they do, this will be India's to win.
Hello everyone and welcome to IBTimes India's one-of-a-kind (not, really, just for the effect, you know) live blog. Stay right here as I, Deepak Vikraman, take you through the entire match as it happens. All the updates will come up on its own, so you don't need to keep that F5 at the ready.
Hopefully, this will be a fun match, with lots of runs (yup, that is what T20 is all about). Sri Lanka's young bowlers were a breath of fresh air in that first match, but it remains to be seen if that bubble will burst in this more batsman-friendly Ranchi wicket.
With a dodgy outfield, we might get to see plenty of boundaries, because the way the ground looked on Thursday, not too many players will want to dive around, not with the World T20 so close.
9.14 pm: Man that was a crazy first innings. Dhawan going nuts, Rohit getting a few, Rahane looking ugly while batting for the first time, one near hat-trick from Chameera, one hat-trick from Perera, some huge sixes from Pandya, who showed his brilliant hititng power and another outstanding innings from Raina.
9.14 pm: Man that was a crazy first innings. Dhawan going nuts, Rohit getting a few, Rahane looking ugly while batting for the first time, one near hat-trick from Chameera, one hat-trick from Perera, some huge sixes from Pandya, who showed his brilliant hititng power and another outstanding innings from Raina.