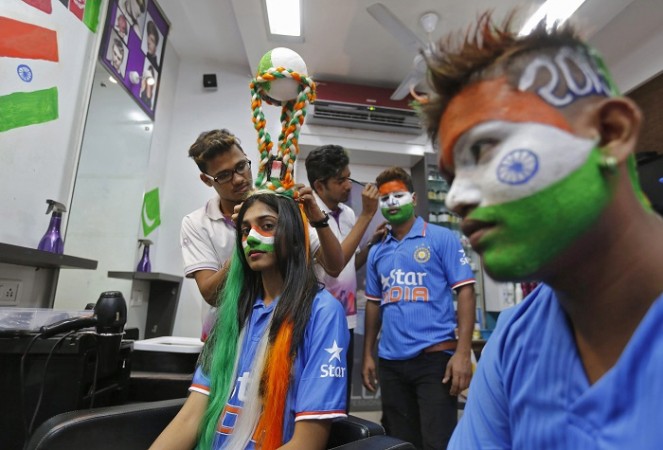 5.05 pm: India's hold on Pakistan at the World Cup remains. A great team performance from the side, with Virat Kohli playing a brilliant innings, equally ably supported by Shikhar Dhawan and Suresh Raina. While 300 was lower than they should have made, it was still more than enough as Pakistan crumbled under the pressure.
The India bowling came to the fore when needed as well, with the pace bowlers, in particular, doing their jobs well. India now go into the big match against South Africa next Sunday in buoyant mood, while Pakistan have some work to do if they are to seriously trouble the favourites.
"Very nice to get off to a winning start at the World Cup, and especially good to beat Pakistan. It is one of my biggest moments," says the star man Kohli. More innings like that from you mate, more of the same.
Get the Five Talking Points from the Game HERE
The Full Scorecard of the India vs Pakistan Match is HERE
That's it from IBT India guys, do come back soon and don't forget to go to out World Cup page to read up on everything about this cannot-miss-it tournament.
4.58 pm: It's over, India beat Pakistan by 76 runs! Pakistan trying to take it to 50 overs, as Mohammad Irfan bats with what looks like a tiny little piece of wood in his hand. The final wicket does come Mohit's way however, as Sohail Khan holes out in the deep to Umesh Yadav. Pakistan 224 all out in 47 overs.
4.51 pm: The impossible, Misbah gets out! How much can you do, Misbah has been next to unbelievable here, and he finally succumbs to a short delivery, playing a tired shot to Ajinkya Rahane mid-on. Almost over now, Pakistan 220/9 in 44.4 overs.
4.48 pm: Umesh Yadav finishes his quota with a five-run over. Pakistan 220/8 in 45 overs.
4.44 pm: There is no giving up in Misbah as he takes Jadeja for three boundaries – now you know why he wanted Sohail to just go back and stand at the non-striker's end. Still a bit to go for his maiden century, though. Can he get it, he certainly deserves one. Pakistan 215/8 in 44 overs.
4.41 pm: Ah some India vs Pakistan drama. Sohail Khan and Virat Kohli get involved in a bit of verbals and Sohail walks all the way up to Kohli at midwicket. Much ado about nothing, however, with Misbah even asking his player to go back to the non-striker's end.
4.38 pm: Mohit has been quite impressive today. Some really good defensive bowling, something that is not easy to do. Another good over from the medium-pacer and he could have had a wicket as well as Yasir Shah pulls one to midwicket, with Shami just unable to grasp the ball as he dived forward. He does get his wicket, though, with Yasir Shah hitting the ball straight to Umesh Yadav at mid-on. Deserved wicket this for Mohit. Pakistan 203/8 in 42.5 overs.
4.33 pm: Ashwin return, and Yasir Shah welcomes him with a slog sweep to midwicket. Not much else, though. Pakistan 200/7 in 42 overs.
4.29 pm: Umesh Yadav fails to take advantage of bowling to Yasir Shah from ball one. Cannot take his wicket. Pakistan 196/7 in 41 overs.
4.24 pm: Misbah hascertainly not given up. A reverse-sweep off Jadeja gives him a boundary and the skipper is trying to take it as close as possible. Yasir Shah is hanging in there for his captain, without doing too much. Pakistan 194/7 in 40 overs.
4.22 pm: Good quiet couple of overs from India. Misbah's onslaught has come down a little after the end of the Batting Powerplay. Pakistan 188/7 in 39 overs.
4.14 pm: Fifty for Misbah, another brilliant innings under pressure. Gets it with a club straight down the ground for four and a glide down to third man for a couple. Shami, who has been tremendous in this game, is being taken to the cleaners by the Pakistan skipper, as he smashes another four through midwicket. Pakistan 181/7 in 37 overs.
Get the Live Scorecard of the India vs Pakistan Match HERE
4.10 pm: At seven down, Misbah is not taking the singles now and wants to keep the strike. Smashes Ashwin for a six first ball, and then a couple and then a four towards third man. It's amazing how he keeps doing it time and again, it is near impossible to get Misbah out in a pressure situation. Pakistan 169/7 in 36 overs.
4.03 pm: Wicket Wahab gone! Wahab starts with afour down the legside, but Shami comes back immediately and gets an outside edge, with Dhoni completing the catch low down. Pakistan now on the brink 154/7 in 35 overs.
4.01 pm: Wicket, Afridi out! A full toss from Shami sees Afridi miscue his shot over the covers. Kohli runs back and completes a smart catch. Surely over now isn't it? Even the great Misbah cannot rescue this situation, can he? Pakistan 149/6 in 34.1 overs.
3.59 pm: And just as I say that, Misbah find his zone. A four off the first ball from Umesh through the offside puts him off his stride, with Misbah then gifted a boundary via a low full toss on leg stump. Ten runs from the over, Pakistan 149/5 in 34 overs.
Get the Live Scorecard of the India vs Pakistan Match HERE
3.53 pm: Misbah struggling to hit the gaps, unable to get the scoreboard moving along. Shami gives away just two runs in the over. Pakistan 139/5 in 33 overs.
3.48 pm: Jadeja follows that up with a good over of his own. Pakistan 137/5 in 32 overs. They need another 164 in 18 overs. And they have taken the Batting Powerplay.
3.45 pm: Mohit continues to be parsimonious. Just two runs from the over, Pakistan 134/5 in 31 overs.
3.40 pm: Ashwin is taken for a four finally, by Afridi, who clubs it for a four through the onside. Eight from that Ashwin over, after his maiden previously. Pakistan 132/5 in 30 overs.
3.36 pm: Good over from Mohit, gives away just five runs. Pakistan 124/5 in 29 overs.
Get the Live Scorecard of the India vs Pakistan Match HERE
3.31 pm: Dhoni goes back to Ashwin, who has bowled really well. The India skipper knows, one more wicket and it is definitely over, and he wants his premier off-spinner to pick up that wicket. The calm-as-ever Misbah takes the bulk of the strike in the over, though, a maiden over. Pakistan 119/5 in 28 overs.
3.28 pm: Boom boom time is it? Afridi announces himself with a smash over midwicket for six off Jadeja, and then, as he always does, nearly gets out with a pump over the covers which falls just short of Virat Kohli. Pakistan 119/5 in 27 overs.
Get the Live Scorecard of the India vs Pakistan Match HERE
3.26 pm: Afridi is in, and Umesh greets him with a brilliant short delivery which just clips the helmet on the way. India's tails pointing north now. Pakistan 109/5 in 26 overs. Pakistan need 192 from 24 overs now, and if anybody can do it Misbah can, but with plenty of help from Afridi.
3.19 pm: India review an outside edge for Umar Akmal. Dhoni is confident, and goes up and despite the snicko showing little, the third umpire gives it. Big call that, and an even bigger call for India. Dhoni the hero again with the call, and Ravindra Jadeja picks up a wicket. There was the slightest of deviations in the replays, and just the way Dhoni went up you felt there was an edge. Dhoni is not the kind to get excited over nothing. Pakistan 103/5 in 24.3 overs.
3.12 pm: And it's another one, Sohaib Maqsood gone, Umesh delivers! A perfect delivery first up, just outside off, tailing a touch away. Maqsood gets the edge while going for a drive, and Dhoni has kept a slip – Raina it is again who takes the catch at wide slip. Pakistan 102/4 in 24 overs.
Get the Live Scorecard of the India vs Pakistan Match HERE
3.12 pm: And it's another one, Sohaib Maqsood gone, Umesh delivers!
3.11 pm: Shehzad out! Shehzad pummels a Umesh delivery to backward point – straight at Ravindra Jadeja, who drops it at the first attempt, but has the composure to grab it at the second attempt. Big wicket this for India. Pakistan 102/3 in 23.2 overs.
3.09 pm: The 100 up for Pakistan in the 23rd over. The two batsmen happy to pick up the singles, but India are holding well here. Pakistan 101/2 in 23 overs.
3.06 pm: Umesh Yadav is brought back in. Decent enough over first up. Pakistan 98/2 in 22 overs.
2.59 pm: Shehzad is the key here for Pakistan, even if their best batsman Misbah has come in. The right-hander hits consecutive boundaries off Ashwin to release the pressure. Pakistan 92/2 in 20 overs.
Get the Live Scorecard of the India vs Pakistan Match HERE
2.56 pm: Jadeja keeps it tight at the other end as well. Bowl slow is the mantra here as the ball is turning here. Shehzad is almost run out as he goes for a double, with Dhoni doing well to collect the ball and hit the stumps. The Pakistan opener just makes his crease in time. Pakistan 83/2 in 19 overs.
2.50 pm: Ashwin is bowlingreally well here. Changing his pace, while spinning the ball as well. And his brilliant bowling is rewarded with the wicket of Sohail. Ashwin was frustrating Sohail and Shehzad by not giving away the singles, and he gets one ball to kick and spin away, which Sohail edges to Raina in the slips. Pakistan 79/2 in 18 overs.
2.48 pm: Ravindra Jadeja comes in after the drinks break. Pakistan are now playing like India did in the middle overs, knocking the ball around for singles quite easily. Pakistan 79/1 in 17 overs.
Get the Live Scorecard of the India vs Pakistan Match HERE
2.42 pm: No second straight maiden for Ashwin, as Pakistan start picking up the singles. Five of them in the over, Pakistan 72/1 in 16 overs.
2.39 pm: Fifty partnership comes up in the 15th over, with the two Pakistan batsmen looking to set a solid platform. Shehzad, who has been pretty quiet, picks up a much-needed boundary by lofting one over mid-off for four. Nine off the over, Pakistan 67/1 in 15 overs.
2.34 pm: Ashwin for the first time. The off-spinner needs to put in a good tight spell here and preferably, from India's point of view, pick up a wicket or two. The first over is a stellar one a maiden. Pakistan 58/1 in 14 overs.
Get the Live Scorecard of the India vs Pakistan Match HERE
2.32 pm: Over in Hamilton South Africa have beaten a gallant Zimbabwe by 62 runs.
Get the Scorecard of the South Africa-Zimbabwe Match HERE
2.30 pm: Raina's first over goes for a quiet six runs, before Shehzad unleashes his attacking instincts with a pull/slog over midwicket off Mohit Sharma. Mohit bowling a really good defensive spell, though and nearly does Shehzad with a yorker. Pakistan 58/1 in 13 overs.
2.22 pm: Mohit doing a job here, even if he does not look like picking up wickets. Pakistan's early intensity has just come down a touch, with Haris Sohail finding it a little difficult to pierce those gaps via his wonderfully-timed cover drives. Pakistan 47/1 in 11 overs.
2.18 pm: Shami follows that up with a tidy over of his own. Pakistan 46/1 in 10 overs.
Get the Live Scorecard of the India vs Pakistan Match HERE
2.13 pm: Finally a tight little over from India as Mohit provides it. Pakistan 45/1 in 9 overs.
2.09 pm: Shehzad joing the boundary party with a brilliant pull shot off Shami, who for some strange reason keeps bowling short – they never seem to learn these bowlers. Pakistan getting a move on now, thanks mainly to some poor Indian bowling. Pakistan 44/1 in 8 overs.
2.05 pm: Decent first over fromMohit Sharma, even if he doesn't trouble the batsmen enough. Haris Sohail is looking really good here. Pakistan 39/1 in 7 overs.
1.57 pm: Shami is trying to pick up a wicket every ball and so is Yadav. Dhoni needs to calm them here as they are bowling well, when they are hitting the right line. Could have been a run out in the last ball of the over, as Sohail and Shehzad get into a big mix-up, but Dhoni, of all people, does not see it and he whips off the stumps at his end, instead of throwing the ball to the other end. Pakistan 34/1 in 6 overs.
1.53 pm: Umesh is bowling fast, at a really good pace near the 150 mark. But the consistency keeps deserting him. One brilliant ball is followed by a rubbish delivery. He needs to back Shami up here and bowl really well. Three boundaries for Sohail down third man, through midwicket and then through the covers (the pick of the lot) – tells you all about Umesh's wayward line doesn't it? -- keeps Pakistan moving along. Pakistan 28/1 in 5 overs.
1.49 pm: Terrific attacking over from Shami, he is clearly charged up and bowling much like the Shami we know of when he started his career. Haris Sohail negotiates him well enough, though. Pakistan 13/1 in 4 overs.
Get the Live Scorecard of the India vs Pakistan Match HERE
1.44 pm: Wicket, Younis gone! What a delivery from Shami, short and rising into the body. All Younis can do is fend it off, and he doesn't do that too well as the ball goes off the glove/handle into Dhoni's gloves. Pakistan 11/1 in 3.2 overs.
1.41 pm: Yadav and consistency is chalk and cheese isn't it. Just not possible. A good delivery here and then immediately a half volley on leg stump. Younis gets the first boundary of the innings with a poor delivery down the leg side, while Shehzad could have done the same as well off a wide ball fro Umesh, who cannot get his line right often enough. Pakistan 11/0 in 3 overs.
1.37 pm: Good first up deliveryfrom Mohammad Shami, gets one into the body of Shehzad. A good first over from Shami. Pakistan 4/0 in 2 overs.
1.33 pm: Umesh starts with a ripper (nope, just being sarcastic) of a delivery. The ball goes miles down the leg side and way above the head of Shehzad. Not the greatest of beginning from the fast bowler. Better next two deliveries, though, as he gets a bit of shape away. Drops down the leg again, though, allowing Shehzad to get off the mark with a flick down to fine leg. Younis opening just the third time in his career, plays a misses outside off off his first delivery, a good one from Umesh. Pakistan 2/0 in 1 over.
Get the Live Scorecard of the India vs Pakistan Match HERE
1.28 pm: Smokeall over the place from thefirecracker. Waiting for that to die down as Umesh Yadav prepares to send down the first over for India.
1.24 pm: The players are back on the field. The chase begins. Pakistan will look for a bright start from Ahmed Shehzad and Younis Khan – don't forget Younis is opening the innings.
1 pm: What a finish from Pakistan as Wahab and Sohail concede just 27 runs in the final five overs, when India would have been gunning for a minimum 50. Pakistan will go into the dressing room feeling a lot better about themselves, but what they cannot forget is that 300 is a big score. Even if India's bowling is brittle, Pakistan will have to bat out of their skins to win this World Cup match.
A tense, exciting second innings awaits. See you on the other side, it is going to be a quick turnaround.
12.58 pm: Innings over, India finish on 300/7 in 50 overs. Excellent finish from Sohail and Pakistan as India tumble and fumble in the final five overs. They eventually finish on just 300 when it really should have been over 320 at least.
12.54 pm: Rahane gone as well, Sohail gets a five-for! Completely gone are India, clueless to the bowling from the Pakistan death bowlers. Rahane cannot pick a slower delivery and his wickets go for a tumble. India now 296/7 in 49.2 overs. Sohail almost gets a hat-trick as well as Shami misses a yorker, but the ball misses the stumps as well.
12.52 pm: Wicket, Dhoni gone! The skipper is now dismissed by Sohail, who bowls a mean short delivery which Dhoni cannot time. Misbah takes a simple catch, and what a comeback this has been by Pakistan in the final five overs. Brilliant stuff!
12.51 pm: Wahab bowling really quick here, well over 150 and India rightly struggling to get him off the park. Really, really good bowling from Wahab, just too quick, even for Dhoni to do damage. Wahab then sends Jadeja packing with a well-disguised slow delivery. Only four runs off the penultimate over of the innings. India 296/5 in 49 overs.
Get the Live Scorecard of the India vs Pakistan Match HERE
12.46 pm: Really good death bowling from Pakistan here, as they concede only 19 runs in the last three overs, and that too only because Dhoni what he does best, smash sixes into the crowd. A big hit from the skipper as he sends one way back to the midwicket boundary off a full toss from Sohail Khan. India 292/4 in 48 overs.
12.42 pm: Wicket, Raina! India losing the plot here in the final few overs, as Raina goes for a big swing/pull shot off Sohail Khan, and only manages to loop the ball to Haris Sohail in the deep. India losing all sorts of momentum and 300 now looks tricky. The score 284/4 in 47.3 overs.
12.38 pm: Tremendous over from Wahab, as Raina and MSD struggle to get the ball to the boundary. Only four runs off it. India 283/3 in 47 overs.
12.33 pm: Three dot balls from Sohail is followed by a Dhoni thump through the offside, which does not allow any of the Pakistan fielders to even move. Really great over from Sohail, though, as India only manage six runs. India 279/3 in 46 overs.
12.29 pm: Wicket, Kohli gone! Kohli's brilliant innings finally comes to an end, as a thick edge off Sohail Khan through to Umar Akmal sees him on his way. Kohli is out for 107 (126b, 8x4), but it just might be Dhoni time now! India 273/3 in 45.2 overs.
Get the Live Scorecard of the India vs Pakistan Match HERE
12.27 pm: Kohli clubs one for a boundary off the first ball into his favourite leg side, before a strange miss from Gould means Irfan gets away with a no-ball full toss for height. Rain then pulls one to the square leg fence for a boundary, before a couple of singles tempers the over down a little bit. Not for long, though, as Irfan loses the plot completely with a full toss over the head of Raina. India 273/2 in 45 overs.
12.22 pm: Raina swinging at everything now, not to great effect as Sohail Khan gets his measure in the first couple of deliveries. But Raina in the end overs is a different beast isn't he? A four off the third ball, flicked past short fine leg, and then a slap, and what a slap it is, past mid-off for another boundary sends the Adelaide crowd and the Indian fans watching around the world into a frenzy. A poor delivery from Sohail down the leg side, gives Raina another boundary ball, and he obliges with a smash over square leg. Big over for India, 14 off it, India 259/2 in 44 overs.
Get the Live Scorecard of the India vs Pakistan Match HERE
12.17 pm: A review here as Raina misses one down the leg side off Sohail Khan. Umar Akmal makes a big appeal and convinces Misbah to review. Snicko shows no touch on the bat, and the ball seems to have come off the trousers of Raina.
12.11 pm: Kohli gets to his hundred! That's what you call a big-game player. Smashing a wonderfully-crafted century against the biggest opposition of them all. A single to long-on off the first ball of the 43rd over takes him to the century in 119 balls -- Kohli loves Adelaide doesn't he! Then what does Raina do to Afridi, smashes him for a six off a slog sweep, before taking a single to get to his half-century. India 245/2 in 43 overs.
12.10 pm: Interesting move, bringing in Yasir Shah in the 42nd over. He hasn't bowled particularly well so far, so maybe Misbah is hoping the batsmen will go bonkers and lose their wicket. Bonkers it is for the moment, as Raina launches one into the midwicket stands with a typically Raina shot coming down the pitch. Singles and twos in the over as well, and Kohli on 99. India 235/2 in 42 overs.
Get the Live Scorecard of the India vs Pakistan Match HERE
12.06 pm: It's like an invisible button being pressed isn't it. The moment the innings reaches the 40-over mark, those big shots come more often. A couple of expansive shots, without too much result for India in the Afridi over. Only seven from it, however. India 224/2 in 41 overs.
12.03 pm: India just struggling for runs (read singles) in the Powerplay here. India 217/2 in 40 overs. The final ten overs now, how many will India score?
11.59 am: Over in Hamilton, Zimbabwe haven't given up after that assault from David Miller and JP Duminy. 91/1 in 18 overs chasing 340.
Get the Live Scorecard of the South Africa-Zimbabwe Match HERE
11.57 am: Irfan's first ball in the 39th over goes for a boundary. a pretty poor delivery way down he leg side and Kohli just guides it past short fine leg. The singles have dried up considerably in this Powerplay, and with it the momentum a little bit as well. India 213/2 in 39 overs. One more over in the Batting Powerplay remaining. Kohli in the 90s now on 92. The sooner he gets to three figures the better for India.
Get the Live Scorecard of the India vs Pakistan Match HERE
11.52 am: The Batting Powerplay's first boundary comes via Raina, who rather mistimes a pull over mid-on for four. Wahab is bowling really well, though, and at a fair clip as well. India 206/2 in 38 overs.
11.47 am: Mohammad Irfan forced to bowl around the wicket owing to his two warnings for running on the pitch. Effectiveness is reduced, even if he only gives away four runs in the over. India 200/2 in 37 overs.
11.43 am: Wahab Riaz bowls a decent over first up. Only four runs off it. India 196/2 in 36 overs.
11.39 am: Batting Poweplay
11.38 am: Afridi is finishing off his overs like Ravindra Jadeja does, so quick hardly a pause for breath. A good one from the Pakistan veteran, as only two runs comes. India 192/2 in 35 overs.
Get the Live Scorecard of the India vs Pakistan Match HERE
11.35 am: Raina bangs a six, but could have been gone as well. The Pakistanfielder, whose in a little too much from the ropes, dives high and palms it over the top for a six off a Raina pull from Haris Sohail. India 190/2 in 34 overs.
11.32 am: Afridi back. Kohli just looking a little off-his-concentration here. He needs to get back his focus and ensure India don't throw away this advantage of this batting peach. India 181/1 in 33 overs.
11.29 am: Chance dropped! Kohli gets a big nick off Haris Sohail, and Umar Akmal, their part-time wicketkeeper, spills it. Big miss that could prove to be. India 173/2 in 32 overs.
Get the Live Scorecard of the India vs Pakistan Match HERE
11.27 am: Raina takes three singles off his first three balls and India now on 170/2 in 31 overs.
11.22 am: Pakistan desperately needed that and their captain comes to the fore with a brilliant bit of work. Dhawan will be gutted having played so well, and so will Kohli. The latter will have to continue, though, as Suresh Raina walks in ahead of Ajinkya Rahane. Drinks are on the field.
Get the Live Scorecard of the India vs Pakistan Match HERE
11.20 am: Tell you what, on this searingly hit day in Adelaide, India have run the singles and twos brilliantly. And every loose ball has been hit for a boundary, with Kohli's turn now as he cuts a wide one off Haris Sohail to the ropes. But then, India throw the momentum away, as Dhawan is run out via a brilliant direct hit from Misbah. Dhawan, from the non-striker's end goes for a quick single, byt Kohli sends him back and he has to go after a wonderful 73 from 76 balls. India 163/2 in 29.5 overs.
11.16 am: A beauty of a shot from Dhawan, steps down the track and picks his spot perfectly over midwicket for a boundary. Outstanding shot that, and he follows that up with an even better one – a wonderful cover drive for a four.
Two singles and a two in that over as well from Yasir Shah and amidst the drama in the middle, a bit more drama is added as winds blow around the Adelaide Oval with the umpires hats safe no more! India 156/1 in 29 overs.
Get the Live Scorecard of the India vs Pakistan Match HERE
11.11 am: Left-arm spinner Haris Sohail into the attack. A couple off the first ball, and a couple of dots after that, is followed by....you, guessed it, singles. India 144/1 in 28 overs.
11.09 am: Three singlesand adouble off Yasir Shah, simple as that. India 139/1 in 27 overs.
Get the Live Scorecard of the India vs Pakistan Match HERE
11.03 am: Irfan warned for running on the wicket, official warning from Ian Gould and then another warning from the umpire. One more and he can't bowl anymore.
Then a bit of drama here as Kohli has the ball thrown at him by Shahid Afridi while running for a quick single. Kohli is laughing, though, even if boos ring around the majority India-supporting crowd. India 134/1 in 26 overs. 100 partnership for the pair as well.
10.58 am: Four singles off the Yasir Shah over. India 131/1 in 25 overs.
10.50 am: Misbah wants a wicket and brings Irfan back. The most common order of the day – singles – prevail, though. India 127/1 in 24 overs.
Get the Live Scorecard of the India vs Pakistan Match HERE
10.48 am: Another boundary comes, with Kohli slapping one straight down the ground and Mohammad Irfan (what on earth is he doing at long-off?) fails to stop it. Kohli gets to his half-century soon after with a single. India 122/1 in 23 overs.
10.42 am: Fifty for Dhawan. A simple dab down to third man and it is a very well-played half-century for the opener. Dhawan then gets into the groove some more with a nice cut for a boundary. India 115/1 in 22 overs.
Get the Live Scorecard of the India vs Pakistan Match HERE
10.40 am: Kohli's patented inside-out shot comes out. Glorious shot this, hits it with the turn of Yasir Shah for a boundary. Then a ball just outside off, has Kohli cutting it brilliantly past short third man for another four. The mood's coming, the mood's coming. India 109/1 in 21 overs. Eleven runs off the over, and Dhawan moves to 49.
10.36 am: Riaz is hitting nearly 150ks, but India are happy to take the singles and keep rotating that strike. Cannot stress the importance of that enough. Dhawan closing in on a half-century here on 47. India 98/1 in 20 overs.
10.31 am: The second leg-spinner for Pakistan Yasir Shah gets a bowl. He is a proper leg-spinner, Yasir, but there is hardly any spine for him right now. Very good line, though, and after three dot deliveries, Kohli gets off strike with a single, before Dhawan plays a delightful back-foot drive through covers for a four. India 94/1 in 19 overs.
Get the Live Scorecard of the India vs Pakistan Match HERE
10.27 am: Angled bat nearly does Kohli in, as an inside edge almost crawls to the stumps, almost a carbon-copy of the manner in which he got out to Australia recently. Riaz is bowling with some pace here. India putting away the loose balls pretty well, however. A ball down the leg side, and a short one too, allows Dhawan to just help it along for a boundary. India 89/1 in 18 overs.
10.23 am: Afridi's threat has been nullified so far by the two batsmen. Five singles and a two in the over. India 82/1 in 17 overs.
10.19 am: First over after drinks, and the singles and twos keep coming. No-risk cricket from India at the moment. India 75/1 in 16 overs.
Get the Live Scorecard of the India vs Pakistan Match HERE
10.14 am: In Hamilton, South Africa have gone from 83/4 in 20.2 overs to 339/4 in 50 overs, with David Miller and JP Duminy striking brilliant centuries in a partnership worth 256 from 29.4 overs. Man that is impressive!
Get the Live Scorecard of the South Africa-Zimbabwe Match HERE
10.12 am: Kohli slowly cranking it up perhaps. A boundary, via a sweep to fine leg, off Afridi, cpupled with singles and twos, gives India a decent over. India 71/1 in 15 overs. And it's drinks as well.
10.08 am: Wahab Riaz for the first time in this match. Dhawan lives dangerously, as he uppishly cuts one through point, which flies just a touch past a diving Ahmed Shehzad. Another tidy enough over from Pakistan. India 62/1 in 14 overs.
10.04 am: Quick over from Afridi. Four singles, India 56/1 in 13 overs.
10.01 am: Kohli struggling for timing here, yet to find his rhythm. Pakistan, Sohail in particular, bowling well to the Indian batsman. The one time he drops it short, though, Kohli is all over it and pulls it through midwicket for a boundary. India 52/1 in 12 overs.
Get the Live Scorecard of the India vs Pakistan Match HERE
9.56 am: Spin for the first time. Shahid Afridi with his leggies and nearly picks up Kohli. Yasir Shah drops the Indian superstar. A ridiculously difficult one, it must be said low down running in from long-on as Kohli mistimes a slog-pull. India 45/1 in 11 overs.
9.50 am: Sohail Khan bowling really well here. Not giving anything away, hardly any loose delivery. Just a couple of singles in the over. India 42/1 in 10 overs.
9.46 am: Kohli vs Irfan. A little nervy at times from the Indian maestro, but a single off the fourth ball takes him off strike and Dhawan does the rest with a flick down fine-leg for four. India 40/1 in 9 overs.
Get the Live Scorecard of the India vs Pakistan Match HERE
9.42 am: Rohit's patience finally ran out, and the result was his dismissal. Kohli negotiates the three balls from Sohail and also gets off the mark with a single down to third man. India 35/1 in 8 overs.
9.38 am: First wicket, Rohit gone! The India opener goes for an expansive front foot pull off Sohail, and mistimes the shot completely. The ball loops up for Misbah to take the simplest of catches running from mid-off. Big blow this for Pakistan, India 34/1 in 7.3 overs. And it's Virat Kohli at No.3, not Ajinkya Rahane.
9.35 am: Misbahbrings in a leg-slip to try and catch Dhawan playing one there off the extra bounce from Irfan. The first ball tests Dhawan's skill to avoid that, and he does it pretty well, playing the ball down. India are conscious of Irfan's threat and are making sure they don't get out to him. And just as I say that, Dhawan creams a short ball from Irfan for a six over midwicket, Adelaide Oval goes berserk. Outstanding contest this. India 33/0 in 7 overs.
Get the Live Scorecard of the India vs Pakistan Match HERE
9.29 am: Rohit and Dhawan playing well here (and there I have jinxed them, I know, sorry!). picking the singles, rotating the strike, so paramount with a left and right-hand combination and the scoreboard is slowly, but surely trickling along. India 24/0 in 6 overs.
9.25 am: Rohit gets his first boundary, with a clip through midwicket, and then another off the last ball of the over through the off. Irfan still troubling the Indian batsmen a bit though. India 21/0 in 5 overs.
Get the Live Scorecard of the India vs Pakistan Match HERE
9.20 am: Singles doing it for India right now. Both batsmen resisting the urge to go for the big shots outside off stump, even though Dhawan gets India's first boundary off a hit-me-please short delivery from Sohail. India 13/0 in 4 overs.
Get the Live Scorecard of the India vs Pakistan Match HERE
9.18 am: In Hamilton, David Miller and JP Duminy continue to rule the roost after the shaky start against Zimbabwe. South Africa 194/4 in 40 overs.
Get the Live Scorecard of the South Africa-Zimbabwe Match HERE
9.16 am: A really good over from Irfan. The bounce finally comes into play and has Dhawan in all sorts of trouble. A streaky edge off a ripper of a rising delivery leaves Dhawan on edge and Pakistan frustrated as the ball just evades the slips. Irfan looking dangerous here. India 7/0 in 3 overs.
9.11 am: Sohail Khan bowls the second over and nearly faces Misbah's wrath after asking for a review off an in-swinger at Dhawan. Misbah quickly turns that "request" down and replays show ball hit bat. Decent first over from Sohail, though, plenty of swing, even if it did not trouble the Indian batsmen enough owing to the lesser pace. India 5/0 in 2 overs.
9.06 am: First runs of the day is via Rohit's blade, a glide down to third man and an easy single. Dhawan does the same to get off the mark as well. Solid first over for both teams, India 2/0 in 1 over.
9.03 am: First ball of the India vs Pakistan match – is a nice gentle ball outside off, which Rohit lets go.
9.01 am: Shikhar Dhawan, will he finally get a big score? And can Rohit Sharma continue his brilliant form. Or will it be Mohammad Irfan and his bounce which trips India? We'll know soon enough. Play is almost ready to begin.
8.58 am: The Anthems are over, the players are getting ready for battle. The Adelaide Oval crowd, the majority of them, sing the Indian National Anthem along with the players, and then they go absolutely nuts!
8.54 am: Time for the National Anthems, just to ignite that passion a little bit more!
8.50 am: Over in Hamilton, David Miller and JP Duminy have begun the repair work quite well. South Africa on 145/4 in 34 overs.
Get the Live Scorecard of the Match HERE
8.47 am: Almost there guys, almost there! So, get that breakfast/drink/tea/coffee ready and get yourself comfortable on your favourite couch. The players will come out in just about ten minutes.
8.39 am: Here are the lineups: India: Shikhar Dhawan, Rohit Sharma, Virat Kohli, Ajinkya Rahane, Suresh Raina, MS Dhoni (capt & wk), Ravindra Jadeja, R Ashwin, Mohammad Shami, Mohit Sharma, Umesh Yadav.
Pakistan: Ahmed Shehzad, Younis Khan, Haris Sohail, Misbah-ul-Haq (capt), Umar Akmal, Sohaib Maqsood, Shahid Afridi, Yasir Shah, Wahab Riaz, Sohail Khan, Mohammad Irfan.
8.35 am: Just waiting for the official confirmation of the two playing XIs.
8.34 am: Three specialist fast bowlers and two spinners for India, so no surprises there. Misbah confirms Umar Akmal will keep wickets, with the Pakistan captain saying he wants to play an extra bowler. Younis Khan is going to open the innings as well. Wonder what the Pakistan fans make of that.
8.32 am: The coin goes up, a special one of course. Misbah calls heads and India win the toss. Dhoni says India will bat first. "Putting runs on the board always helps," says the skipper.
8.30: Set for the toss, Mark Nicholas speaks with Dhoni and Misbah. Misbah is hopeful of a victory and breaking the WorldCup jinx. Dhoni is his usual understated self, even if he uses the word "fantastic". Wow an adjective from the India skipper. Must be an important match then!
8.24 am: Very hard, very dry but it will haveextreme bounce, says Brett Lee at the pitch report, while Shane Warne says the new ball will definitely swing. So, Dhawan gone for a duck then! Warne, though, does add it is a 300-plus pitch – which pretty much goes for every single ODI match nowadays doesn't it.
8.17 am: There is another match going on today, you know, and South Africa are not in the greatest of positions at the moment. AB De Villiers is gone and they are at a 100/4 in nearly 25 overs.
Get the Live Scorecard of the Match HERE
8.14 am: Oh man, this buildup is a little frustrating isn't it. You just wanna scream "enough of the talking man, get the captains out there finish the toss and then let's start play please!"
But, there is still another 15 minutes or so to go for the toss, patience and its virtues and all that.
8.05 am: The crowds are pouring in, more Indians than, but there is pretty good support for Pakistan trickling in as well.
8.02 am: A capacity 50-60,000 crowd is expected at the Adelaide Oval, while some figures suggest as many as 1.5 billion people could watch this ridiculously massive game on TV and online.
It doesn't get any bigger than this; the mammoth match is upon us; the final before the final – blah, blah and blah.
The talk has been done, done and done, and now it if finally dusted. Time for the match to take centre-stage now as Adelaide welcomes what promises to be a day of cricket to remember.
Hi and a big welcome to you to IBT India's Live coverage of India vs Pakistan.
Get the Live Streaming Information of India vs Pakistan HERE
Read about the team news HERE
Get the Five Key clashes on the Ind vs Pak game HERE