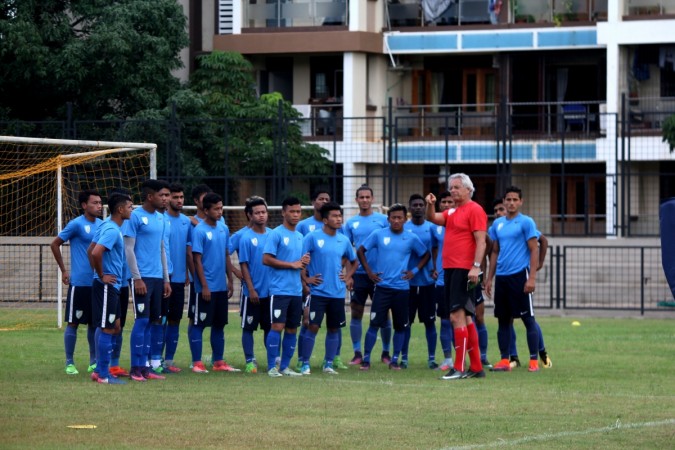 THAT'S IT! No late luck for the hosts. India Under 17 football team start their campaign in the FIFA World Cup 2017 with a defeat. Goalkeeper Dheeraj, Aniket Jadhav and Komal, on certain occasions, have deserved the applause.
Next up for the hosts are Colombia and Ghana.
FINAL SCORE: USA 3-0 INDIA.
84' OFF THE BAR...AND A GOAL ON COUNTER! What drama!
Carleton gets the third goal for USA. Anwar Ali, just moments back, hits the goal post with his shot. Total misfortune for the hosts.
Score: USA 3-0 India
75' WHAT a SHOT! Carleton is taking a lot of long shots and creating real danger for the Indian defence. As things stand, it is unlikely the hosts would be able to get a goal back. Looks over for them at this point.
Score: USA 2-0 India
69' Rahim and Nongdamba are getting ready in the sidelines, and the change takes place. Meetei and Abhijit Sarkar are off.
64' Komal has plenty of pace and a bright future ahead, but he desperately needs to improve his crosses and final shots on goal.
60' India are trailing by two goals but they are not giving it away. Can a substitution change things now? Meanwhile, a great chance for Akinola to score the third of the night for USA. Embarrassing shot.
55' MISSED! Komal attempts a lofted shot on goal and the ball goes to orbit. Why couldn't he run a bit more and pop it in?
50' GOAL ---------> A deflection from Anwar Ali sees Durkin score the second of the match for USA.
Score: USA 2-0 India
48' Dheeraj is already the man of the match for India. Time after again, saves and more saves. The goalkeeper really has a promising career. The star has been found already?
9:05 pm IST: Second half underway...
The second half starts in a moment. What different can we see now? Is an equaliser coming or are USA getting deadlier than before?
45' SUPER BUILD-UP! India showing some great hopes. Sanjeev Stalin getting out of his zone to create an attacking move and Komal Thatal on the wing, enthrals the fans with his dribbling. Exactly what we expected them to...Enjoy, ain't it?
And that's it.
HALF TIME score: USA 1-0 India
42' Shot! India waits more than 40 minutes to get their first short on goal. It is Aniket Jadhav who shoots, but the ball is kept hold well by USA's Garces.
40' Absolutely wasted! One of those rare good build-ups from the hosts with Amarjit and Komal combining well. The final ball is absolutely given away!
Score: USA 1-0 India
34' Amazing build-up play from the away side. The crosses, passes and everything else are being perfectly executed so far. Passing has not been up to the mark for the Indians at all. Norton de Matos needs some real work to do in the half time...or the game is going to get embarrassingly one-sided.
30' PENALTY! absolutely clumsy challenge from Jitendra to foul Sargent inside the box. This goes bad to worse for the hosts.
GOAL-------> Dheeraj goes the wrong way, and USA skipper Josh Sargent puts it at the back of the goal.
Score: USA 1-0 India
26' One of those rare Indian attacks, thanks to Aniket Jadhav. Uses his pace and dribbling abilities to perfection. Wins the first corner of the match for his team, but nothing comes of it.
24' India are totally defensive so far. Nothing that we did not expect. If not conceding is the primary aim for tonight, the Boys in Blue are up for it.
20' Now this is a classic duel we want more of! Rahul tackles hard and precise to thwart an attack from the dangerous Tim Weah. More of this! Meanwhile, a corner from USA comes to nothing. Defensively a good display so far.
Score: 0-0
18' The long balls have done no good for India so far. All of the long passes have been wayward so far. Surely, more emphasis must be on the short passes. That must be the message from Norton de Matos.
14' Dheeraj having to make a lot of saves. Clearly, the best Indian player on the pitch so far. The height difference between India and USA is turning out to be a real gamechanger. What can the hosts do?
10' It's been absolute 20-80 percent possession so far in the match. India are absolutely struggling. Hope things turn out better as we progress.
FREE KICK! USA skipper Sargent cannot break the wall with his set piece.
Score: 0-0
6' Coach Luis Norton de Matos shouting out a lot of instructions from the sidelines. Surely, his boys are struggling early on. Losing ball in the midfield is definitely a worry now.
4' The zonal marking tactic is doing well for the hosts, but losing out possession in the middle of the park is turning out to be costly. Goalkeeper Dheeraj having to make a lot of saves early on. Almost a goal there from Sargent.
2' Possession enjoyed so far by the away team. The Indians are slowly soaking the atmosphere in. Patience remains the key for now. Tim Weah is the danger man for USA. First save made by Dheeraj. Stops a shot from Gloster.
8 pm IST: MATCH KICKS OFF! Gery Vargas of Bolivia is the referee for this match.
7:55 pm IST: Aaaand....the teams are out on the pitch. Waiting for the national anthems! HISTORIC occasion as the Indian national anthem Jana Gana Mana is heard for the first time in a FIFA World Cup.
7:35 pm IST: Legends of Indian football -- from PK Banerjee to IM Vijayan and from Bhaichung Bhutia to Sunil Chhetri and Bembem Devi -- are being felicitated at the moment. The BIG kick-off is just minutes away!
7:25 pm IST: Around half an hour or so remains for the kick-off at the JLN Stadium in New Delhi, let's get in all the visuals coming in. Sports minister Rajyavardhan Rathore, AFC chief Sheikh Salman, AIFF chief Praful Patel and the PRIME MINISTER of India, Narendra Modi, have made it to the stadium!
7:15 pm IST: First things first, the team lineups of the match are out. Luis Norton de Matos' India are set to play on a 4-2-3-1 formation.
INDIA - Dheeraj (GK); Sanjeev, Anwar, Jitendra, Suresh; Amarjit (C), Rahul; Komal Thatal, Abhijit, Meetei; Aniket Jadhav.
USA - Garces; Lindsey, Gloster, Sands, Durkin; Akinola, Ferri, Sargent (C); Weah, Carleton, Goslin.
7 pm IST: What an occasion this is! I repeat WHAT AN OCCASION this is!!! India are moments away from playing in a FIFA World Cup for the first time in their history. Yes, the unfortune we faced in 1950 is very well coming to an end. We can't live in regrets anymore. 'Tis the time for a fresh start!
International Business Times, India, will take you LIVE all the way as India takes on the United States of America (USA) in their first match of the competition. This is me, Sayantan, like always, providing you all the updates from the match taking place at the JLN Stadium in New Delhi.
Oh yes, the traffic snarl in the national capital is frustrating, but you've got to be patient to reap the fruit in the best way!
The kick-off is at 8 pm IST...just about an hour to go. Stick with me and keep this page open and wait for all the updates to appear. It's a historic day, after all, I repeat!
How to watch the match on TV, follow on radio and stream it LIVE.