Gone are those days when US President Donald Trump belittled North Korean supremo Kim Jong Un as "little rocket man" and threatened to destroy the isolated regime. Fast forward to a year and much to everyone's astonishment, Trump was part of a historic summit with Kim in Singapore. Wait, that's not all.
On Saturday, September 29, the US President fuelled his "bromance" with Kim as he claimed that "they fell in love" after receiving "beautiful letters" from the leader of the nuclear-armed state.
While addressing his partisans at a West Virginia rally, Trump told fellow Republicans, "And then we fell in love -- OK? No really. He wrote me beautiful letters and they're great letters. We fell in love."
This comment comes just days after the US President flaunted his relationship with Kim after receiving another 'extraordinary letter' from Pyongyang. This paved the way for Secretary of State Mike Pompeo to head to North Korea to lay the groundwork for another summit between the two world leaders.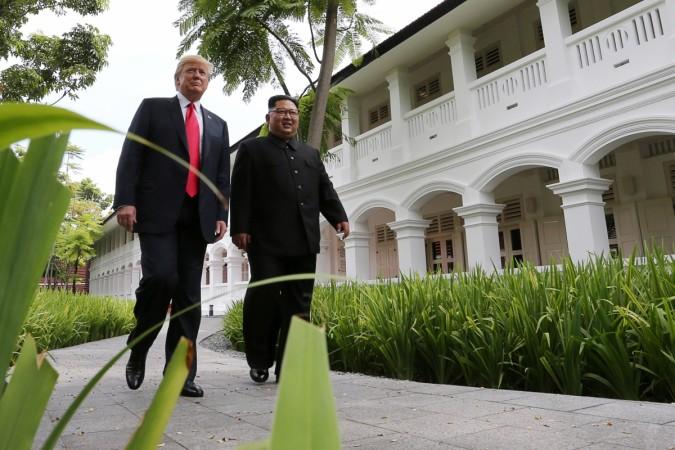 After months of speculations and trading jibes on Twitter, it all happened on June 10 when the world's two most cantankerous leaders met in Singapore. Trump even told Singapore PM Lee Hsien Loong that the "entire world was watching" their historic summit and surely, he was not wrong at all.
However, in the run-up to their much-anticipated summit, Trump and Kim found themselves in the midst of statements that not only seemed bizarre but also scary to some extent. During a televised New Year's Day speech, Trump said, "The entire United States is within range of our nuclear weapons, and a nuclear button is always on my desk. This is reality, not a threat."
Trump had also mocked the North Korean leader and said that the US' button was "much bigger and powerful" and added, "my button works!"