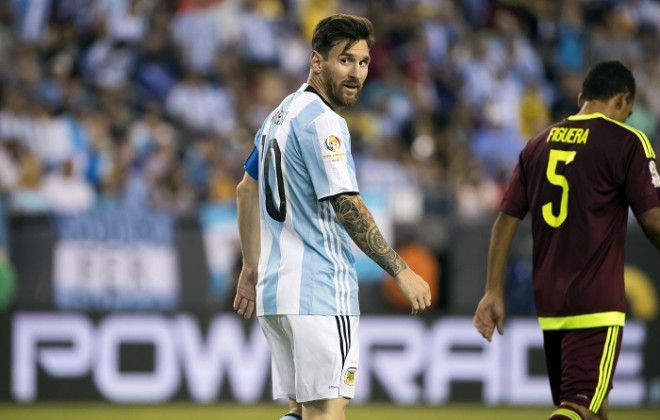 Not even a week has passed since Lionel Messi decided to call it quits from international football, stars like Diego Maradona and Argentina President Mauricio Macri wants the Barcelona forward to reconsider this decision. Add to this list of high-profiled people, Brazil's legendary striker, Ronaldo, who also wants to see more of Messi, is already missing him.
Messi retired after their heart-breaking loss to Chile in penalties during the Copa America final, and the skipper was the first player to miss the penalty. Few hours after the match, Messi's news, regarding his retirement spread like wildfire, and football fans around the world were shocked to hear about it.
Messi, who had played an important role in helping Argentina reach Copa final, had scored five goals in the competition. Messi is Argentina's all-time highest goal-scorer, with 55 goals as well. Add to it, the talismanic forward is just 29 years of age, which is considered to be ripe for players to hit their peak. The Argentinean, without a doubt, has some years in him to play some incredible football, and help the team win major silverware.
Ronaldo has even gone to the extent of saying that the fans feel abandoned by Messi, with his decision.
"It is an extremely personal choice of Messi and we have to respect. We all feel abandoned by Messi, and hope he can change his decision," Newsweek quoted Ronaldo as saying in Xinhua News.
Like all football-lovers, one does not want to see Argentina without Messi for a few more years atleast. However, Messi has not made any announcement after retiring from international football, but the world still hopes that he will reconsider his decision, and score like he has been doing.
Messi still has some time to ponder about his comeback as Argentina does not play any such competitive fixture in the next two months. Argentina will resume their World Cup qualifiers in September, and it remains to be seen if Messi will be seen wearing the national jersey on the pitch ever again.