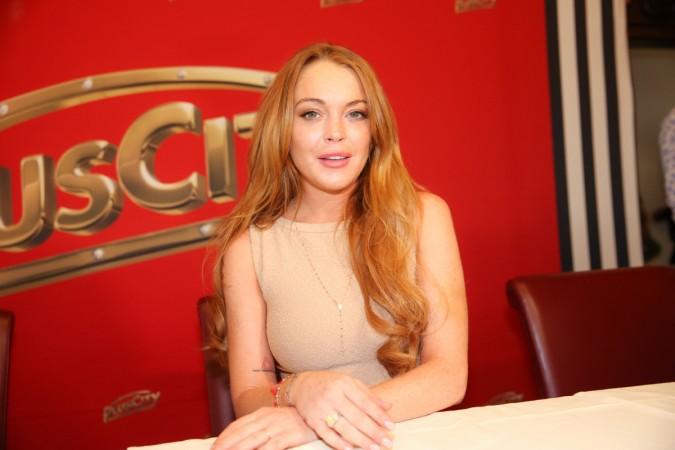 Wow, that came out of left field. Lindsay Lohan and Tyga?
Lindsay Lohan has revealed that she has got a major crush on Tyga. And she isn't exactly keeping it a secret. Apparently, the troubled former child star is sending the rapper adorable DMs. Talk about sliding into DMs.
Lindsay Lohan has been flirting with Tyga by leaving comments on his Instagram posts. It is being reported that Lindsay Lohan has been harbouring a crush on Tyga for a long time. Who knew? We're still not sure how Tyga ended up on Lindsay's radar to begin with. But since Lindsay Lohan is involved bizarre explanations are a given.
Tyga and Lindsay Lohan haven't had much history professional or otherwise, so this sudden infatuation with Kylie Jenner's ex seems a little weird. And by Tyga's lack of a response to Lindsay's messages, it seems like the rapper agrees with us.
Tyga is currently trying to mend fences with Playboy model Carla Howe. A source told The Sun Online: "Tyga was very persistent when it came to Carla."
"He knows she's something special and he wouldn't let up. It's still early days and Carla seems to be playing it cool. But they're definitely back on."
So maybe that's why Tyga isn't so keen to start things up with Lindsay Lohan, who was last seen in a bizarre video where she accused a family of trafficking children. This could merely be the latest in a long list of Lindsay's weird and quirky behaviour or maybe she genuinely wants a relationship with Tyga. But it's anyone's guess what goes on in her mind.
Meanwhile, Tyga's ex Kylie Jenner seems to find Lindsay Lohan's flirtations towards Tyga funny.
A source told HollywoodLife that Kylie and Travis could not care less over Tyga and his romantic prospects. "Kylie isn't bothered by Lindsay flirting with Tyga," their source said. "Kylie has moved on from her relationship with Tyga and feels like if Lindsay wants him, she can have him. Kylie thinks it is funny that Lindsay is hitting on her ex, and she and Travis both laughed about it together."
The reality star, who is currently dating singer Travis Scott, has moved on from Tyga. While on the other hand, Tyga is trying to move on from Lindsay. Somebody should tell Lindsay that.