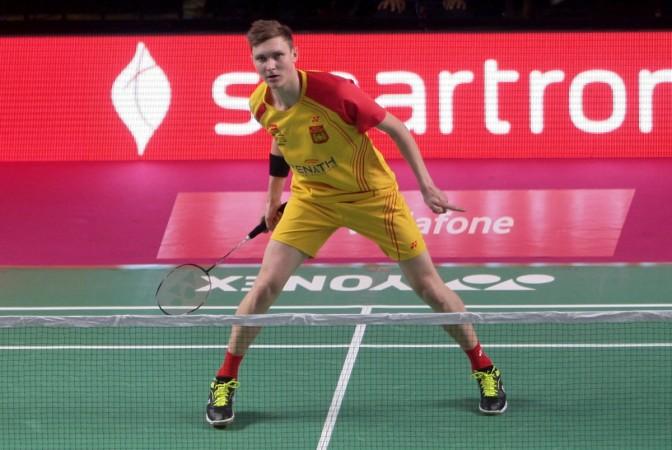 Viktor Axelsen could be easily mistaken for an Indian player if one were to go by the reception he receives at badminton stadia across the country. Even before joining Premier Badminton League (PBL) side Bengaluru Blasters as their marquee player last year, the towering Dane had been a crowd favourite here.
Also read -- From "Sachin, Sachin" to "Sindhu, Sindhu": How PBL star PV Sindhu wooed the Chennai crowd on Saturday
The ongoing season of PBL has been even more special for Axelsen as he has returned to India as the reigning world champion and the world number one men's singles shuttler.
Axelsen, who won the India Open title in 2017 after reaching the final in three successive years, has yet again been enjoying a good run in India as Blasters are sitting pretty on the second spot of the eight-team table.
Unruffled by his teams' loss the previous day, Axelsen seemed to be enjoying the comfort of his team hotel on a bright Saturday (January 7) afternoon in Chennai. After finishing lunch and amid several "selfie" requests from hotel staff, the Dane took out time to interact with the media.
Also read: 'Want to make PBL one of the best leagues in the country'
In an exclusive chat with International Business Times, India, Axelsen opened up on whether he could be part of a rivalry that could emulate the celebrated one between Lin Dan and Lee Chong Wei, his thoughts on the upcoming season and more.
Here are the excerpts
IBT: You finished 2017 as the number one-ranked men's singles player. How are you going to work towards retaining the top spot?
Axelsen: I haven't made any plans about how to hold it [number one-rank]. The ranking, to be honest, is not that important to me.
If you do well in tournaments, it will follow. I am just focussing on doing well in my next tournament. I can only focus on what is ahead of me if I do well, the rankings will automatically follow.
IBT: Are you already thinking about the elusive major title -- All England Championships in 2018?
Axelsen: I have time to prepare well before All England [starting March 14]. I will try to take benefit of that and prepare in the best possible way.
With the packed schedule these days, you have to be happy when you have the time to practice. Hopefully, I can be there in good form and good shape there.
IBT: Talking about the packed schedule, are you happy with BWF's decision of making it mandatory for top players to feature in minimum 12 tournaments in 2018?
Axelsen: I would rather focus on making tournaments better. In Dubai [BWF Superseries Finals], everything runs smoothly. The transportation is awesome. I would rather have six-eight tournaments like that instead of having 12 and making us play all 12 tournaments.
We will have better badminton if we have fewer tournaments to focus on. If the quality is good, then it's awesome. But we also have to take care of our body.
I don't really get why we would get fined if we don't play one or two tournaments. It's not the way to do it in my opinion.
IBT: A lot is being said about your growing rivalry with Kidambi Srikanth. Your thoughts on it developing into something like the one between Lin Dan and Lee Chong Wei in future?
Axelsen: I think that is really hard to find another rivalry as good as the one between Lee Chong Wei and Lin Dan. If you look at their careers, they have played so many big finals in big stages, many awesome matches.
So, I don't think any of us are trying to copy them. We just focus on ourselves.
If a rivalry like that comes up, it's great. But there are so many young players coming up. It's become so hard to predict who will win. You cannot guess which two players would be in the final of a big event.
It's an awesome time to be badminton player.