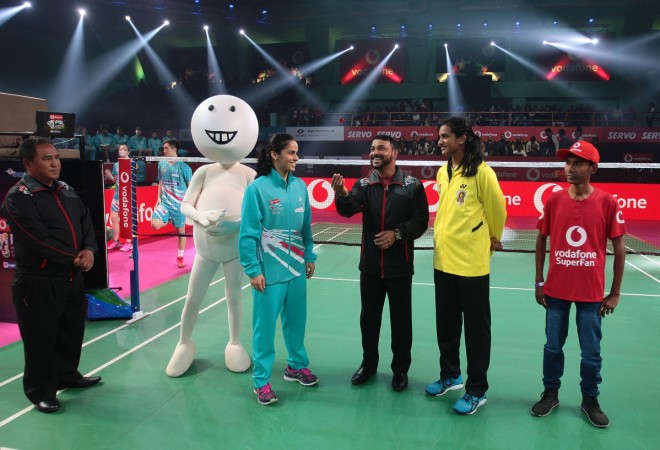 Banking on the success of the first two seasons, two new teams were added to the ongoing 2017-18 edition of India's Premier Badminton League (PBL). The eight-team league also branched out to two newer cities and is now being played across five venues in the country.
PBL has been making good use of the growing popularity of badminton in the country. From inviting top names in the sport to experimenting with rules and regulations, the multi-city badminton league is on its way to become the must-stop destination for shuttlers across the world.
Apart from local superstars PV Sindhu, Saina Nehwal, Kidambi Srikanth and HS Prannoy, the league has always managed to have top names Carolina Marin, Viktor Axelsen, Sung Ji Hyun, Chris Adcock and Gabrielle Adcock among others.
The addition of world number one Tai Tzu Ying and China's Tian Houwei has only helped ascertain the popularity of the league even in the Southeast Asian countries, known for their dominance of the sport.
The growing league though will have to find a way to position itself in the coming years amid busy international schedule.
Notably, the Badminton World Federation (BWF) has adopted a new tournament format - World Tour - in 2018, according to which top 15 singles and top 10 doubles players have to play a minimum of 12 tournaments.
Even as top players and coaches, including Viktor Axelsen and Pullela Gopichand, have lashed out at the packed schedule, Prasad Mangipudi, the co-founder and executive director of Sportzlive and Entertainment Pvt Ltd., the commercial partners of PBL, is confident of the league growing and getting a separate window by 2020.
Prasad spoke to International Business Times, India from Lucknow on what the future holds for the fast-growing league.
Here are excerpts from the interview.
IB Times India: How difficult was it to expand the league and get a bigger window?
Prasad: It was not really difficult, because we did not have any problems when it came to convincing people. But getting a long enough window was tough.
Although we have got eight teams this year, they are unable to play each other [in the group stage]. Each team is playing only five matches. Getting a longer window to have all teams playing each other [at least once] still remains a big challenge.
There are people interested in buying new teams. There are enough people, there is a lot of interest in the league now. With the men's singles players also doing well, the sport has only gotten better and more popular.
We need to get a good window as well. Even the current window [December 23 to January 14] is not great because it falls during the end of the year and holiday season. Quite a lot of sponsors are out on vacation. Also, many players, especially Europeans, had to skip Christmas celebrations and come to India.
IB Times India: How is PBL going to position itself amid a packed schedule in 2018?
Prasad: Honestly, we don't have an answer, we are going to take it as it comes. Next year, we also have the Asian Games and the Commonwealth Games. We are at least looking to retain the current window - almost four weeks. We will continue one more year.
BAI has been ensuring PBL will be able to get a longer window from 2020. The league has helped in bring some additional fans to the sport. This is a large market for the BWF also as they want the game to grow.
However, we need to stand out first and create enough franchises in the country. We are right now focused on quality of product - in terms of players, production and good venue management.
We are also looking to make PBL an year-round event. We are planning to have other activities in the lead-up to the tournament. But our priority now is to make PBL the best league in the country.
IB Times India: Thoughts on Tian Houwei's inclusion. Will it lead to more players from badminton powerhouse China participating in the league?
Prasad: It was a pleasant surprise for us. Having an 'A' Grade national player of China coming here will definitely open up the gates. It will be nice to have more Chinese players.
Right now players from 17 countries are playing in the league. Our players are now getting a chance to rub shoulders and observe these stars.
Each country will have their own style. It's good that our players are now getting to watch how these players train and how they focus during the matches.
In fact, I spoke to Chen Long last year. He expressed interest, saying he will try and come next year to play the league. We are creating a good product and thus I am sure more people will come and play here.
Legendary names, who are nearing the end of their careers and looking for avenues to continue playing the sport, might also consider PBL as an option.
IB Times India: How has been the response in the two new cities?
Prasad: It's been great. In Guwahati, despite the Christmas holidays, the stadium was almost full on all days. Ahmedabad, as well, is growing as a sports destination in the country and we are very happy to venture into newer cities.