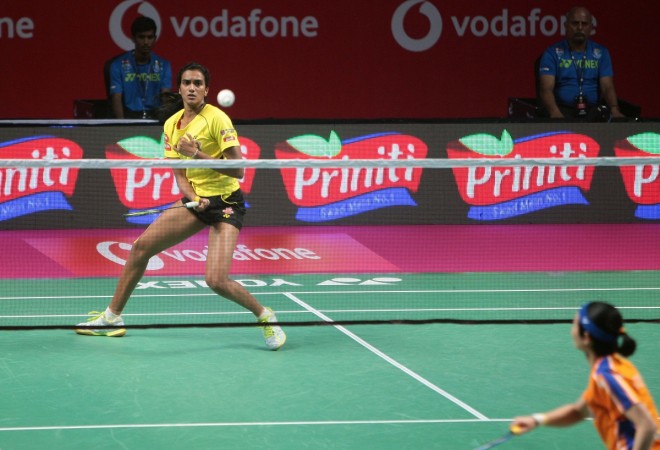 Madhu Kumar, his wife Dr Smitha along with their daughter and her friends had a good view of the proceedings at the Jawaharlal Nehru Indoor Stadium in Chennai, which was hosting only its second Premier Badminton League (PBL) tie on Saturday, January 6.
The family proudly revealed that they had left Kerala on Friday (January 5) and reached the capital city of Tamil Nadu on the matchday morning only to catch a glimpse of Chennai Smashers' marquee player and crowd favourite PV Sindhu in action.
And Sindhu did not disappoint them.
In fact, thousands like Smitha at the stadium, which was packed to the rafters, had their money's worth as the Rio Olympic silver medallist outclassed world number one Tai Tzu Ying of Ahmedabad Smash Masters in the women's singles rubber of the PBL season three tie.
Also read: How Smashers defeated Smash Masters in Chennai
There was a double delight for the vocal Chennai crowd as Sindhu won the decisive rubber of tie, teaming with B Sumeeth Reddy against Smash Masters' mixed doubles pairing of Lee Chun Hei Reginald and Kamilla Rytter Juhl.
"We are hardcore fans of PV Sindhu. We were expecting much more [a straight-game win], but when she lost the second game, we grew sceptical about her chances. But okay, she came back and satisfied our expectations," Smitha told International Business Times, India on Saturday.
She added: "Actually for this, we came back from Kerala this morning."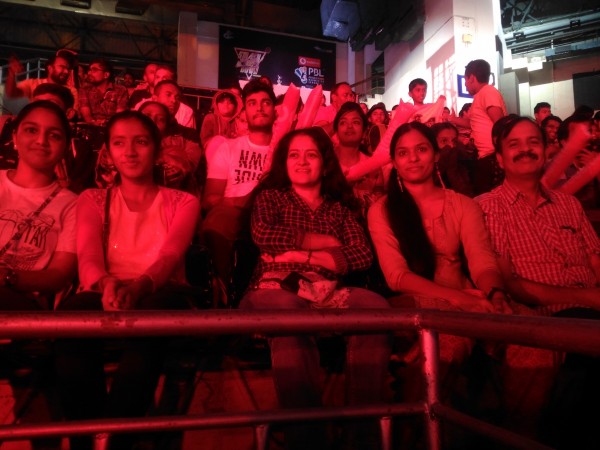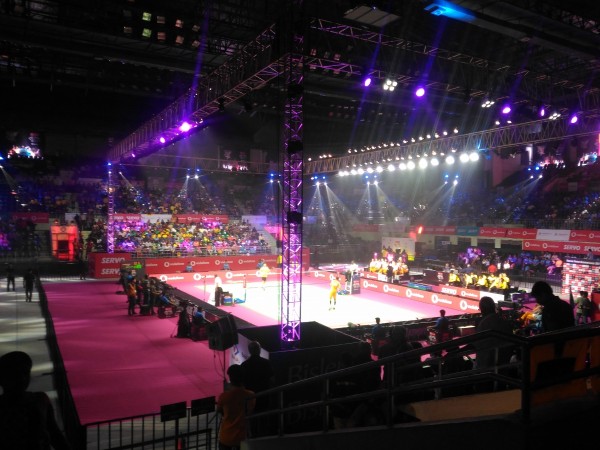 'Sindhu - the female Tendulkar'
Despite winning the title last season, Sindhu's Smashers did not have an opportunity to play in front of their home. After two years of waiting, the Chennai crowd finally got its chance to be part of the multi-city badminton league.
However, the first-ever tie in Chennai -- between Bengaluru Blasters and North Eastern Warriors -- held on Friday, December 5 witnessed an underwhelming crowd. Not even one stand in the 8,000-seater stadium was full.
Contrastingly, "5,500 to 6,000" people were part of a sea of yellow that was cheering Sindhu and her team on Saturday.
"We knew it [anticipated the crowd]. There should have been more than 5,500 to 6,000 people at the stands. It was an amazing experience. People were cheering even when the point was being played. I think the players also derived energy from the crowd," Prasad Mangipudi, the co-founder and executive director of Sportzlive and Entertainment Pvt Ltd. -- the commercial partners of PBL -- told IBTimes, India, after the Smashers' win on Saturday.
Prasad added: "I tell people Sindhu is like a female [Sachin] Tendulkar. She gets such crowds everywhere. That's why PBL is special. This is the only time the fans watch her. Otherwise, she keeps playing elsewhere across the world [international tournaments]."
Sindhu among the best crowd pullers in Indian sport?
Chennai has always been known for its "sporting and knowledgeable" crowds. The Indian cricket team enjoyed playing at the MA Chidambaram Stadium, which has served up some memorable Test, ODI and T20I matches in the past.
Backed by "Sachin...Sachin" chants, Tendulkar had come up with some of his best innings at the iconic venue.
Recently, with the advent of Indian Premier League (IPL), the passionate sports fans from the Southern Indian city found another bunch of heroes, whom they would go on to celebrate.
MS Dhoni, who skippered the Chennai-based franchise, became the face of the city. The World Cup-winning Indian skipper, who is now gearing up for CSK's return after two-year suspension, proudly says he's "back home" ahead of season 11.
"Dhoni...Dhoni" chants from the Chennai crowd used to intimidate Chennai Super Kings' (CSK) oppositions over the first eight seasons of IPL.
On Saturday, "Sindhu...Sindhu" chants reverberated across the packed stadium. Smash Masters' Tai and her teammates would have realised what it feels like to be members of an away team in Chennai.
Notably, Sindhu had lost four straight matches to Tai and had not beaten the numero uno since November 2016. The losing streak though ended on Saturday as the local favourite clinched a 15-11, 10-15, 15-12 win.
Sindhu thanks Chennai crowd
Sindhu was quick to credit the crowd after the memorable win.
"It was a great win and I feel I did extremely well to beat Tai Tzu. She played very well and I am really happy to have won the match. The crowd was extremely motivating and their support helped me a lot in getting this win," Sindhu said.
Smashers, who were languishing at the bottom of the table, needed to win all two of their matches in the penultimate leg of the tournament in Chennai.
Backed by the crowd, the home team kept themselves alive with a fiercely-fought win on Saturday.
Sindhu and co. will be hoping for a similar support when they take on Viktor Axelsen-led Blasters in another must-win tie on Monday, January 7.