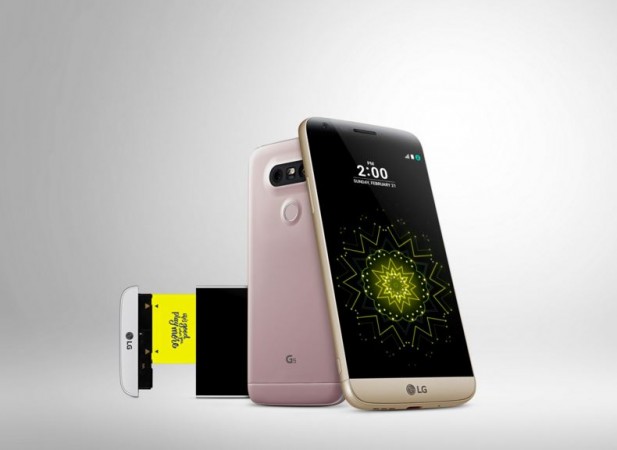 Earlier in the week, South Korean consumer electronics major LG unveiled its new flagship smartphone G5 in Barcelona, just a day ahead of Mobile World Congress (MWC) 2016.
The new LG G5 comes with a revolutionary modular concept-based design language that allows swapping of components like battery and add-on companion devices seamlessly. Even the internal hardware is a notch above its predecessor, LG G4.
To provide a clear perspective between the two G series siblings, we have described briefly the key specifications of LG G5 and its predecessor, the G4.
Design:
To describe LG G4, we have to go back to 2012, which saw the first radical design change in an LG flagship phone. G2 came with an odd design, wherein we saw unorthodox placement of the power and volume rockers: on the rear, just below camera module. It was later refined in its successor. The G3 looked more ergonomically refined, which the company called the "floating arc form" with elegant curvier corners and a shiny metallic rear that gave true premium feeling.
In 2015, the G4 came with a further evolved design language tentatively called Slim-Arc, highlighted by the display with a subtle curvature (like we see in the curved displayed-based G Flex 2) evolved from G2, to add grandeur to which, LG incorporated handcrafted genuine full-grain leather.
This year, LG G5 is a stark contrast to the previous G-series designs. It comes with a smooth all-metal body with curved corners and the company has put back the volume rockers on the edge (left side), while the power button-cum-fingerprint sensor stays on the rear.
An interesting part of LG G5 is its modular design concept. The device, despite being encased in an all-metal body, boasts of having a battery replaceable without even needing to remove the back panel.
LG G5 users can simply pull the bottom segment of the device like a tray and swap the battery. The bottom segment also acts as add-on port, wherein users can dock accessories like LG CAM Plus.
[Check out the official LG G5 video below, which details the swappable battery option]
Display:
LG G4 was the industry's first QHD (2,560x1,220p)-based smartphone to boast IPS Quantum Display technology. It sported 5.5-inch screen with a pixel density of 538 ppi (pixels per inch)
Its predecessor is a little smaller in stature, but a huge improvement in terms of value-added features. LG G5 flaunts a 5.3-inch Quad-HD (2560x1440p) screen with 554 ppi and boasts the "Always On" feature, wherein a part of the display is always active so a user can see notifications, reminders, time and other important details right on the lock screen, without having to unlock it.
Processor, RAM and Storage:
The 2015 model LG G4 shipped with the Snapdragon 808 Hexa-core CPU backed by 3GB RAM and 32GB inbuilt memory.
On the other hand, the fifth-generation LG G-series phone comes with the latest Qualcomm Snapdragon 820 SoC (System-on-Chip), 4GB RAM and 32GB inbuilt memory with the option of expansion to 2TB.
Camera:
LG G4 housed a 16MP camera on the rear. It boasted a wide F1.8 aperture lens that allows 80 percent more light to reach the sensor. To enhance the photography experience in low-light conditions, the company has incorporated OIS 2.0, which doubles the performance of the improved OIS+ by expanding the range of image stabilisation from one degree to two degrees on the X- and Y-axes and adding a third axis, making LG G4 the industry's top-notch camera phone. It also housed an 8MP snapper on the front.
Besides the unique modular design language, LG G5's second USP is its camera hardware. It boasts 16MP+8MP dual-cameras — one with a standard 78-degree lens and another with a 135-degree wide-angle lens, the widest available in any smartphone, the company claims.
The 135-degree lens offers a viewing angle approximately 1.7 times wider than those of existing smartphone cameras and 15 degrees wider than the human eye's field of view.
To further enhance the photography experience, LG is providing an accessory — LG CAM Plus (has to be bought separately). It is a camera module that can be attached through the battery slot. It provides a comfortable grip and gives convenient control like a standalone camera.
LG CAM Plus provides physical buttons for power, shutter, record, zoom, LED indicator and comfortable grip. It also offers intuitive auto-focus and exposure-lock, features usually found on standalone digital cameras. When attached to the LG G5, it provides an additional battery capacity of 1,200mAh to allow for longer shooting times.
Both LG G5 and G4 come with 8MP front-snappers capable of capturing a decent selfie.
Also read: LG G4 vs LG G3: Quick Specification Rundown
Battery:
LG G4 housed a 3,000mAh battery, whereas the new LG G5 comes with a 2,800mAh cell.
To compensate for the reduction in battery capacity, the new phone comes with Quick Charge 3.0 technology and Low Power Location Estimation (LPLE) Technology, wherein it enhances battery efficiency by as much as 41.9 percent by improving power consumption related to location-based apps.
Read more: Complete specification details of LG G5
Key features of LG G5 and LG G4:
Models
LG G5
LG G4
Display
5.3-inch QHD (2560x1440p) IPS LCD screen with Always On glance feature, Gorilla Glass 4 sheild

Pixel density: 554 ppi (pixels per inch)

5.5-inch Quad HD(2560 x 1440) IPS screen with Quantum Display technology, Gorilla Glass 3 sheild
OS
Android v6.0 Marshmallow
Android v5.0 Lollipop (Android Marshmallow update released)
Processor
Qualcomm Snapdragon 820 quad-core CPU
Qualcomm Snapdragon 808 Processor
GPU
Adreno 530
Adreno 418
RAM
4GB
3GB
Storage
32GB, expandable up to 2TB
32GB eMMC ROM, expandable up to 128GB
Camera

Main:16MP (f/1.8 aperture)+8MP (f/2.4 aperture) dual-cameras with 78-degree lens and another with a 135-degree wide angle lens, the widest available in any smartphone, dual-tone LED flash, laser auto focus, OIS (Optical Image Stabilisation)
Front: 8MP camera

Main: 16MP camera with f/1.8 aperture, shutter speed option, slow synch flash option, lens brightness options, ISO, white balance (WB), RAW or JPEG, Exposure (EV), three shooting modes (Manual Mode / Gesture Interval Shot / Quick Shot), fastest auto-focus feature and OIS (Optical Image Stabilisation) v2.0.
Front: 8MP camera

Battery
2800mAh with Quick Charge 3.0 technology and Low Power Location Estimation (LPLE) Technology- this solution enhances the battery efficiency by as much as 41.9 percent by improving the power consumption related to location-based apps.
3000 mAh
Network
4G-LTE
4G-LTE
Add-ons
Always on display, finger-print sensor, Bluetooth 4.2, Wi-Fi (802.11 a/b/g/n/ ac), A-GPS, USB Type-C v2.0
Wi-Fi (802.11 a, b, g, n, ac), Bluetooth 4.1LE, NFC, USB 2.0
Dimensions
149.4 x 73.9 x 7.7 mm
148.9 x 76.1 x 6.3 - 9.8mm
Weight
159 g
155g