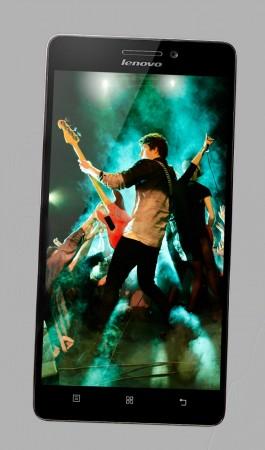 Though Lenovo has been in the smartphone market for several years, it was A6000 that cemented the Chinese smartphone maker's name as a key player in the country. Following the success, Lenovo launched two other handsets – A7000 and A6000 Plus.
Understanding the consumers demand, Lenovo launched another smartphone in the hottest under ₹10,000 category. Dubbed as K3 Note, the smartphone has been priced ₹9,999 and is available through its exclusive partner Flipkart. The K3 Note will be available through pre-booked flash sale method and the first flash sale will start on 8th of July.
For its price, K3 Note will definitely upset several smartphone makers including Xiaomi, ASUS, Meizu, Huawei and Yu. Here are the reasons:
Display
The Lenovo K3 Note flaunts a 5.5-inch, 1920x1080 pixels, 401PPI display that is sure to impress big screen phone lovers. For this price, there is no other smartphone available till date which offers 1080P display on board. The only smartphone comes close in that matter is Meizu M1 Note, which offers similar resolution and pixel counts but is priced ₹2,000 higher than the K3 Note.
Performance
The Lenovo K3 Note packs an octa-core 1.7GHz MediaTek MT6752 SoC, the same SoC in the Meizu M1 note. The Lenovo A7000 features MediaTek MT6752M, which is octa-core but offers less clock speed resulting less performance than K3 Note.
In our review, we found the smartphone scored 42964 in Antutu, 739 single-core and 3680 multi-core in GeekBench, 875 on Basemark OS II, 1105 metal and 2549 browser on Vellamo and 63.0fps on Nenamark in comparison with Xiaomi Mi 4i's 34081 in Antutu, 633 single-core and 2151 multi-core in GeekBench, 285 on Basemark OS II, 1044 metal and 2062 browser on Vellamo and 59.9fps on Nenamark.
K3 Note and A7000 feature the same 2GB RAM but the more powerful processor of the K3 Note will definitely achieve higher benchmarking score with much powerful performance than most of its competitors.
Memory
The Lenovo K3 Note packs 16GB built-in storage along with memory expandability up to 32GB. In comparison, the closest two competitors Xiaomi Mi 4i and Meizu M1 Note packs similar storage but skips the expandability support. It's true that poor performing cards sometime degrade the performance of the phone, but voracious users still prefer as much storage they get for the price.
Camera
The Lenovo also boasts an impressive 13MPl auto-focus rear camera with Dual LED flash and a 5MP front snapper for sharp, vibrant images. In the price bracket only Xiaomi Redmi Note 4G, Huawei Honor 4C and Yu Yureka feature similar specification cameras. But again all of them offer 720p display and less powerful processor making the K3 Note fastest among them.
Battery and Build Quality
Lenovo has designed the K3 Note pretty well, leaving little space for critics to find any flaws. The removable back covers uses nice material and the device feels quite compact for its 8mm thickness. Of course it doesn't feels as compact as Mi 4i feels in hand but ₹3000 price difference means a lot.
Another advantage of K3 Note is its 3,000mAh replacable battery, which means you can buy a spare battery. It also doesn't require any assistance for replacing the battery, which is preferred by some users.
Price to Specification Ratio
While Lenovo K3 Note packs a Full HD display, decent camera and good hardware for its price, its competitors feature either better camera, better performance or good battery. At the most, the devices boast a blend of any two among them.
The K3 Note also runs on Android 5.0 Lollipop operating system out-of-the-box, which is available only in Xiaomi Mi 4i and ASUS ZenFone 2 ZE550ML, but the Mi 4i lacks memory and the ZenFone 2 offers 720P display.
[READ: Reasons Why Lenovo K3 Note Should Beat Smartphones Like Lenovo A7000, Redmi Note 4G and Moto G]